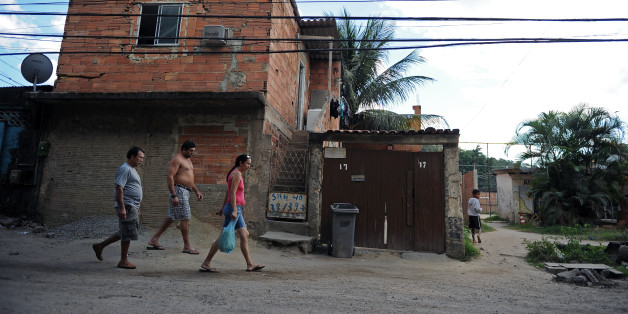 The story of 60-year-old builder Altair Antunes Guimarães from Rio de Janeiro, illustrates a "collateral effect" of the mega-events in Rio that has fallen under the radar lately. With the first kick getting nearer -- less than 60 days now! -- people seem to have forgotten the thousands of families who at some point faced eviction to give way for the enlargement, improvement, or establishment of infrastructure for the 1-month tournament. The feeling is that the battles are lost to the construction companies, who indeed profited immensely during the construction of the stadiums -- and that families have by now resigned to leave their homes.
That's not the case with Altair and the 500 families who live in Vila Autodromo. Located in a very upscale region -- between the Autodrome and the Rodrigo de Freitas Lagoon, the once-fisherman-village-turned-favela has been under threat of eviction since at least the mid-90s. The threats have come to stay since 2010 in preparation for the 2016 Olympic Games.
The government plans to build the Olympic Park nearby, and the public bid documents show the plan to build, in the very place where Altair and his community live, a 1-million square meters "high luxury condominium." "Why is that the rich people can live here, but the poor ones who already live can't stay?"asked Altair, who presides the resident's association, during an interview with Agencia Publica's reporter Ciro Barros.
And indeed, he has reasons to sight since this is the third time he may be removed by Rio de Janeiro's government to make way for a city that has never cared about its older residents. He ended up in Vila Autodromo about a decade ago, when he and his family were evicted from suburban community City of God (yes, the same as in the movie) for the construction of a highway.
But before that, he faced his first eviction when he was only 14: his family had to leave the Ilha dos Caiçaras, in the south of the lovely Rodrigo de Freitas Lagoon, where he spent his childhood, and ended up in the very violent City of God. This time, he says, he and his neighbors will fight. And stay.