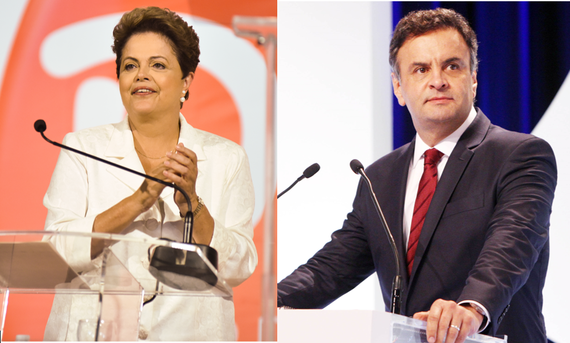 It's no wonder that Brazil is known for its novelas. The road to the presidential elections have been anything but dull, and current numbers show that this election is the closest in recent history. Early in the race, the tragic death of presidential hopeful Eduardo Campos catapulted his running mate Marina Silva to the top of the ticket.
The week leading into the first round election on October 5, Marina was polling neck and neck with incumbent President Dilma Rouseff. Political pundits in both Brazil and abroad expected a tight second round race between these two former Lula ministers, but instead, center-right former Senator and Governor Aécio Neves's second place finish knocked Marina out of the race entirely.
On October 26, Brazilians will take to the polls again to decide who will lead their country for the next four years. We are now in the road to the run-off and it is anyone's race. What is certain, however, is this election's increasing importance to the international community.
Brazil currently boasts the seventh largest economy in the world, the position of number one exporter of soy and other important commodities. The country is also a hot bed of entrepreneurial innovation. Brazilian private equity firm, 3G, is a majority owner of American household names--Budweiser, Burger King and Heinz--and is one of the only private equity firms that Warren Buffet works with. Companies like Embraer employ thousands of Americans, and Braskem is responsible for the largest investment in the history of West Virginia.
Though Dilma has made incredible strides toward improving the quality of life for the underserved in Brazil, and social programs implemented by her government assisted 40 million people to rise out of poverty, the question is whether this will be enough to earn her another term. Widespread protests last June demanding better public services demonstrate a lack of ability for her government to respond to the needs of this new middle class. The consensus from the business community is that the economy has been grossly mismanaged, plummeting Brazil into a recession with the lowest growth rate in sixteen years.
So the question is whether Aécio will bring a much-needed change if he is elected president. Aécio is the young and charismatic grandson of Tancredo Neves, a president-elect that passed away before being sworn-in. Aécio entered public life at a young age and governed the swing state of Minas Gerais for eight years. He represents a new class of leaders in Brazil that do not find their roots in a strong ideological battle and instead are guided by a vision of innovation and modernization.
Aécio has promised to reform the burdensome tax code critical to attract further investment. Though foreign policy has not been a top issue in the campaign, he has said that he would look for strategic alignments not based on political affiliation but on concrete benefits. This includes a potential trade realignment and free-trade agreement with the United States. Brazil is currently the United States' ninth largest trading partner, equaling $72 billion in total trade annually. Imagine the potential of a trade agreement to boost these numbers.
A closer Brazil-US relationship will require working with either winner, but US observers should recognize what this election's outcome could mean for engaging the largest emerging market in our hemisphere. As the votes come in next Sunday, leaders across all sectors should take note of the opportunities that this election offers and discern the best steps to work with either administration.