Travel is about breaking down stereotypes, questioning prejudices and exploring new concepts. At least that's my advice to fellow travelers, which of course is meant exclusively for them and not me. When it comes to my views and opinions, I am already an enlightened globetrotter. Or so I thought.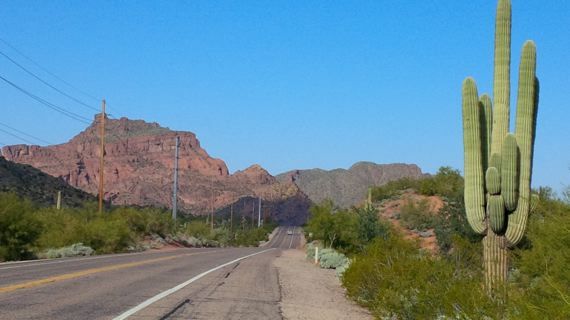 photo credit: Greg Freitas
Recently I met an Arizonan who talked about Mesa, Gilbert and Phoenix and their burgeoning agritourism scene filled with farm to table cuisine, an award-winning craft brewery, a family-owned olive farm, spiritually guided hikes, bike friendly communities, and a place called Agritopia. I immediately thought she had gotten her cities confused. Surely she wasn't talking about that Arizona, the subject of the 2011 book Bird on Fire: Lessons from the World's Least Sustainable City.
Good thing the journalist in me spoke up. I became intrigued and kicked my cynicism to the curb, grabbed my husband and our bikes and headed to Phoenix. What I discovered was educational, delicious, restorative, and hip.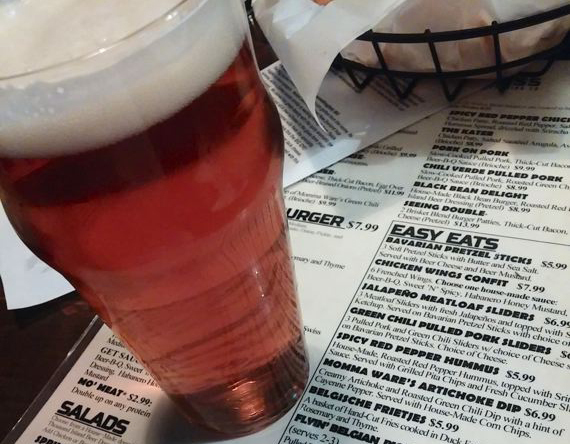 photo credit: Jennifer Heigl
Chicken Wings Confit, Habanero Mustard Sauce, and Superstition Coffee Stout
First stop: Arizona Wilderness Brewing Company, a craft brewery in Gilbert. Named the best new brewery in the world last year by Ratebeer.com, the brewpub reflects the "modern outdoors" with beers brewed from locally sourced flavors like honey, fruit, coffee, and herbs. All the food is made in-house except the bread. The Chicken Wings Confit blows my mind. Soaked in duck fat overnight and then flash fried, the juicy meat falls off the bone. I ask to buy some of the accompanying Habanero Honey Mustard Sauce, but like the beer it isn't sold anywhere else. No wonder the place is packed.
Arizona Wilderness Brewing Company is committed to environmental practices which is why their beer isn't available for sale in stores yet. Canning is on the agenda as it prevents light damage and is more environmentally sound. Their pledge to be green led them to "Local Wednesdays," where the featured dishes all use locally sourced ingredients down to the olive oil.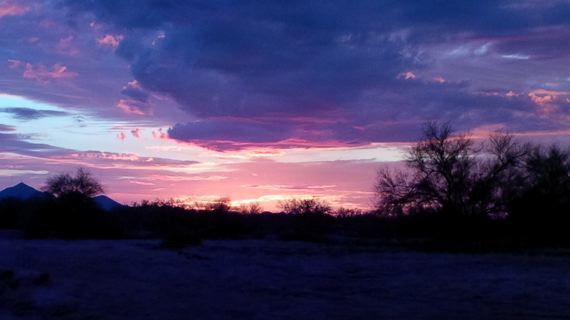 photo credit: Greg Freitas
Yoga, Hiking, and Bad Jokes
Early to rise the next day to sweat out the beer, we head to a morning yoga session in the Usury Mountain Regional Park. The Sonoran Desert is visually arresting at dawn. The clouds are like silver and white streamers in the sky and we watch the light change from shades of pink to yellow to blue as we wake up with the sun. It's the only place where the Saguaro cactus grows, with its curved arms reaching to the sky as the iconic image of the Southwest.
The yoga room in the Visitor's Center is a small, tranquil place with an intimate view of the desert. The scant number of times I have done yoga is also the number of times I have disliked it, but this is a different experience altogether. The combination of watching the birds flit from flower to branch while holding warrior pose and our instructor Misty Campeau's soothing voice is mesmerizing.
After yoga the Wind Cave Trail calls, with panoramic views at 2,840 feet. Mandy Snell from Meaning In Motion guides our hike. Her company's premise is that while our bodies are in motion, our minds can be free to reflect on our goals and talents. Ranger B keeps things lively with frequent good (read: bad) jokes. At the top we look out over the valley and catch our breath quickly before heading down to lunch.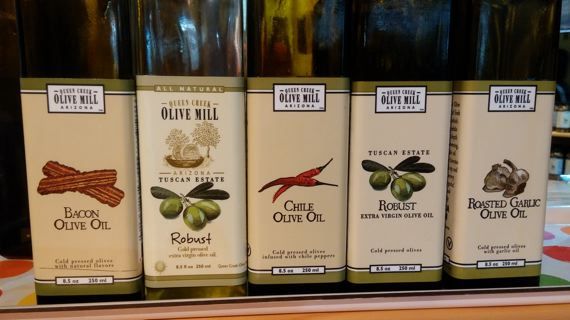 photo credit: Jennifer Heigl
Fruit, Bitter and Pungent
Lunch is at the Queen Creek Olive Mill and Agriturismo is their mantra. Visitors can see how olives are pressed into oil at the only working olive mill in Arizona. Using drip irrigation and no pesticides, their practices are sustainable.
At the cafe I order the savory Kalamata Sandwich piled high with salami, capicola, and arugula, plus the sweet cupcakes made from chocolate olive oil for dessert. Both are outstanding. Queen Creek sells their olive oil only at the Mill Market, and the olive oil tasting is highly recommended. I learn about the three taste panels from the Middle East used to rate olive oil: fruit, bitter and pungent. Their spa line is interesting too, Olive Spa uses extra virgin olive oil for antioxidant and moisturizing purposes.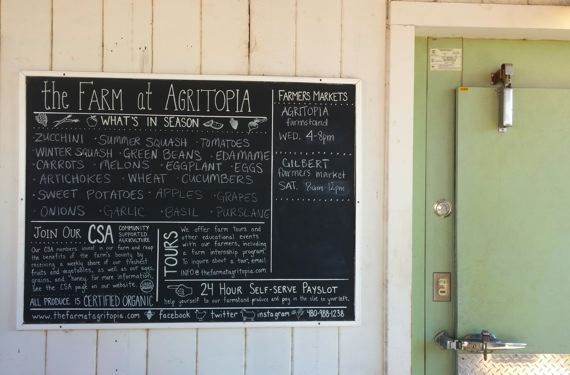 photo credit: Jennifer Heigl
Utopia as Reality
So far this Arizona trip is relaxing, somewhat healthy, and certainly environmentally driven but I haven't seen anything completely out of left field. Then I stop at Agritopia.
Agritopia is an "agrihood," a residential development surrounding a working USDA-certified organic farm. The 160 acre environment was a farm for decades where the Johnston family raised their children. Joe Johnston was one of those kids and when development threatened the farm he decided to preserve their way of life by opening it up to other families. "The beauty of plant life is a very important component to group well-being," Joe says. He wanted a place where people could be a part of a community; village life needs agriculture.
The 450 residential lots vary in size and price on every street, accommodating families of all-income levels. The result is diversity: apartments, three bedroom homes, and cottages all share a street. The Farmer's Market each week draws crowds as well as the coffee shop and Joe's Farm Grill, which offers specialties--you guessed it--straight from the farm. The pancakes are a throwback to childhood.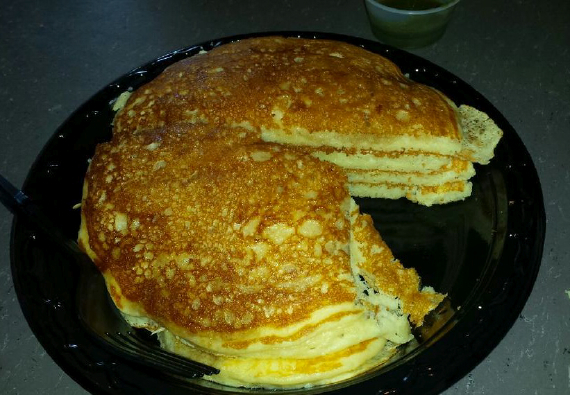 photo credit: Natalie Compagno
Hydroponics: Not Just for Marijuana Anymore
After that experience I wonder what else Arizona can teach me about the enlightened art of community agrihoods, so I go to True Garden in Mesa. Partners Tim Blank and Troy Albright have joined forces to create a Hydroponic Farmer's Market (due open soon) with the invention of the Tower Garden. This tower--stackable, moveable and using as little energy as a fish tank--is so simple you wonder why everyone doesn't have them in their yards or porches. The solar powered state of the art vertical growing LEED certified tower uses 90% less water than farming.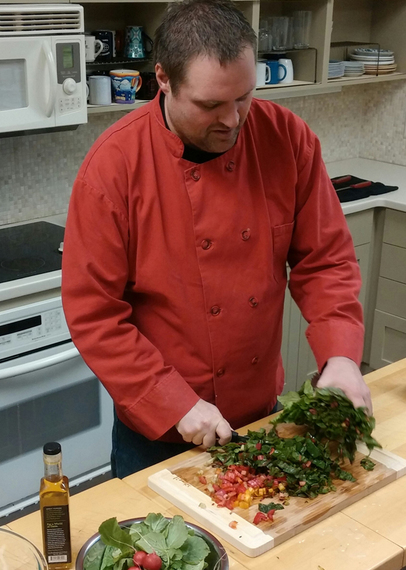 Chef Jason Wyrick. photo credit: Jennifer Heigl
A Living Museum
The thought of visiting more cacti after hiking in the Sonoran Desert seems superfluous but upon arriving at the Desert Botanical Garden I am instantly awed. There are flowers, field mice, trees, quail, short round cacti and long skinny spiked cacti, bursts of color amid a hundred shades of green grey everywhere. It's a meditative place where plant lovers can wander through different trails like the Desert Wildflower Loop or the Desert Discovery Loop.
Jason Wyrick, author of Vegan Tacos: Authentic and Inspired Recipes for Mexico's Favorite Street Food, gives a cooking demonstration inside the garden. The fresh salad he creates with sauteed chard and cabbage is refreshing but my favorite is his simple watermelon salad that he tosses with chili flakes for a hot and sweet combination.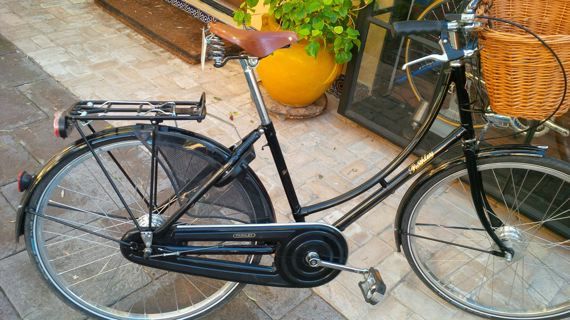 Pashley city bike. photo credit: Greg Freitas
Bikes, Balloons and Beds Oh My!
Pedal power to the people! After installing miles and miles of bike paths, trails and signs, Mesa and surrounding communities have all been recognized as Bicycle Friendly by the League of American Bicyclists. The Valley is an underrated bike travel destination, especially during the warm winter months. From the flat, little-known canal paths to the steep climbs of the Apache Trail, there are rides for every level. The peaceful, charming four room Bespoke Inn is the ideal place to stay, with Pashley bikes to borrow, an onsite restaurant, custom bike shop, and expert local cycling guides.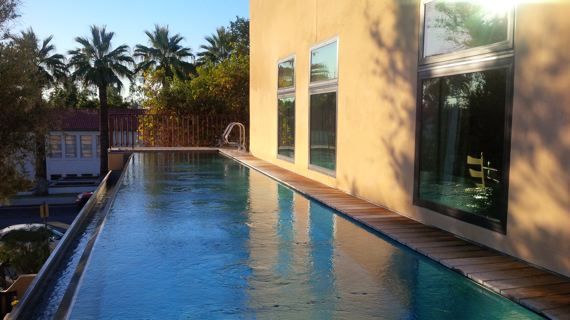 Bespoke Inn. photo credit: Greg Freitas
Our last morning in Arizona we sign up for a hot air balloon ride over the desert, the perfect way to meditate on the things learned (and eaten) along the way. It's a new view of Arizona, not just spatially but environmentally. Although I am not quite ready to move to Agritopia, the entrepreneurs I met who use the land and local traditions to make a sustainable living, and therefore art, inspired me.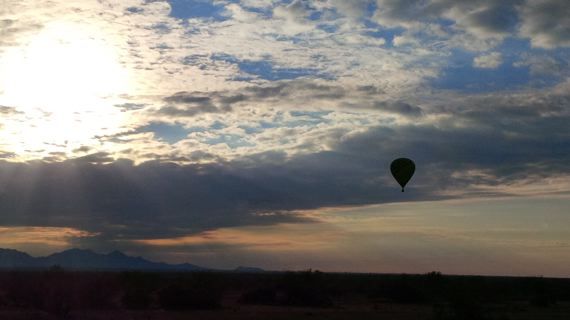 photo credit: Greg Freitas