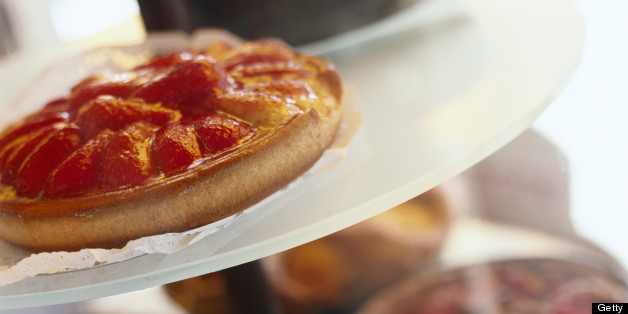 Today, Chef Daniel Boulud announced that Ghaya Oliveira would become his new executive pastry chef at DANIEL, his flagship 3-star Michelin restaurant in New York City. It's a promotion that is near and dear to both of them. Ghaya has worked for Boulud since 2001. She started at the bottom at Café Boulud, working as a pastry commis, piping filling into macaroons and chopping chocolate.
Behind every taste sensation, there is a lot of work, and the same truth holds for every overnight success. I interviewed Ghaya on May 24, 2013, after sampling her grapefruit givre and fresh strawberry tart at Boulud Sud, which were not only delicious, but also surprising. The givre is refreshing house-made grapefruit sorbet, with grapefruit jam, rosewater loukoum (a Turkish confection with gummy bear consistency) halva crumble, sesame foam and caramel tuile -- all served inside the frozen grapefruit. A lot of serious work goes into every delectable bite.
The strawberry tarts were surprising because New York state had experienced a miserable spring. With very little tasty produce to work with, Ghaya had strawberries flown in from California. Considering the cost of flying fresh, delicate fruit 3,000 miles across the continent, and all of the labor that goes into Ghaya's desserts, it's surprising they didn't cost $114, instead of $14. But that is one of the hidden gifts that Ghaya brings to the table -- the ability to add things up. Her degree is in economics, and she first worked as a stock trader in her home country of Tunisia.
Another hidden talent is Ghaya's upbringing. She grew up dancing ballet and watching her mother create over the top showpiece desserts in the family kitchen. That stirred a passion in her that results in a Moulin Rouge-inspired dessert made from blood oranges poached in absinthe, complete with cancan skirts. The smell of perfume, or even a beautifully dressed woman walking in front of her, fires up the creative juices that Ghaya uses in her pastries. As Ghaya describes it, "It's not so much about realizing your dream. It's about sharing good things with good people, and teaching people different flavors. You wouldn't believe the number of people who say they never liked grapefruit, until they try my grapefruit givre."
The proof is in the pudding of a great pastry chef, but rising to the top of the culinary world as executive pastry chef of DANIEL also requires a lot of time, dedication, discipline, patience and hard work. Ghaya was hungry and passionate about a career in pastry, and she was also responsible for the care of her young nephew. So she made it work, even though it was tough, with the hands-on support of her family. While learning and advancing through a few kitchens in New York City, Ghaya describes putting in 18-hours days and enduring mentors so strict you could hardly breathe in their kitchen. Sometimes the kitchen would be so crowded that she had to work in the basement.
In short, Ghaya Oliveira is as rich in textures, as interesting and as inspiring as her desserts. She's deserving of all of her achievements and awards, not simply because she worked hard and got the right training. But because her heart is in the right place. Open to inspiration. Dedicated to family. And fueled by the desire to share. Her food is filled with love, and an easy smile. And you can literally taste it.
About Ghaya Oliveira
Ghaya brings a traditional French pastry philosophy and refined palate, juxtaposed with a sense of playfulness, exemplified by whimsical presentations and unexpected flavor combinations to her role as executive pastry chef of DANIEL, the 3-star Michelin rated flagship restaurant of Daniel Boulud, In 2012, Ghaya was nominated for Outstanding Pastry Chef by the James Beard Foundation.