Steve Glenn, the founder of LivingHomes, had a vision in 2006 to "combine world-class architecture with an unparalleled commitment to healthy and sustainable construction." LivingHomes' first single family 4-bedroom/2.5 bath home achieved the first platinum LEED rating of any home in the United States. It is a Ray Kappe modernist masterpiece, with a rooftop deck, solar panel awning, indoor-outdoor flow and about every new cradle-to-cradle material available to mankind. The house was built in a factory and then assembled on its foundation in Santa Monica, California in just eight hours. The only downsides of this visionary home, that was sure to be loved by Conscious Creatives everywhere, were that 2006 was the beginning of the worst real estate correction in our lifetime and the price tag put the home out of reach of most Americans.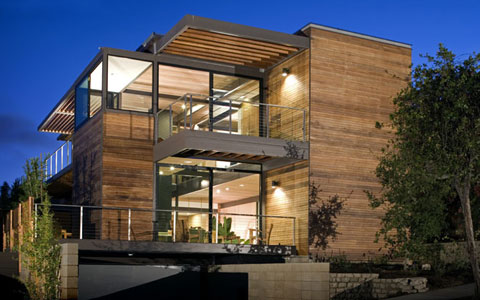 LivingHome, Santa Monica, Ray Kappe-designed. Exterior Evening. Credit: Tom Bonner Photography
On February 17, 2012, Steve Glenn changed all that, introducing a new, low-cost, conscious, prefab 3 bedroom/2 bath home, with a starting price of just $179,000. At just $145/square foot, you no longer have to pay a steep price to enjoy quality, green living. Additional costs include shipping the prefab to your home ($30,000-$50,000, depending on how far you live from the factory) the solar panels you'll use to power it, and, of course, you can customize the home to your heart's delight. Thanks to a dramatic reduction in clean energy products over the last few years, the price of the C6 is still a day in the sunshine compared to the rain delays, ruined materials, contractors that don't show up and the anxiety pills you have to pop when the costs and time start multiplying, as they always do when you are building your home on-site from the ground up.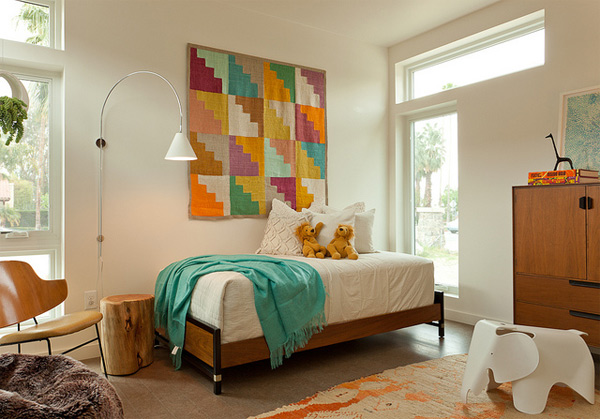 Photo: Home Depot LivingHome -- Kids Bedroom
Environmental Features: "The C6 is the first Energy Star® certified production home with a LEED Platinum level environmental program and Cradle to Cradle inspired products.
And the perks of going mod, green and prefab don't end there. What home offers a 10-year warranty on the structural system? Additionally, most states and Canadian provinces offer an easier permitting process for platinum LEED certified homes -- which the C6 qualifies to be. And, after only a day or two of installation and bolting, your neighbors will want to bring you over wine and chocolate for the minimal disruption you caused to the neighborhood!
Standard features of the LivingHomes C6, which is built by Cavco, a nationwide leader in prefabricated homes, include a sleek, modern design, lots of natural lighting, LEDs (more efficient/less toxic than CFLs) and a grey-water system that is set up for reclaimed water irrigation for your yard and plants. No VOCs or wasteful AC in this Smart Home. You'll even receive a collector's item -- a new door handle, designed by LivingHomes and respected cradle-to-cradle architect William McDonough.
According to McDonough, "This door handle opens the door to the future... It signals our intention." Instead of being zero this and zero that, or "less bad," the handle is actually good for you. It is made of zinc, so every time you touch it, you are receiving a health benefit.
Your heart benefits from the new C6 also, as a portion of every home sold will go to support Make It Right, a foundation started by Brad Pitt and William McDonough to build 150 Cradle to Cradle inspired LEED Platinum homes in New Orleans' Lower Ninth Ward, the neighborhood hardest hit by Hurricane Katrina.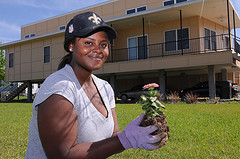 A Make It Right Home by Billes Architecture
If you're in the Southern California area now through February 26, 2012, you can tour the new C6 LivingHomes creation in Palm Springs or Long Beach. Go to LivingHomes.net to sign up for a free tour.
About Natalie Pace:
Natalie Pace is the author of You Vs. Wall Street and Put Your Money Where Your Heart Is. She is the founder and CEO of the Women's Investment Network, LLC (a global financial news, information and education site), where she has been adding a splash of green to Wall Street and transforming lives on Main Street for more than a decade. She is a blogger on HuffingtonPost.com and a repeat guest on national television and radio shows such as Good Morning America, Fox News, CNBC, ABC-TV, Forbes.com, NPR and more. As a strong believer in giving back, she has been instrumental in raising tens of millions for public schools, financial literacy, the arts and underserved women and girls worldwide. Follow her on Facebook.com/NWPace. For more information please visit NataliePace.com.
All of the photos in this article are used with permission from the owners.