Last week, I blogged about Tesla, one of the hottest stocks on the NASDAQ composite index. This week, I'm featuring another Wall Street love affair, Cree, a LED lighting manufacturer that has tripled in share price, since its 52-week low.
Cree LED lighting is everywhere (except in your oven). Whether you're at the Staples Center watching the Lakers, or in Times Square surrounded by billboards, or even in space, chances are that Cree's LEDs are lighting your way. The company's goal is 100 percent LED adoption worldwide in the trillion dollar lighting marketplace. It is an ambitious goal made by a very credible company.
Los Angeles evaluated 240 companies before selecting Cree's street lights. The massive retrofit project dramatically reduces Los Angeles' energy use by more than two-thirds, saves millions of taxpayer dollars and reduces Los Angeles' carbon emission by more than 47,000 metric tons every year. Forbes recently named Cree one of its 25 Fastest Growing Tech Companies of 2013. And Main Street consumers are getting in on the game with the new $10 Cree LED bulb that takes the cost of lighting a home down to a buck, from seven (without the mercury or the landfill).
On May 28, 2013, I spoke with Mike Watson, the vice president of marketing for Cree, to discuss the company's incredible 2013 performance and goals for the coming years. Whether you are looking to put LED lights in your home or business, or invest in the company, it's a good investment of your time to check out Mike's interview.
Natalie Pace: It used to be that you had to be a math whiz to figure out the cost savings of LEDs over incandescents and flourescents, but your new ad campaign makes it pretty easy to understand. Are consumers rushing out to buy this beautiful new $10 Cree LED bulb?

Mike Watson: We've broken the $10 price barrier with our 40W bulb and we're just over that with our 60W bulb. With the Cree LED bulb, we made it look like the incandescent bulb and light like the incandescent bulb, but provide you with the benefits that incandescent doesn't have, which are 84 percent energy savings and it lasts 25 times longer.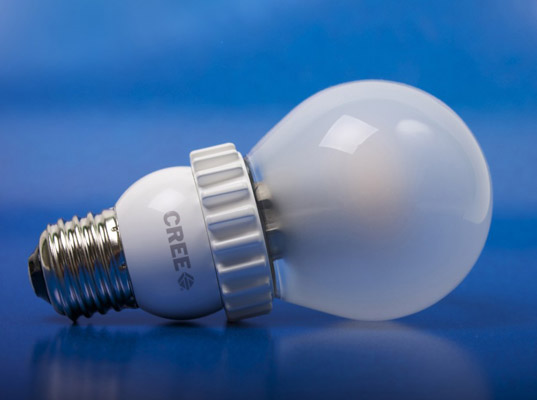 When you say 25 times longer, what is that in terms of years?
It's really 23 years at 3 hours a day, which is the typical use, or a little over 10 years, if you use it about 6 hours a day.
That's an amazing return on a $10 investment. Is the $10 bulb boosting sales?
Sales are doing quite well. It's a great product that sells itself. When you can pay yourself back in about a year, and then save for another 10-20 years on top of that, that's a great value proposition.
Where can people buy the Cree LED bulb?
The Cree LED bulb is available exclusively at Home Depot right now, in about 2000 Home Depot stores in North America, and in all of the Home Depot stores in Canada, as well.
You are not just a consumer-driven market. How much of Cree's sales are consumer direct versus public and business?

About 80 percent of all lighting is commercial/industrial, with about 20 percent consumer. In terms of the market, there is over a trillion dollars of installed lighting in the world today. About $100+ billion is replaced every year. In the bulb category, there are 5.6 billion bulbs in North America alone. 4 billion are incandescent. So, with the Cree LED bulb product, we are going after that 5.6 billion unit market initially.
You are already gaining traction in the commercial market. Cree retrofitted Central Park, and a few cities, too. Can you tell us more about some of your municipal projects?
We do a lot of work across the globe. We serve customers worldwide and some of the notable examples are Central Park and Los Angeles. We have several street lighting installations in southern China. In the North Carolina area, we have a very visible shimmer well, which is part of our blue LED technology and our color LED technology. We just completely retrofitted a Wal-Mart store. Every light in that store is now LED lighting from Cree. We have other notable implementations from bridges to buildings.
Let's talk about the Chinese marketplace. I was searching and searching trying to find Cree competitors. Are you the only game in town? How are you planning to strategically target the Chinese market?
The Chinese market is very important to us. We're certainly not the only game in town. We'd like to think that we are the best game in town, and part of our culture is relentless innovation to stay on top. We're actually a quite large supplier in China, primarily with our lighting component business. When you look at the financials of Cree, we are relatively split internationally and North America, in terms of our sales.
When we talk about the international market, we have to discuss the recession in Europe. How much is your business going to be adversely impacted by that?
Lighting is like a commodity. Everyone needs and loves light. If you can make light available economically favorably, the macro economics don't matter. If you are building a new building, LED lighting is actually less expensive, from Day One. The return is immediate. With retrofits, the payback can be as little as one year.
LEDs have several competitive advantage to CFLs. Can you speak to the difference between these two bulbs?
Sure. There are many competitive advantages. What Cree does is that we create energy savings. Over 20 percent of the energy consumed in America is from lighting. When you can take incandescent, fluorescent, or even compact flourescent lighting, and replace them with solidstate lighting, like LED, then you can save over half of the total consumed lighting energy when you go to 100 percent conversion. Our mission is 100 percent adoption of LED lighting worldwide.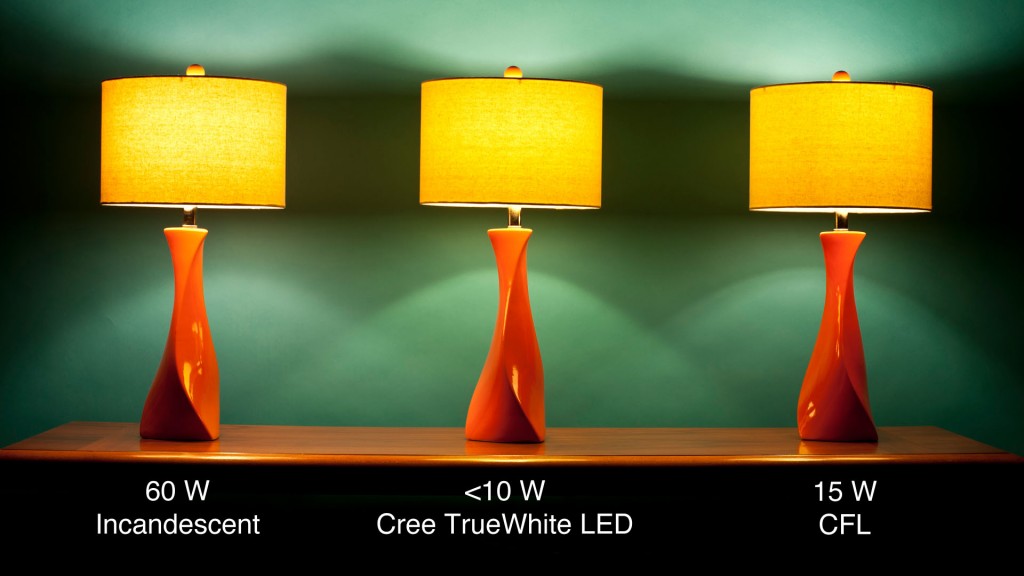 LEDs are a cleaner bulb to recycle. They don't contain mercury.
Cree is running a backlog right now. Please talk about that and tell us what that means to your business going forward.

A backlog is a good thing because there is demand. It's a bad thing because we need to fulfill that demand. There are plenty of products available in Home Depot stores across America. We've done a fantastic job of building our facility and increasing its capacity, right here in Durham, North Carolina. We believe that manufacturing closer to where the consumers are is actually a benefit for us economically and for the consumers, in terms of availability. Cree has over 6000 employees and over half of them are in North America.
I have a friend who works on launches at NASA, and he was one of the first persons to tell me about Cree. Are you doing lighting on space projects?
Our LED lights are just about everywhere -- defense lighting technologies, space lighting technologies. We haven't figured out how to make lights inside your oven yet. But aside from that, we are everywhere, including, in Times Square. All but about two of the billboards use Cree LED lighting in the signs. Most of the stadium signs are Cree LED. We're everywhere and proud of it. Our real mission is to change the world of lighting and go to 100 percent LED.
Any last words, Mike?
It's exciting to actually transform a market from an old technology to a new. Every time that happens, the consumer ends up benefitting. The Cree LED bulb is about a buck a year, versus seven for your traditional incandescent. That's another way of saying 84 percent more efficient. They have a 10-year warranty. Who warrants any consumer product for ten years? We're trying to build consumer confidence in making the transition from incandescent to LED.
Cree is a very hot company, with a 23 percent increase in sales, year over year. Congratulations on the strong performance, Mike.