Microsoft just purchased Skype for $8.5 billion (double the price that eBay paid in 2005). The mega-giant has big plans for integrating Skype into Microsoft Office, which could bode well for both companies. However, here's another side to Microsoft that you might not have heard as much about: the Microsoft commitment to education and empowerment for disadvantaged high school girls living in Kenya.
Many of the high school Kenyan girls in the Global Give Back Circle (GGBC) have lost one or both parents to AIDS, and all are at risk for pregnancy and disease when they return home to the slums for the mandatory gap year between high school and college. That is, until Microsoft got a call from GGBC founder and Executive Director Linda Lockhart...
Breaking the Cycle of Poverty
The more you learn; the more you earn. It's easy for anyone to understand that a surgeon makes more than a gardener. However, like most "easy" things, the devil is in the details. How does a disadvantaged teen, who is living in a lean-to in a remote village in Kenya, gain access to a college education, when most of her peers become parents in high school? How does the family, who is accustomed to having the kids do daily chores and to marrying off young girls for the dowry (a cow or a small amount of money), invest in a future job that is 10 years away from earning its first dime?
Meet Khadija Said
Two years ago, Khadija Said, a teenager from the slums of Mombasa, rapped about the empowerment of girls before President Obama graced the stage of the 2009 Clinton Global Initiative meeting in New York City. Khadija was there as a scholar/member of the GGBC. She was just one of 35 girls who had received the mentors, shoes, feminine products, workshops and funding that the GGBC provides in order for their scholars to excel in high school and transition into college graduates (and future benefactors of other young women).
Khadija was thrilled to be onstage, but equally worried that when she went back to Kenya, in just a few days, she would watch so many of her sisters walk back into the circle of poverty because they did not have the support that she had to go straight to college. As you can imagine, many young women never return to college after the gap year back home, finding themselves young mothers, trapped in the same cycle of poverty they were born into.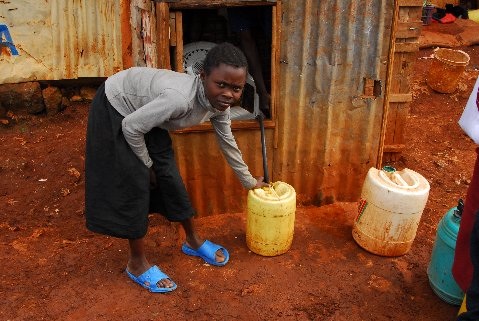 Photo: Courtesy of Linda Lockhart, founder and executive director, The Global Give Back Circle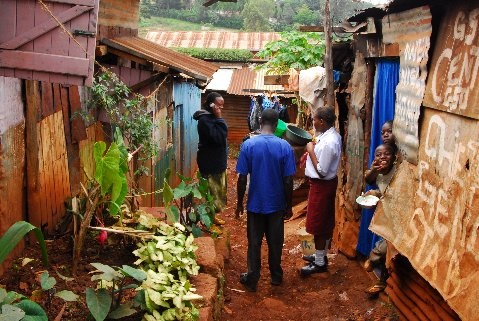 Photo: Courtesy of Linda Lockhart, founder and executive director, The Global Give Back Circle
President Clinton's Global Initiative
Magic happens when opportunity meets ability, and there is no place that facilitates more magic than President Clinton's annual meeting of the Clinton Global Initiative (CGI) in New York City every September. There the world's largest corporations, like Microsoft, take meetings with the world's most innovative social entrepreneurs, like Lockhart, to create powerful results. This is where Khadija's opportunity was born.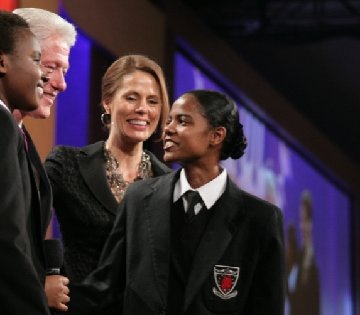 Photo: Khadija Said shakes the hand of President Clinton, with Linda Lockhart and Caroline Macharia, another GGBC member, looking on. Photo is courtesy of Linda Lockhart, founder and executive director, The Global Give Back Circle
According to President Clinton (on his website), "I launched CGI in 2005 to help turn good intentions into real action and results." In less than six years, CGI commitments have improved the lives of nearly 300 million people in more than 170 countries. When fully funded and implemented, these commitments will be valued at $63 billion. From clean water, to education, to health care, to clean energy, CGI partners reforest, build computer labs and solar power plants, create jobs, empower young women and much, much more.
I spoke with Pamela Passman, corporate vice president and deputy general counsel for Microsoft's Global Corporate Affairs, on April 6, 2011, to find out how Microsoft first got involved with GGBC. As Passman explains, "A couple of years ago, we were at the Clinton Global Initiative and I got a note that Linda wanted to meet with us about her program. I met with her in New York City, and then simply handed the information to our local team in Nairobi. Nine months later, Linda sent me a note to let me know the amazing things that our team in Nairobi had done."
The Microsoft Internet Lab in Kenya provides nine months of Internet training to the GGBC's high school graduates, who would otherwise be returning to their villages for their gap year. Thanks to Microsoft and a small note slipped by Passman to her team on the ground in Kenya, the GGBC scholars now spend their gap time learning Internet skills, writing scholarship applications, winning full rides to universities around the world, conducting HIV/AIDS awareness clinics in their villages and preparing to become doctors, computer programmers and CEOs. Some even enjoy a luncheon with President Clinton, like Khadija Said did this April in San Diego, at the CGI University.
If the collaborative projects that are germinated at CGI are successful, then more money typically follows. And fast... Khadija is on the Dean's List at the American University in Dubai, where she is a Clinton Scholar with two of her colleagues, Mary and Caroline. Seventy-seven GGBC scholars are in college and 60 are currently in the Microsoft IT course. Girl retention is 90 percent, mentor retention is 85 percent and private sector retention is 100 percent. The results of the GGBC, thanks in large part to corporate sponsors, like Microsoft, have been so impressive that the GGBC program in Kenya (implemented by the Kenya Community Development Foundation) recently was awarded a $3.5 million USAID sponsorship to increase the number of scholars to 535 (from an initial 35 girls in 2008). The next country of focus, according to Lockhart, will be Haiti.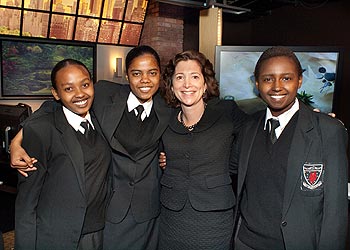 Photo: Microsoft's Pamela Passman (3rd from left) poses with Clinton Scholars Mary Mwende Alex, Khadija Abdulla Said and Caroline Macharia. Photo is courtesy of Microsoft.
However, Khadija is not content to stop there. The GGBC vision is to turn beneficiaries into benefactors, and each young woman takes an oath to do just that when they come into the program. Khadija has become so confident in her IT skills, that she, along with other scholars in the GGBC, is launching a new website, called Hey Sister: Get Clued Up. This website is a CGI University commitment, and the GGBC scholars are looking for a corporate sponsor and a computer science genius to help them build and maintain it. The site will be a resource and networking center for Kenyan girls, with a focus on financial literacy, health and social networking etiquette, so that more GGBC scholars can become the voice of their village, as Khadija is.
So, behind the scenes, there are many people, corporations, nonprofit organizations, world leaders and mentors, and a lot of time, talent and money working hand in hand to make the simple idea, "the more you learn; the more you earn," possible for young, under-served women, like Khadija. And if Khadija and her Sisters are successful in launching the Hey Sister: Get Clued Up! website, then another 10,000 young Kenyan women will climb on board the fast track to prosperity within the next year.