There was a time in America, 150 years ago -- on September 22, 1862 to be exact -- when it was chic to have a slave serving your dessert, or at hand to service your every need. While slavery is no longer acceptable in the developed world, legally or socially, the sad truth is that it is still rampant -- hidden in the underbelly of society (all around the world) and woven into the supply chain of some of our goods. Human trafficking is a $32 billion industry with 20.9 million people trafficked annually, according to the International Labor Organization. One-quarter of the world's slave labor are children.
Young boys are forced to become child soldiers in countries that export coffee, diamonds, oil and other materials to the U.S. and the rest of the developed world. As you can see in the map below, the problem is more acute, but not limited to, Africa and the Middle East.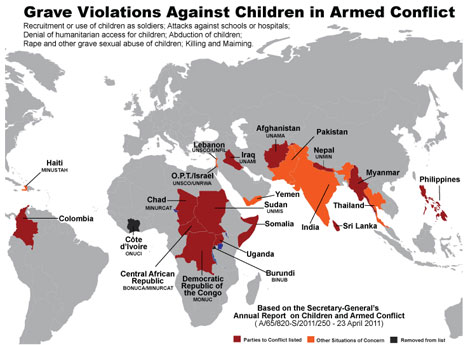 Source: The United Nations
Young girls, even before puberty, are forced into prostitution -- not just in developing countries, but here in the United States as well. Impoverished individuals are promised a better life, and then forced to work 18-hour days in sweat shops -- bound by a debt that they can never pay off.
There is a large effort going on to stop modern slavery, however. Two weeks ago, on September 25, 2012, President Barack Obama marked the 150th anniversary of the Emancipation Proclamation with a new call to action against "modern slavery." In front of a packed house at the Clinton Global Initiative, President Barack Obama advocated for everyone to become involved in the eradication of forced labor and the exploitation of children, saying, "All the business leaders who are here and our global economy companies have a responsibility to make sure that their supply chains, stretching into the far corners of the globe, are free of forced labor... And, every citizen can take action: by learning more; by going to the website that we helped create -- SlaveryFootprint.org; by speaking up and insisting that the clothes we wear, the food we eat, the products we buy are made free of forced labor; by standing up against the degradation and abuse of women."
On October 5, 2012, the film Trade of Innocents, starring Academy Award winner Mira Sorvino and Dermot Mulroney, opened in New York City. Trade of Innocents is a powerful, fictional story that was inspired by real-life incidents. Mira Sorvino, Dermot Mulroney, Trieu Tran and John Billingsley bring the sobering, heartbreaking, firsthand experiences of writer/director Christopher Bessett and producers Bill and Laurie Bolthouse to life in a way that will change your life instantly and forever. At the premiere, when the final credits rolled, people sat unable to move or speak.
Bessett told the shell-shocked crowd how he had personally witnessed a scene from the movie -- when an American businessman openly "dates" a seven-year old village girl in the local speakeasy, and had her request that the band play "Puppy Love" for them. In the movie, the young girl had been kidnapped from her home. Her teenage sister, who had tried to escape prostitution, was sold back to the brothel by a mother who needed her daughter to "provide for the family."
For the audience, it is a movie. For millions of young girls, it is real life. According to the U.S. Department of Justice, age 14 is the average age of entry into pornography and prostitution in the U.S. More than a quarter of a million children are in danger of becoming sexual commodities in the U.S. every year.
Mira Sorvino, who is the U.N. Goodwill Ambassador to Combat Human Trafficking, explains the harsh reality of forced, underage prostitution, which she has witnessed firsthand in care centers around the world, writing:
A little girl, around three and a half feet tall, approached me, holding out papers. Her mouth was open in a smile; her front baby teeth were out, and the new ones had not grown in yet. She handed me her addition and subtraction problems on lined paper. A staffer whispered, "We rescued her four months ago. Her father killed her mother in front of her when she was three, then relatives sold her to a brothel for tourists, where she worked from age four to seven." When the child was asked what things she had been made to do, she did not even know how to describe them. All she could say was, "Incorrectos."
Trade of Innocents shines a light into the corners of a world you know in your heart exists. Suspect circumstances flash before us when we least expect them, and then disappear before we can make sense of what happened. It's easy to be so embroiled in our own life challenges that we forget to look more closely and listen more astutely to the far away cries of victims who are forced into brothels, sweatshops, fields, factories, domestic servitude, war, drugs and even organ selling on a global scale that is reminiscent of some of the worst chapters in human history.
In the midst of a heated presidential election, President Obama took the stage at CGI and, instead of trying to win another vote, he used that moment to fire up our national commitment to the oppressed, saying:
Right now, there's a woman, hunched over a sewing machine, glancing beyond the bars on the window, knowing if just given the chance, she might some day sell her own wares, but she doesn't think anybody is paying attention. Right now, there's a young boy, in a brick factory, covered in dust, hauling his heavy load under a blazing sun, thinking if he could just go to school, he might know a different future, but he doesn't think anybody is paying attention. Right now, there is a girl, somewhere trapped in a brothel, crying herself to sleep again, and maybe daring to imagine that some day, just maybe, she might be treated not like a piece of property, but as a human being. And so our message today, to them, is -- to the millions around the world -- we see you. We hear you. We insist on your dignity. And we share your belief that if just given the chance, you will forge a life equal to your talents and worthy of your dreams.
If you'd like to take part in this call to action, below are a few ways to lend a hand in eradicating modern slavery.
1. Trade of Innocents. Learn where this important movie is playing. Go see it and encourage your thousands of friends on Google+, Twitter and Facebook to see it, too. Limited screenings began in New York City on October 5, 2012.
2. Zero Under 18. Learn more about the United Nations campaign to end the involvement of children in armed conflict.
3. SlaveryFootPrint.org. Take two minutes to learn how many slaves work for your lifestyle, and how you can change that. And share this web link with thousands of your friends, too.
4. Learn more about the United Nations Voluntary Trust Fund for Victims of Human Trafficking.