She remembered a land of plenty -- water at hand and fields that yielded food for the family. When she returned home, however, after a distinguished education in the United States, Wangari Maathai stood on an arid wasteland, where worn-out women walked miles for food and water, struggling to provide sustenance for their children. This, according to Wanjira Maathai, is why her mother, Wangari, began planting trees, and why Wanjira is continuing her mother's legacy by establishing the Wangari Maathai Institute for Peace and Environmental Studies at the University of Nairobi.
Wangari Maathai, the 2004 Nobel Peace Prize Laureate, explained in her Nobel lecture that: "Tree planting became a natural choice to address some of the initial basic needs identified by women. Also, tree planting is simple, attainable and it guarantees quick, successful results within a reasonable amount of time."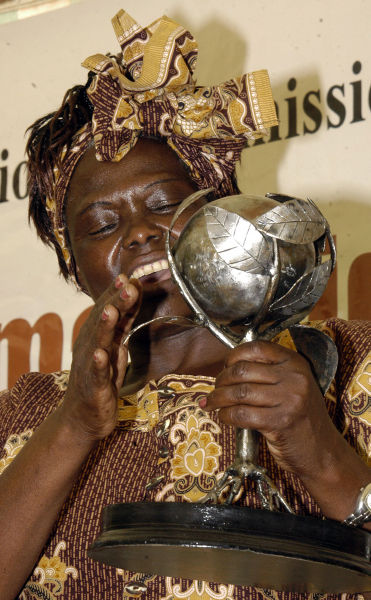 Prof. Wangari Maathai, a Kenyan environmentalist and political activist (who won the coveted Nobel prize for her effort towards sustainable development, democracy and peace) receives a trophy awarded to her by the Kenya national human rights commission for her contribution towards humanity.
Book learning certainly helped Wangari to ignite the passions of others with her words, but it was seeing the problem firsthand that inspired her to get her hands dirty with a powerful renaissance -- The Green Belt Movement -- for the people of Kenya. And that awareness -- that book learning is not enough -- is why the Green Belt Movement is collaborating with the University of Nairobi and other public and private partners to establish The Wangari Maathai Institute for Peace and Environmental Studies. At the Institute, students will become stewards of the environment and of peace by learning holistic sustainable development and by linking theory with practical experience. As Wanjira explained to me last night, "The fisherman needs to understand that trees are essential for the water that he relies on for his livelihood and dinner." Holistic, practical learning can and must be core curriculum of the 21st Century university, and the establishment of the Wangari Maathai Institute at the University of Nairobi ensures just that.
As Ndirangu Macharia, a Green Belt member says, "Most parts of our country are encroached by deserts because of our doing. It is time we protect our land from further degradation." Esther Njoki Mwaura used to walk for hours to gather firewood. The trees at her home now provide the fuel.
Today Wanjira Maathai will address thousands of CEOs, celebrities, NGOs and policymakers at the Clinton Global Initiative. There she will share the story of the hummingbird that her mother loved to tell her. There was a huge forest fire. All of the animals were cowering on the periphery of the forest, worried and crying. A hummingbird was in the fire, flapping its wings. "My mother taught me to be that hummingbird," Wanjira told me, "Faithful, strong and persistent, even in the face of danger, when no one else is willing to."
The Green Belt Movement is no longer just a lone hummingbird trying to save a forest. The Green Belt Movement planted almost four million trees in 2011, with more than 51 million planted to date. 476 grassroots volunteers work directly with local communities. And in the decades to come, thousands of environmental stewards will be trained at the Institute that survives in Wangari Maathai's name.
And that is not just a great way to honor the woman who left us too soon - two years ago, on September 25, 2011. The Green Belt Movement and the Wangari Maathai Institute For Peace and Environmental Studies could be the "simple solution" of faith, strength, wisdom and persistence needed to surmount the escalating challenges of super storms, droughts and other natural disasters of our ever-changing world.