Free Opera at the Beach on October 3, 2015, starring Placido Domingo.
There will be a free live simulcast of the final performance of Los Angeles Opera's Gianni Schicchi and Pagliacci on the Santa Monica Beach pier on October 3, 2015. Gianni Schicchi is a delightful short romp starring Placido Domingo. Pagliacci is an eye-popping Franco Zeffirelli production that is conducted by Domingo, packed with circus performers and even a donkey onstage.

Gianni Schicchi by Giacomo Puccini, starring Placido Domingo and directed by Woody Allen is the best opera experience I've had anywhere, ever, period. And my experiences include Aida at L'Opera in Verona, Italy (a bucket list experience) and Donizetti's masterpiece Lucia di Lammermoor at the Metropolitan Opera in NYC. What a gift the Los Angeles Opera is giving to Los Angelenos by offering the final performance for free on the Santa Monica Beach pier on October 3, 2015 (via live simulcast).
Placido Domingo as Gianni Schicchi in Puccini's opera of the same name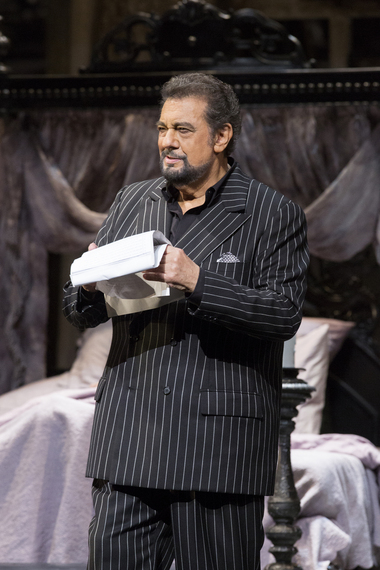 Photo: Craig T. Mathew/LA Opera
The plot of Gianni Schicchi is timeless, hilarious and refreshing. Who can't relate to a family silencing the wailing and tears and dialing up the desperation when they discover they've been cut out of the will of their deceased uncle? Imagine this as a scene out of Vicky Christina Barcelona, and you've got a sense of the interplay of sexuality, madness and humor that knife their way into your funny bone.
Domingo's Schicchi is Tony-worthy. He's conniving, mischievous, daring and nimble on his feet. The aria, O Mio Babbino Caro, is one of the most touching and familiar songs in opera - a diva's dream to sing and one that most people will recognize.
What places this Los Angeles Opera production above others around the world is quite simply the casting of Placido Domingo in the lead, as the sly, slightly sleazy Sicilian with a soft spot for love. Though no one upstages Domingo, every singer onstage sizzles with extra verve, charged by Domingo's commanding presence, comedic timing and coloratura. As an ensemble performance, it is outstanding, with each player adding some familiar and entertaining Woody Allen quirks to their roles.
Peabody Southwell as La Ciesca in Puccini's short opera Gianni Schicchi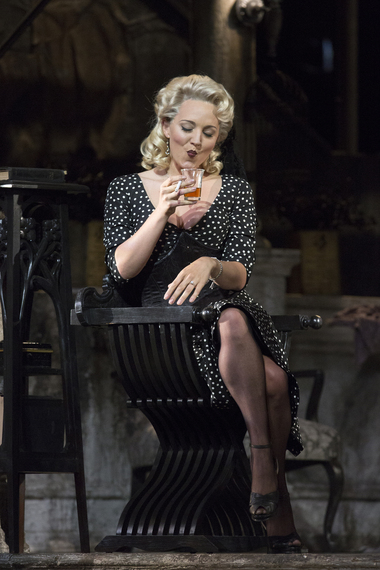 Photo: Craig T. Mathew/LA Opera
Why is Opera Under Placido Domingo's Command So Special?
The 2001-2002 season at the Los Angeles Opera marked Placido's first official season as artistic director (he's now the general director), but his touch was already being felt in productions like Handel's Giulio Cesare, when Cleopatra disrobed to sing an aria naked in a hot tub (in the 2000-2001 season). This kind of daring, updated production of the classics makes them relevant and interesting to a younger audience, without compromising the integrity of the art. In fact, one could argue that a 21st century approach makes the artistry of the music even more relevant by making the plot resonate more deeply in our hearts and minds.
Over the years, I've been delighting in LA Opera's spectacular, bold choices, from a stark, controversial Robert Wilson direction of Puccini's Madama Butterfly in 2003 (which left a lot of the traditionalists wrinkling their noses) to the current over the top Franco Zeffirelli production of Pagliaci. There is a cutting-edge grandeur alive at the Los Angeles Opera today that sources from the depths of Domingo's signature talent, one that we must treasure now for as long as we can. There is no sign of Domingo's age in his voice or performance. However, the man is 74.
It's hard to imagine that the town known for creating the Kardashians is also home base for opera's most treasured tenor, Placido Domingo. Don't miss the chance to see him live in Gianni Schicchi now through October 3, 2015 only at the Dorothy Chandler Pavilion in downtown Los Angeles, and live, free, at the Santa Monica Pier for the final performance on October 3, 2015.