Interview with Rob McEwen, chairman and chief owner of McEwen Mining.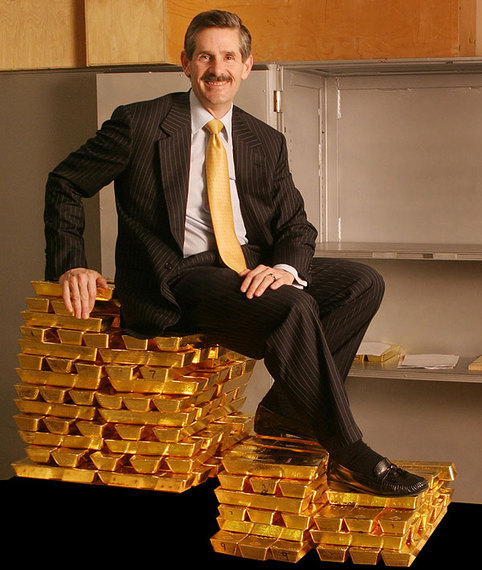 Photo: Rob McEwen, executive chairman and chief owner, McEwen Mining
What's bad for the Dow is great for gold. Last week, the Dow Jones Industrial Average dropped over 600 points, sparking a Gold Bug swoon. Gold prices polished up two percent, while McEwen Mining, a junior gold mining company, popped 10 percent.
Rob McEwen, the executive chairman and chief owner of McEwen Mining has been in the gold mining business for 25 years. Under his leadership, Goldcorp grew from a market capitalization of $50 million to over $8 billion. So, I turned to him for wisdom and experience on today's dance between the Dow and gold.
Natalie Pace: What happened to gold in 2013? Has gold hit a low? Where will prices go in 2014? What's in your crystal ball?
Rob McEwen: Gold certainly fell out of favor in late 2012 and all of 2013; however, the reason for owning gold hasn't gone away. There are still large levels of debt and currency issues.
NP: What happened? Who was doing all of that selling? From the stats I saw, it was almost exclusively exchange-traded funds.
RM: There was a great deal of selling in the paper market, in the derivatives. You saw strange occurrences where the value of gold in the exchange-traded funds was dropping very quickly, while the physical market was trading at a premium. There was very big buying happening in Asia -- principally in India for awhile, and in Hong Kong for the Chinese market. They've remained large buyers of gold.
NP: Where are gold prices headed?
I think gold this year has a chance to test the highs that it achieved back in 2011, which would be just above $1900 an ounce. Beyond that, I believe that we are going to see a $5000/ounce gold price in the next couple of years. For someone who is a contrary investor, it's a good time to be looking at gold. I think gold stocks more so because they've been so beaten up in this market.
NP: You have a very ambitious goal of getting a listing on the S&P 500 by 2015. Are you still on track for that? What do you need to get there?
RM: We might be a little delayed to get there by the end of 2015. In order to qualify for the S&P 500, you need to have a $5 billion plus market capitalization. Our market capitalization is a little more than a tenth of that right now. We need more production. I'd prefer to see it organically. But that's not possible in the next two years to get that type of growth.
NP: Why do you have such a strong focus on getting the S&P 500 listing?
RM: The attraction of the S&P 500 is that there is only one gold stock there and that is Newmont Mining. There are over a trillion dollars invested by index funds in the S&P 500. So, you have a large pool of capital. You have long-term investors, and you have a lower cost of capital when you are in that index, which allows you to grow faster and cheaper than your competition. And the only way to get into the S&P 500 is by being an American company. Most of the mining companies, particularly in the precious metals space, are Canadian, Australian, or non-American. There wouldn't be more than a handful of companies that would have a shot at getting into that space. It's a competitive advantage we have.
NP: You focus on exploration, in addition to production. Please tell us how exploration helped you build shareholder value at your previous company, Goldcorp.
RM: It worked very well. We found more than six million ounces of gold in a mine and made the mine a very profitable enterprise. We launched our [Goldcorp] contest back in 2000. We spent about a million dollars -- half a million in prizes and half a million setting it up. And we found three billion dollars worth of gold.
NP: How are you identifying your exploration targets today?
Right now, we're exploring in Nevada, joint ventured with a company [that] measures the quantity of gold in the water in parts per trillion. When you get an elevated level of gold, that's not a bad target to be drilling on. So, we're going to be drilling this first quarter on a target there and a couple of targets around our property. What makes it interesting is that 10 miles away is the largest gold mine in the world that is run by Barrick Gold.
NP: You've been hoping to capitalize on your Nevada land since the inception of U.S. Gold? How have previous exploration attempts gone, and what is different this time?
RM: We were looking for deeper targets. We didn't find anything on our Tonkin Property. But at the south end of that property, we're reactivating a mine with a permit that we're hoping to get by the first quarter of 2015. It's a low capital build, low cost, eight-year life operation.
[Exploration] drove Goldcorp's success in the early days. The value you create can be very dramatic when you hit.
NP: Exploration costs money. How is McEwen Mining positioned in terms of capital? Will you need to raise money in the debt markets? Are you going to have to pull out your wallet again?
RM: In terms of this year, our expansion of our one gold mine in Mexico, that's taken care of. We're about $30 million in cash right now. We don't have any debt. We have talked to some lenders about putting a small amount of leverage on the balance sheet, but I'm not a big believer in levering up the balance sheet very much. With regard to our large Mexican property, right now, given the price of gold and the lack of enthusiasm in the market, I'm not anxious to run out and do a financing.
NP: How is the cash flow? Are you starting to generate some free cash, are you breaking even, or are you in cash burn?
RM: Our all-in costs are around $1100/ounce. This year, if metal prices stay where they are, we would maintain our cash, which is about $30 million. To build our next big project, we'd have to go find a source of capital, either debt or debt and equity, or through a combination of another company that has free cash. We will in 2016 or 2017 have considerable cash flow on our models. It should be a very positive situation.
NP: We saw some very dramatic price swings in the McEwen Mining share price in 2013. Will that continue to be the case? Or is this the beginning of better days to come?
RM: Our production is moving from 140,000 thousand ounces of gold this year -- up 33 percent from last year. This year will be flat. Then 2015 will be 175,000. With the new mine in Nevada, we'll be above 225,000. With the new mine in Mexico, we'll need some money to build that one, but we'd be over 300,000 ounces a year in gold and silver. So, I'm quite excited about that.
NP: And that doesn't include your copper reserves in Argentina, or anything that you might discover in your exploration.
RM: There will be discoveries that seem to come out of the blue. They are going to happen by smaller companies that have been working away and are ignored by the market.
NP: Last week, the contrarian dance between the Dow and gold was as dynamic as ever - perhaps surprising investors who had given up on gold.
You can have some very dramatic moves. In August of last year, we saw the gold market look like it was coming alive for a moment. In juniors and mid-sizes, and even the seniors, we saw movements of 25 percent to 75 percent gains within the month of August. They gave up those gains in September, but what it illustrated for me was that when people start moving back into gold, it's not going to be a slow run-up. There are going to be some very explosive jumps in value that are going to surprise most people because they have ignored the sector. From the lows of July last year, we got down to about $1.60 and we're now trading at [$2.60]. It may seem like a big move, but it's still a distance from the highs that were achieved when gold went up to $1900. So, I think you're going to see some very strong runs in gold stock.