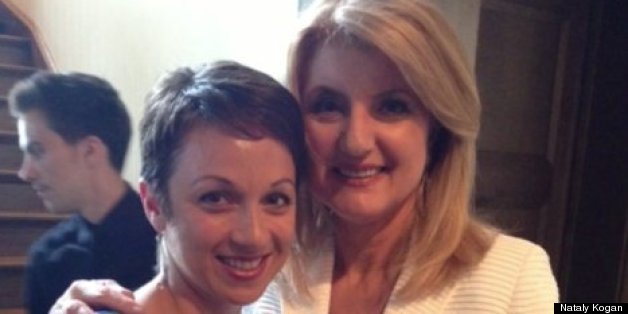 A few weeks ago, I was invited to attend the Third Metric Conferences hosted by Arianna Huffington. I loved the idea behind it, that we need to add a third metric to success beyond money and power, and that it should be about our well-being and being more connected to people and communities around us.
The day was filled with tons of inspiring ideas and people, but I would be lying if I didn't tell you that meeting Arianna Huffington and talking for a few minutes about happiness, better sleep and how she manages to stay calm amidst chaos wasn't my personal highlight of the day.
After our conversation, I connected with Arianna's team and we were inspired to challenge both of our communities to share happy moments on the three core themes that make up the Third Metric. I'm really excited to kick off our partnership this week and can't wait to see all of the inspiring and amazing happy moments I know you guys will be sharing.
We will feature a new Happier & Huffington Post Challenge in the Happier mobile app and our website over the next 3 days. We hope you'll participate and share your happy moments, and maybe even invite your friends to do it. Without further ado, here's today's challenge: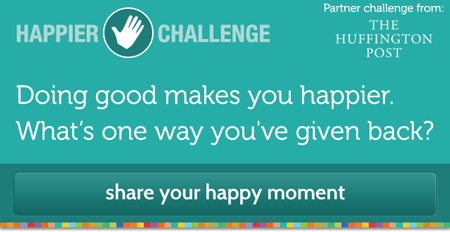 Studies have shown that people who practice kindness and help others see an increase in their own happiness. One of the reasons for this is feeling more connected to other people, which science shows is key to feeling good about your life. Share a happy moment about a way you've given back or helped someone and help inspire others to do the same!
To share your happy moment, please visit www.happier.com and click on the challenge banner or download the Happier mobile app for your iPhone and visit the Discover tab.
This post is part of a series produced by The Huffington Post in conjunction with our women's conference, "The Third Metric: Redefining Success Beyond Money & Power," which took place in New York on June 6, 2013. To read all of the posts in the series and learn more about the conference, click here. Join the conversation on Twitter #ThirdMetric.