Last month an announcement came in about Zynga launching its own gaming platform called Zynga Direct (or Zynga Live, or Project Z). But the question remains: is this a beginning of the end of Zynga's marriage to Facebook or a PR move to demonstrate to its shareholders it aims to reduce its business model dependence on Facebook?
I spoke to the industry insiders to get an answer.
Drimmi, the Russian social game developer backed by European venture fund Mangrove Partners has recently launched its browser version of its popular game Gone Fishing. Having previously published it on the Russian social network Odnoklassniki and as of last week also on Orkut, which is huge in Brazil, Drimmi now has a stand-alone browser version of the game.
Since I love fishing, I thought I'd give it a try but I found out that I could only log in with my social network account, enabling the application of choice to access my information and to post updates. Just like any Zynga game on the Facebook, except in this case Drimmi keeps the commission.
In addition to a 30 percent cut of the revenue, the acquisition costs on Facebook are high: 50 cents per user (on other social networks they are 10 to 30 cents). "To be noticed on Facebook you need a lot of money and to be at the top is an objective of every game developer," says Nikita Sherman, the founder and CEO of Drimmi. "The price of mistakes on other social networks is not as high," he adds.
So Drimmi publishes its games in Russia, Germany, Poland, Brazil and other countries, using local social networks to publish its games and only promotes successful titles on Facebook.
Publishing games outside of Facebook is a short term strategy, according to Elena Masolova, the founder and CEO of Pixonic, a social game publisher also from Russia. "We publish games on Odnoklassniki, StudiVZ, and NK.PL but no later. Is Facebook going to be challenged as social gaming platform?"
When Zynga releases a new games, 90 percent of its existing gamers play it. Zynga still pays 30 percent of its total revenue to Facebook, for what, the meager 10 percent of new users? Given that it has already created its faithful audience, shouldn't Zynga move away from its dependence on the world's leading social network?
From this chart, developed by comScore, one can see the total minutes spent on various social networks. The Facebook bubble will just get larger.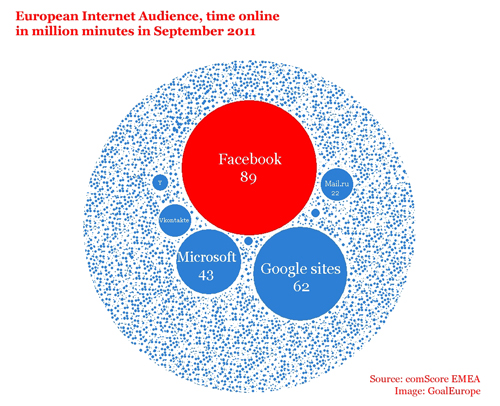 As Russia commands the largest European online audience, its market for social gaming can not be underestimated. "A game on Odnoklassniki generates ten times more revenue than on Spil Games," says Masolova. The latter is a specialized gaming platform which attracts 140 million visitors to its site each month.
An explanation for that may be the revenue generated by virtual goods, which according to Zynga financial reports, constitutes over 95 percent of its total turnover. Virtual goods are by nature a social phenomenon. Helping a friend get to a next level with a virtual gift is how social networks drive revenue of the social games developers.
Russia is not the market Zynga is interested in yet, hence leaving a niche for other publishers to build their gaming audience. Sherman says "Executives of Zynga visited Russia but they were saying that an annual turnover of Russian market is that of one week of Zynga revenue."
According to Branco Milutinovic, the founder and CEO of Nordeus, a developer of a football game Top Eleven, there is no incentive for Nordeus to promote the game outside of the Facebook environment. "Facebook delivers value for 25 out of its 30 percent cut," he admitted during our chat at the "How to Web" conference in Bucharest, Romania last week. Nordeus is a bootstrapped and profitable company from Serbia, whose game Top Eleven beat FIFA Superstars by attracting 2.8 million users, becoming world's most popular football (soccer to Americans) game.
So, while Zynga has the muscle (and $1 billion in cash) to disengage from Facebook, smaller game publishers are most likely to move towards it, betting their marketing budgets on winning new gamers.
Meanwhile, Facebook is not in a hurry to develop its own games, according to Mark Zuckeberg's recent interview to TechCrunch. It will just collect its apparently well-deserved 30 percent commission on the successful titles.