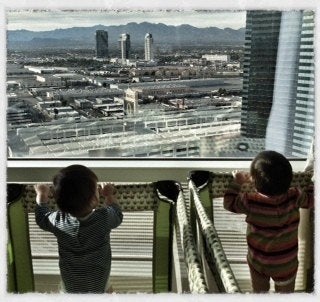 Last week, my husband had an e-learning conference in the City of Sin, and I decided to tag along with the rest of the tribe (1-year-old twins, a girl and boy). For some reason, the notion of entertaining the twins in a child-unfriendly city like Las Vegas for a few days on my own sounded more appealing than staying home alone with two active toddlers while trying to manage my contract work.
So, I burned up my miles (gathered from the heydays of business travel before kids) and the family jumped on a plane to Vegas.
Being a mother of twins usually gives me a carte blanche for not getting anything done. This time, I failed to do one major thing. I simply didn't do any research on what to do with the kids in this "adult" city while my husband is tucked away in a conference room in a fancy hotel. I flew to Vegas with no agenda, nothing prepared. Zilch!
We arrived in Vegas on Halloween night. It was surreal. Many people were dressed up in costumes, but it was hard to tell who was who. Were these just ordinary people celebrating Halloween, or the regular impersonators that Vegas is known for? Were they just your average misfits who are trying to fit in the city where everything goes? Who knows, but I certainly didn't see any kids around that night.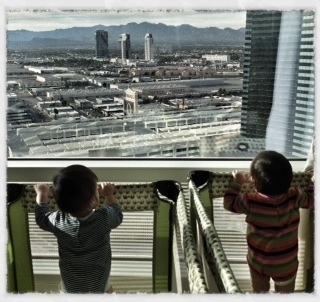 I went to bed that Halloween night in a fancy Vegas hotel room terrified about the prospect of being with the twins in the city of no children. By the time the morning came, it was obvious that keeping the twins in a room that is not baby-proofed while watching 1990's Barney videos on my iPad is not the way to fly, so I put them in their double stroller and made a small prayer. The first stop after a quick breakfast at one of the hotel's restaurants (where the kids threw half of their eggs on the floor) was to the concierge's desk. You know the saying, "When in doubt, ask the concierge." (Okay, fine, this saying doesn't really exist, but you know what I mean).
The concierge at the Aria hotel where we were staying was friendly, and did his best to help me find options to entertain the kids. He told me about the Shark Reef Aquarium at La Mandalay Bay. When I asked him about any playgrounds or parks nearby, he said: "Well, there aren't any, really. Vegas is one huge adult park." He gave me a map of Vegas' famous strip where the hotel was located and wished me luck (lots and lots of luck).
I headed to the strip armed with a map, an intention to visit the shark aquarium and lots of snacks (for emergencies, mostly). As a first-time visitor to Vegas, I was immediately drawn to the mammoth signage, the vibrant energy and the lavish construction. I was expecting the city to be more kitsch-like. It wasn't. It had eclectic ingredients: jubilation, lust, wealth, hope and desperation. The kids fell asleep in their stroller right as we left the hotel (Thanks to a mix of jet lag and indifference to the city with no playgrounds).
While on the strip, I had to stop and ask for directions to get to the Mandalay Bay. I couldn't help it. This is who I am. I ask for directions. See, there is a saying in my home country of Jordan, (yes, it's a real saying) that goes like this: "Whoever asks, never gets lost." Wise, wise words, ladies and gentlemen.
So I was going about my business, following the Arab way by asking every other person for directions while stressing out about what to do with the kids after the aquarium (I had more than eight hours to fill that day), when I saw her and then everything changed. I saw the other woman with the stroller. She was actually about to cross the street when I approached her and asked her about the activities she is doing with her kids in Vegas. She had maybe 20 seconds to respond before the pedestrian traffic light turned green. She told me that there was a zoo at La Mirage hotel that I can take the kids to. She also told me that the shark exhibition was not that good (I went anyway) and that she was crossing the street to take her kids to the M & M store. She then crossed the street, and I never saw her again.
It was that brief encounter that suddenly made the notion of entertaining the kids in Vegas on my own less intimidating and actually quite fun. That was when I realized that yes, I do belong to the Arab club (where we ask for directions and do not follow maps), but now I belong to another one. It is a universal, borderless, citizen-less one that is called the "Mommy club." It was that moment that I realized that no matter where I go and how many miles I cross, I can always count on the woman (or the man) who pushes the stroller.
I took the kids to the aquarium that day (they slept through most of it) and to the M & M store (they slept through that too) and to the Coca Cola store. We walked all the way to the Mirage the next day to visit the zoo, but the kids were so tired and cranky that I had to head back to the hotel room for some quiet time. The three days I had in Vegas (with 1-year-old twins!) were actually quite nice. I didn't panic and actually enjoyed the ride. After all, I belong to the stroller mileage club. What's there to fear?