For whatever reason, I never can forget the times that I have been rejected in life. It's like a curse, though I understand curses are merely self-imposed. Being told 'no' is like taking a scalding-hot brand and pressing it against my brain, leaving a scar on my memory. The rejections that were most painful came in the form of potentially denying me my dream of playing Division I collegiate football. The scarring comments I received from scouts and coaches still are raised and tender on my mind.
"Nate, we, as a coaching staff, feel as though your athletic ability does not qualify for the Division I level. Perhaps Division III football would suit you better."
"Mr. Leonard, your lateral quickness, speed and height keep you from receiving more interest from our football program."
"Nate, I took one look at your height and didn't look further. We aren't in the business of recruiting 6-foot linemen."
"Nate, thanks for your interest in our program, but you just don't resemble the type of offensive linemen we recruit. I would suggest you work on increasing the size of your biceps."
Yes, an offensive line coach from a Division I university in Texas actually sent me that last message.
Email after email, letter after letter, the open doors of my life's dream were being bluntly slammed in my face. Many of the scouts and coaches even had the gall to include a farewell message such as "looking forward to hearing from you soon."
I would just smirk and think to myself that they sure would, but they would be seeing me from the opposite sideline.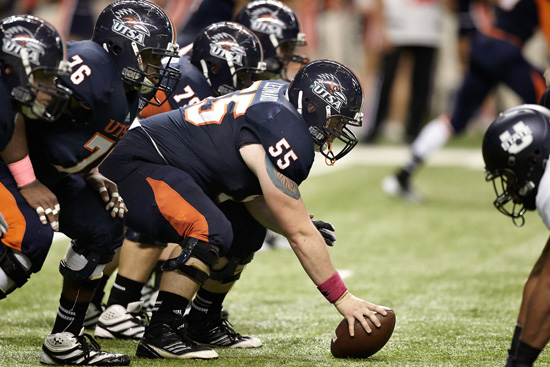 Jeff Huehn, UTSA Athletics
Those scars on my memory seemed to fade and disappear as I stood in my Hyatt Regency Hotel room on The Riverwalk this weekend. The view from my window was like a portal to my soul as the sight of three prominent San Antonio structures brought culprits to my curses.
The first was the Emily Morgan Hotel and all of its grandeur. The Emily Morgan was the hotel that my dad and I stayed in when I came to the very first UTSA Senior Football Camp in Summer 2009. I was so anxious to prove my worth that I neglected to take in the pure beauty and elegance of the hotel. The marble floors, the mesmerizing metals and the gothic structures went unnoticed as my eyes were straight forward and focused the entire weekend. I do remember a surprisingly encouraging remark that the valet made to me as dad and I departed for the camp. He told me that he felt I would have a successful showing and that he was looking forward to watching me play for UTSA one day. Looking back on that kind remark, I feel like God puts people in certain places to send certain messages. Almost like angels touch our lives every day in every way, but sometimes we just don't have the wherewithal to see them.
The second structure my eyes perceived was the Alamodome, itself. Dad pulled me up to the front and dropped me off in order for me to register for the camp. I never had seen so many football players in one place. The line for registration seemed to wind for miles and I was just another number at the end, hoping to be seen. I waited in line for about three hours and contemplated calling dad to just come and get me, but there was a different feeling about that day. Something told me to do what I always did, just be persistent and never quit. When I finally did register, the camp was just beginning and I joined the herd of about 100 offensive linemen. I was one out of 100 other guys who fit the mold of a Division I offensive linemen much better than me.
The third landmark that my eyes had the privilege of perceiving was the Alamo. To any Texan, the Alamo is holy ground, and you better believe I pay tribute to the cause by having its glorious structure forever inked on my left shoulder. I am a Son of the Texas Revolution for God's sake. What a scene it must have been. One hundred fifty defenders of the Alamo fending off an entire Mexican army until each and every defender died. No surrender. No quit. Just fighting for the dream of Texas independence no matter how heavily the odds were stacked against them. Laying the foundation for what eventually would be the realization of that dream.
I couldn't help but think of the parallels between the Battle of the Alamo and the birth of UTSA Football. Although we are against the odds every week, we do nothing but fight harder. We fight until time has simply run out. We don't feel sorry for ourselves and we don't pout. We just anchor down and keep our feet moving. We know nothing else. We fight for that foundation that will eventually lead to the glory days of UTSA Football, yet I just can't help but think that we are living in the glory days right now. What we as a program are doing is righteous and no one will forget us. I found it brilliant that Coach Kevin Brown took us right up to the Alamo before loading the busses and emphasized these parallels. Regardless of record, we are the most special team UTSA will ever know.
After I calmed down from thinking about how incredibly meaningful that moment in my hotel room was, I started thing about the odds in my own life. What are the odds that particular valet would be assigned to retrieving our car and say what he did? What are the odds that I would be noticed at that camp and offered a scholarship a week later? What are the odds that I would be where I am right now and sharing my experiences with you? The odds were ever against my favor, but they were all I needed.
My teammates and I are the one percent of the one percent. We are merely one out of 124 FBS teams and one out the many UTSA ultimately will have. However, right now, we are THE team. UTSA is my team and I am honored to toe the line with my teammates in laying the foundation for the realization of this program's dreams. I will fight valiantly with them until the end.