My dorm room tells the story of yet another fall football camp in the books.
Black turf pellets adorn my bed, bathroom and wardrobe, not to mention the Hansel and Gretel-like pellet trail leading into the room. My hands and feet never will be the same, leaving behind the silky-smooth, skin-covered look for a fall-fashioned scabby presentation. My farmer's tan never has been in such mint condition. It leaves no discretion between milky white and the Texas sun-kissed tan. My trash can is feeling the burden as well, bursting at the seams with bone-dry bottles of water and Gatorade, Band-Aids and the minty-fresh aroma of Bengay. However, just like all fall camps end, the trash can will be emptied, the tan will even out, the skin will heal and the pellets will dissipate. But one thing will remain constant: my unyielding passion for UTSA Football.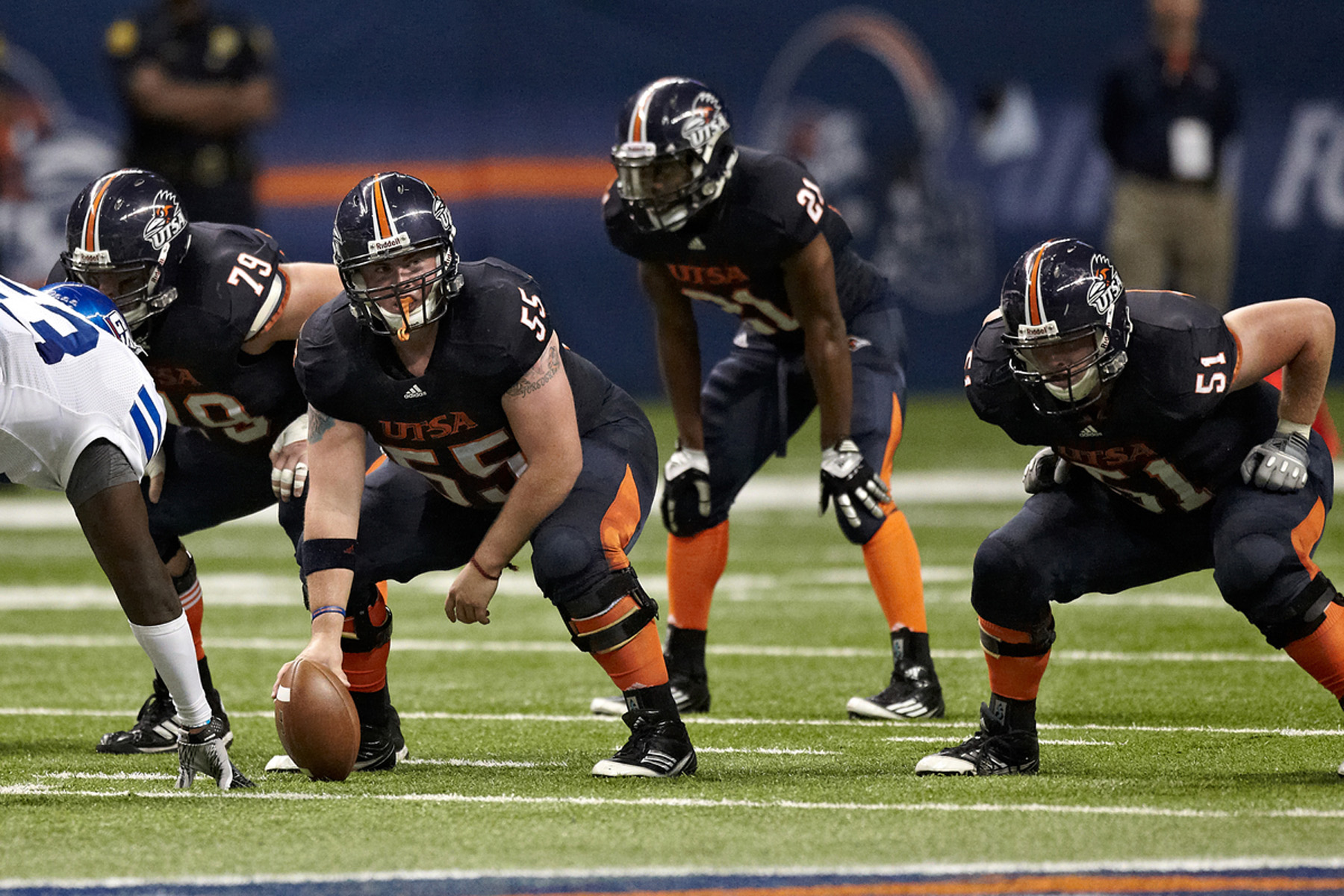 Jeff Huehn, UTSA Athletics
My name is Nate Leonard and please allow me to introduce myself as the son of the world's greatest dad. He is a man of honor, courage, conviction and strength. My father, Billy, is the reason why I work as hard as I do on the football field, in the classroom and in life. He is also the fuel to my fire and the reason why I made collegiate football my life dream. I never had a choice. From the toddler football outfits to the late night war stories of his days at Temple High School under the legendary coach Bob McQueen, the train tracks of my life were set, righteously so. Through him, my dream of playing Division I college football was born and, along each step of the way, he was there with a guiding hand. My father's love and passion for my football career and dreams never wavered, even when tragedy stared us directly in the face with the passing of my mother, Toni Lou, in 2007.
I grew up in the Dallas suburb of McKinney and, as the son of two perfectionist attorneys, my upbringing was anything but lax. The only acceptable grade was an A+ and the only acceptable game outcome was a win. My parents expected perfection from me, therefore, I became to expect perfection from myself. My goal was set from a young age: —to become a Division I football player. No questions and no exceptions. It may seem like a world of pressure to some, but for me, it was all I could think and dream about.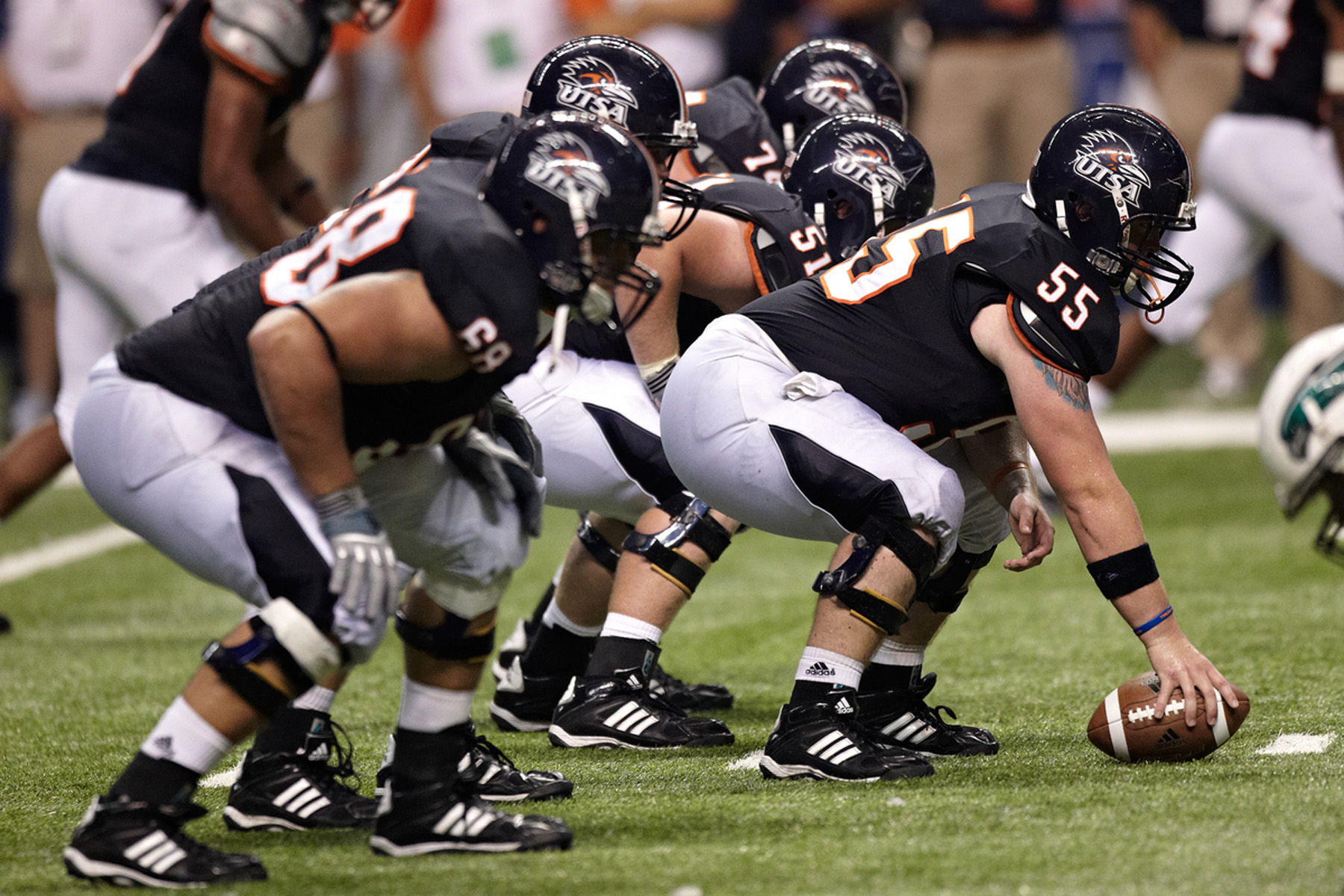 Jeff Huehn, UTSA Athletics
Growing up in the sports scene, I wasn't the biggest, strongest or fastest, but by God, that didn't mean I couldn't strive to be. So I became a worker, an underdog with a sizable chip on my shoulder. I worked all through high school to become the absolute best athlete I could be and took a blue-collar approach to the weight room, always the first one in and the last one out. Unbeknownst to my fellow teammates, my high school coaching staff made an extra set of keys for me so I could lock up the weight room when I left after everyone else had already turned in for the night. I wasn't called by recruiting websites and my phone wasn't being pestered by scouts, as I obviously would have preferred it to be. In the world of competitive football, I was dealt an unfavorable hand, ranging anywhere from 5-foot-9 to 6-foot-2 depending on what gas station I walked out of. I only passed the collegiate coach's "eye candy test" while wearing my extra-thick-soled Justin boots with four additional Dr. Scholl's shoe inserts. For a while, Division I football seemed like a door that I didn't have the key to, no matter how furiously I tried to mold one. However, every night before I went to bed, the only thought that kept me sane was that it only takes one school, one coach and one opportunity.
UTSA turned out to be the one. None other than Larry Coker himself sold me on a vision. A man of great respect in the football world sat me down in a trailer turned into a make-shift coach'es office and sold me on a dream that one day UTSA Football would be in Division I national spotlight. It was unwaveringly easy to believe in that vision as Coach Coker and his staff unwaveringly believed in me. The 2010 practice season was no walk in the park, as practices ranged from Sunday through Thursday, full gear, full speed and full Texas heat. Popping pads against my own teammates for an entire year made the 2011 inaugural season seem like fourth and goal on our own one-yard line. I seemed like it never would come to fruition. Yet, finally, the 2011 season came and went, leaving with it triumph and upset, as any football season should.
Our gloriously rowdy fans helped set NCAA attendance records and were the backbone of our motivation throughout the season. So much so, that they never left me without a chill up my spine. Although we set records, we turned in our final laundry clip with a bitter taste in our mouths. A 4-6 season just didn''t sit well with us and we became sick of hearing how well we competed for how young we were. UTSA Football is a program made up of winners and winners never are satisfied, which is why this year's team is hungry for a successful second season, one that commences with a familiar foe in three days.
We strap up the pads and face South Alabama this Thursday in what is known as a revenge game. I still can hear the thud of our blocked field goal, which sent the 2011 game into overtime and ended in a 30-27 loss. We are prepared, we are hungry, we have a chip on our shoulder and, most importantly, we have something to prove. Those are things I know a little something about. So to all Roadrunners fans, get your birds up and get rowdy, because it''s going to be one heck of a season.