I am an addict to "the feeling." When my head is as clear as a baby blue Texas summer's sky and my heart is as calm as the starry night that follows. When tenacious tingles consume my skin and feeling fleets to the point at which my body feels like floating. When worries wander and troubles trail, leaving nothing but exuding excitement in their wake. When each breath is more bountiful than the last and each stride stronger than the former. My stomach breeds butterflies, my nerves know nothing and my mind meditates. It's the feeling I get when I suit up with my brothers on the field of battle, adorned with the blue and orange and sporting our cause proudly on our chest, UTSA. Roadrunners Football is my drug of choice and I got my fix this past weekend in Mobile, Ala.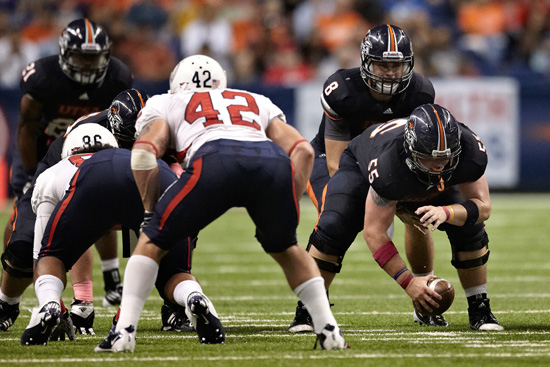 Jeff Huehn, UTSA Athletics
People who know me at all know I do one thing to perfection and that is sweat. It's the "Leonard Curse" or so my dad told me once as he wiped beads of sweat from his brow. I could be doing anything and sweating at the same time. Walking to class, riding my bike, reading a book, typing this blog or even playing billiards in a blizzard are all occasions that, for whatever reason, my body registers as events for perspiration evacuation. The same goes for taking one step out of the gloriously air-conditioned United 737 and into miserably muggy Mobile, Ala. Even as I prepared to bless my body with the UTSA battle attire before Saturday's season opener, a small "Nate Lake," as my friends heckle, had accumulated under my dress chair as I took the form of a 6-foot, 285-pound rain forest. There was one thing that I didn't sweat, however, and that was our level of preparation to play the Jaguars of South Alabama.
As a team, we had 10 months, 23 days and some change to marinade on the defeat we suffered to USA in double overtime last season at the Alamodome. That time allowed our run for revenge to furiously fester and eventually overflow at Ladd-Peebles Stadium with a 33-31 come-from-behind victory, marking our first-ever road and Football Bowl Subdivision win in school history. I said in many interviews leading up to the game that I was out for revenge, but there was one Roadrunner who was out for something a little more personal.
Our place-kicker, Sean Ianno, was out for redemption.
If the thud of the blocked field goal in last year's game haunted my once peaceful dreams, I couldn't imagine what it must have done for the guy who kicked it. This week during practice, I jokingly asked Sean if he wanted the game to come down to a field goal again. He smiled, probably wanting to serve a knuckle sandwich right to my kisser, and replied that the game shouldn't have to if the offense performs how he knows we can. It was a perfect answer from the different breed of cat known as a kicker and I left the conversation thinking the exact same thing. There's no way the game will come down to a field goal. Before kickoff, however, I walked up to each teammate, spending a particular amount of emphasis with Sean, and told them that I loved them and believed in them. When your football team is ranked 124 out of 124 by more than one sports writer, it is us against the world and I feel it necessary and important to let my teammates know that I love and believe in them.
I am no stranger to the feeling of being up against insurmountable odds and neither was my mother, Toni Lou. Anyone who knew her would tell you that mom could be spotted a mile away. Maybe it was the bright fire-orange hair that wisped ever so noticeably. Or maybe it was seeing her bolt around town in her well-known "Citron Green" Mercedes-Benz coup. Perhaps it was her contagious laugh or her perfectly pearly-white smile. I tend to believe that it was none of the above, as my mother had a personality that just made people feel downright good about themselves. My mother is reflected through my actions on an everyday basis, especially through my refusal to quit or take any prisoners. My mother was once a very powerful prosecutor. Because my mother has such an important impact on the way I live my life, I feel as though her story must be told in order to understand mine. Her life was a success but, her fall was tragic and I will be entailing the different stages of her final fight throughout the remaining weeks of my blog.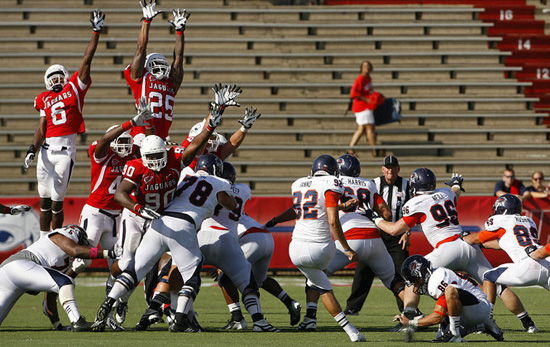 Mike Kittrell, The Press-Register
However, until that time comes, I can't stop thinking about the final offensive drive of last Saturday's game. After being stopped on third down, I "big man jogged," which is an interestingly unathletic mix of walking, jogging and trotting, to the sideline. We were down by one point, but I couldn't wipe the curiously casual grin from my tomato-red face. The situation was fantastically ironic. UTSA/USA had come down to a field goal, once again. Before the ball was snapped, I knew the outcome. I knew because we are a team that prepares 353 days out of the year for 12 opportunities to shine. I knew because of the many relentless days that we attack the iron in the weight room and gassers on the field under the unforgiving Texas sun. And I knew because of the way this Roadrunners football team attacks life. As the ball fluttered with ever such finesse from 51 yards away through the uprights, I knew that, again, I had never been so proud to be a Roadrunner.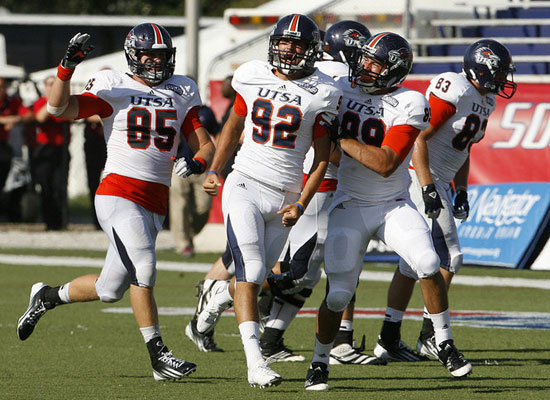 Mike Kittrell, The Press-Register
The special "Unfinished Business" travel shirts that we sported for this particular trip apply to every game this season and I look forward to taking care of business at home next Saturday in the Alamodome against the Lions of Texas A&M-Commerce. I know there is no way that they can prepare themselves for the rowdy and rambunctious environment they are about to stumble upon. Roadrunners fans, let's welcome them kindly, because I know I'm ready to.