The back of my hands are riddled with scars. I'm completely missing a fingernail. My right pinky juts out like Italy into the Mediterranean. My thumbs have been jammed more times than a lemon printer. The index finger on my right hand leans left then overcorrects the opposite way past the knuckle. My left ring finger takes a right turn at the tip. I have no nail bed or cuticle on my left thumb. My right ring finger won't straighten. My wrists shake, rattle and roll while my ankles snap, crackle and pop. I get rather winded walking to class and don't get me started on scaling flights of stairs. I have little feeling in my right big toe. Callouses swarm my feet like bees to sweet, sticky Gatorade. Buffet owners kick me out of their establishments. I spit when I talk, huff when I walk and snort when I run. I haven't seen a razor in a few months, a barber in a year or a date in two. I am a football player by choice, but an offensive lineman by the grace of God.
Piglets, pigs, hogs, brutes, ogres, nasties, or big uglies. Call us what you want, but the foundation of a football team is what we are. We hide in the desolate darkness of the trenches driving, punching, digging, clawing, scrapping and brawling. Often employing maneuvers that only are legal within the white stripes of a football field. We fight for one thing: inches. That's correct, the length of the finger you're using to scroll down this blog makes the difference between winning and losing. Determining whether we live with dignity or disgrace, inches not only earn us our education, but they feed the families of our coaching staff. The offensive line directly determines the success or failure of a program and, more importantly, the success or failure of careers and lives. And people wonder why I take my job so seriously. That's why I never miss a meeting, practice or workout, mandatory or not. It's because I want to be able to look those people who count on me in the eyes and for them to know, without question, that I won't let them down. I am blessed to share that same bond with the four other hogs that surround me -- my offensive line, my brothers.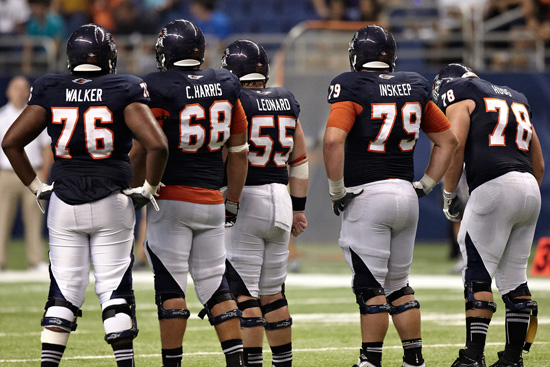 Jeff Huehn, UTSA Athletics
I'll start from the left and work my way over to the right, because if I described them any other way, I wouldn't hear the end of it. Offensive linemen are some of the manliest men in the world, but when it comes to grudges, they are like elephants. They never forget.
The left tackle position is manned by Patrick Hoog. At 6-foot-4, 305 pounds, Pat not only turns heads in public, but he turns heads in the weight room. Physically, Pat is the strongest person I know and watching him lift weights is like walking through a jungle. I don't know what's coming next and I'm always scared. All joking aside, he's an inspiration to me on and off the football field. By the way he plays football, the experience he brings and the way he lives life, I aspire to be like him.
My left guard is Scott Inskeep. Scott is a hybrid between a Grizzly Bear, mountain man, champion wrestler and heavyweight boxer. All of which combine to form one heck of an offensive lineman. Standing at 6-foot-4, 300 pounds, he is a very physical football player and I'm thankful that he plays next to me. I am indebted to Scott because he not only makes me look good when we combo block, but he makes me look good when we are out in public.
The right guard position is manned by the 6-foot-5, 300-pound Cody Harris. I like being seen next to Cody because people are more likely to assume that I play football at UTSA as well. Many people make me look small, but Cody makes me self-conscious about it. But in all seriousness, Cody is a key asset to our offensive line, bringing a no-nonsense attitude and a mean streak rivaled by few.
It's fitting that the last offensive lineman I describe is Josh Walker because he is the puppy of the offensive line. Although he is only one year younger than most of us, we still consider him a puppy because we like to think of our sophomore status as being veteran. Although we give Josh a hard time about being the youngin', his 6-foot-3, 290-pound frame and the way he plays football tends to simulate the play of a veteran. His cat-like quickness makes him effective at the right tackle position and our offensive line wouldn't be the same without him.
I'd like to say that I'm the glue that holds the offensive line together and that our line calls, steps, punch, helmet placement and pad level are flawless, but I know better. Coach (Jim) Marshall, our position coach and the real glue that holds the offensive line together, knows better as well and reminds us daily as we watch film in the "Pig Pen." Coach Marshall brings a level of experience that is calming because he doesn't get rattled in any situation. We joke that he can handle every situation because a man that has lived through every man-made war should be able to, right? I'm pretty sure Coach Marshall was around for the fall of the dinosaurs as well, but it must be a touchy subject because he doesn't talk about it much. In all seriousness, Coach Marshall has a huge impact on my life because as a future coach, I only can hope that I have the same impact on my athletes as Coach Marshall has had on me.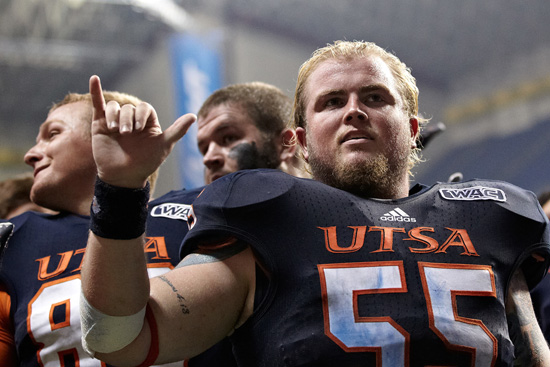 Jeff Huehn, UTSA Athletics
As I walked out of the Alamodome this past Saturday, having defeated the Lions of Texas A&M-Commerce and playing in front of a home crowd of the best and rowdiest fans in the world, I held my head high knowing that I led an offensive line that directly impacted the outcome of the game. I could look my brothers in the eyes and let them know that I didn't let them down, as they could do the same to me. I fight for that feeling and want to leave the Georgia Dome this upcoming Saturday the same way. Georgia State Panthers, I'm coming to Atlanta, and I'm bringing my brothers with me.