Last spring, I was walking through the UTSA Football offices in one of my signature outfits. My hair wasn't quite as "Super Blonde Dye #202" as it is now, but it was slicked back as usual. The patchy hair on my chin was putting in overtime to look as much like a grown man's goatee as possible. My shirt was no stranger to being worn with some serious love and it had clearly been abused by my addiction to sweat, as the words "Life Begins When Texas Football Season Starts" had seen more legible days. Picnic-patterned cargo shorts suffocated my thighs and I regret to inform y'all that those particular shorts were just recently given a proper burial in the dumpster behind my dorm room. And to complete the outfit, my feet were thanking me in my ever so silky smooth carbon-blue flip-flops. The squeaky squeal of my footwear must have caught the attention of Offensive Coordinator Kevin Brown, as he conveniently summoned me into his office.
He asked me to take a seat and I obliged, thinking he was going to constructively criticize a shortcoming he had seen during the latest spring football practice. Rather, he turned to his computer and motioned for me to come closer. His laser pointed to a rather large mass on the screen in the form of a 6-foot-4, 320-pound Georgia State nose guard. He rolled the footage as the opposing team's center repeatedly was being terrorized, as play after play, the grass stains on his back became ever so painstakingly prominent. Coach Brown kept his finger on the "play" button and as the horror movie on the screen continued, he asked me one simple question: "Can you block this guy?" I consider myself to have thick skin, but at the time, that simple question really irritated me something awful. Looking at him with restrained contempt, I told him that I can and will get the job done. He left me with the simple phrase, "Show me."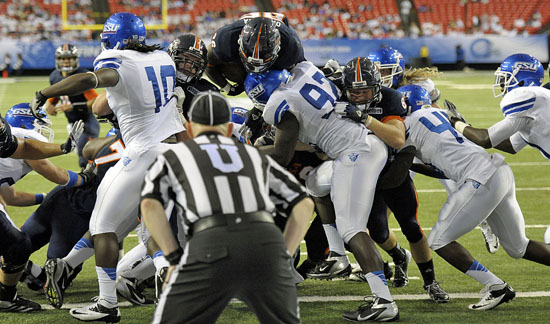 CORE 360 Magazine
This past Saturday, the "show" began in one of the most gorgeous venues I have ever played in, the Georgia Dome. My fellow offensive linemen and I paved the way for 225 rushing yards and protected our quarterback Eric Soza so he could pass for 217 more. We did not allow a sack for the third game in a row and we departed Atlanta with a satisfying 38-14 victory against the Panthers of Georgia State.
It usually doesn't take me a few months to find the solution to an inquiry, but I believe Coach Brown's question was answered. I'd like to say that the excellent play calling and execution of the offensive took center stage, but I must tip my hat to the backbone of this year's team, our "Hard Hat D."
No matter where I am, people want to ask me questions. Classes, car washes, burger joints, convenience stores and movie theaters all turn into the hot seat when people realize that I play football at UTSA. I've been asked a variety of questions ranging anywhere from "What position do you play?" to "Can I get a pair of your underwear?," but one of the most frequently asked questions I get is "What is the best defense you have played against?"
That's one of the easiest and most satisfying questions to answer. It's the defense I face at practice every day.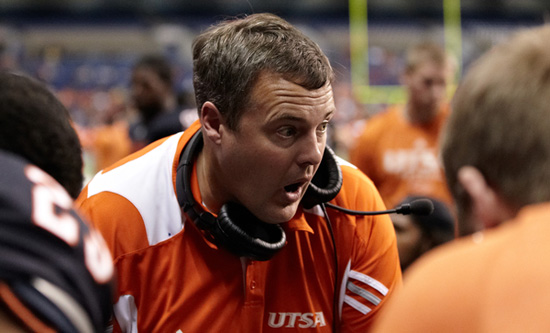 Jeff Huehn, UTSA Athletics
The foundation of our defense starts at the top with an honorable man of faith, Defensive Coordinator Neal Neathery. The most admirable quality about Coach Neathery is that I know day in and day out, he not only works to build our defense into the best in the nation, but he takes great pride in helping build our players into men of integrity and character. He is also the successful ringleader of a dominating linebacking corps that consists of tackling machines Brandon Reeves, Blake Terry, Drew Douglas and Brandon Guerrero.
Practices just wouldn't be the same without the enthusiastic coaching styles of secondary mentors Perry Eliano and Nathaniel Jones. Without fail, Coach Eliano's "positive reinforcements" can be heard clear across the Lone Star State, as can the inspirational shouts and encouragements of Coach Jones. Both do an excellent job because our secondary, the last line of defense, is a dominating presence on Saturdays. It is led by converted linebacker Steven Kurfehs, Triston Wade, Mauricio Sanchez, Nic Johnston, Erik Brown, Darrien Starling and Crosby Adams.
Eric Roark, our defensive line coach, is one of the most animated and talented coaches I have ever been involved with. His witty "Camp Fire Stories" always are crowd pleasers and his dedication to exposing my weaknesses on the football field earns him a warm place in my heart. As my recruiting coordinator, Coach Roark had a large influence on my commitment to UTSA. For that, I am and will be forever thankful. He leads the best defensive line that I have ever played against. It is comprised of stalwarts such as Ferrington Macon, Ashaad Mabry, Franky Anaya, Richard Burge, Jason Neill, Cody Rogers, William Ritter, Jarron Harris and Dan Winter. Needless to say, I have swapped helmet paint and headaches with these guys more than a few times and that is why they are my favorite unit of the defense.
In my last blog, I warned the Panthers that I was bringing my brothers with me to Atlanta, and boy did my brothers on defense show up. They allowed just 86 rushing yards and 14 points on 48 offensive plays. Those numbers are what this entire team can hang our hats, or should I say hard hats, on.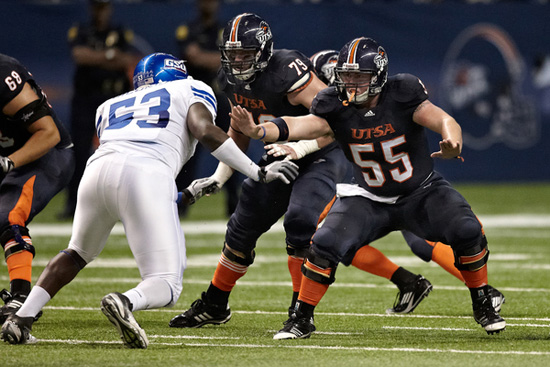 Jeff Huehn, UTSA Athletics
The plane ride back to the warm embrace of San Antonio was filled with many things. Restlessness due to adrenaline overload, finger sandwiches, cheese and crackers, Band-Aids, DirecTV, ice packs, and ear popping were all overshadowed by the satisfaction of a perfect 3-0 record, which is something we are very proud of. When it comes to food, my motto always has been "I'm never full, just tired of eating," but when it comes to winning, "I am never full and never tired of eating," and I know my teammates feel the same way. We are starving for another win and plan to feed on the Rangers of Northwestern Oklahoma State as we celebrate Hispanic Heritage Day this coming Saturday.
Runner Nation, bring your bibs to the Alamodome because we plan to feast. Or rather, Nación Runner, traiga sus dorsales al Alamodome este sábado, ya que tenemos la intención de fiesta.
See y'all at the Dome later this week.