I see him everywhere. It doesn't matter where I am, he is always there earlier and stays later. He is in every crevice and cranny of campus and always proudly representing the blue and orange. Painted, plastered and posted, he seems to be one with the walls of UTSA and is already embedded into South Texas football lore. His uniformed appearance embraces the glances of billboard viewers and nightly news gawkers. People who know him are blessed, those who meet him are better for it and anyone who simply hears him, quite simply, are inspired. His discipline strikes anguish in those who oppose him and faith in those who follow him. He is the face of a program and the captain of a tradition. His name is Eric Soza and I am one of the lucky ones who take pride in following his lead.
Not only am I fortunate to call Eric my quarterback, but even more so to call him my friend. I take great pride in knowing that day-in and day-out, week-in and week-out, it is my sole responsibility to protect him. I protect the man that protects the dreams of the entire city of San Antonio and I never underestimate the importance that comes along with that responsibility. However, I feel like my job not only is to keep Eric's jersey clean and his facemask grassless but to keep him calm and put a toothy smile on his perfectly tanned face.
Eric knows that, to me, he is and always will be the "Headless Snowman." It may seem silly to some, but to me, it is completely logical. In order to come up with this brilliant nick of a name, I didn't have to look any further than his number. The number "8" has the lower-body and torso of a snowman, just without the head, hence the "Headless Snowman." Not a day goes by that Eric isn't reminded of this and, although I'm sure it may put a hitch in his giddy-up, he never fails to appease me with a grin.
Anytime that Eric seems rattled, which is almost never, I remind him that the offensive line has his back and that we are there for him and love him. It may be helping him up or fixing his shoulder pad from a hard hit, but the offensive line is always there and out to ensure his safety. Anytime the hogs feel like a late hit was delivered to our quarterback, we are right there to return to sender. Eric is our treasure and we are the locks on the chest.
He knows that we have his back and we feel like that keeps him calm and assured, but whom are we kidding? Eric is the one who keeps us calm and assured. His presence in the huddle, classroom and our lives reinforces the notion that we are associated with someone who has a grasp on what living life truly means. And I don't just speak for the four other hogs that put their hand in the grass; I speak for the entire team. Eric is our fearless leader and there isn't a one of us that wouldn't put it all on the line for him.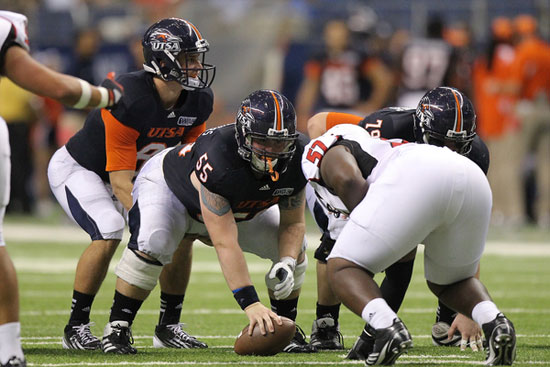 Jeff Huehn, UTSA Athletics
Although Eric is an outstanding leader, I know of only one better, my mother, Toni Lou. I have promised my readers to tell her story and I am a man of my word.
It was Dec. 31, 2006.
New Year's Eve always had been an occasion for my family to curl up in the living room and glue our eyes to the TV set, watch fireworks explode across the world and discuss our ambitious goals for the New Year. The stage was set. Dad and I were in our usual spots on the couch and in our usual nightly attire. I was rocking some pajama bottoms that featured cartoon turtles swimming up my leg and an extremely comfy and oversized McKinney Lions Football pullover. Dad was sporting some "high water" baby blue sweat bottoms, his comfy red fuzzy socks and a familiarly worn navy blue shirt that read "Proud Father of a McKinney Lion Football Player." Our black standard poodle, Angus, was coiled in an awkwardly shaped ball, as usual, at the foot of what I liked to call "The Throne."
"The Throne" was the best seat in the house. Ravishing rhinestones of all different colors crested the carvings of its wooden frame. Red velvet upholstery was wedded to the wood by golden brackets that flared off the sides and down the legs, which were shaped like the claws of a griffin. "The Throne" was fit for a queen and I only knew one person who could properly adorn it.
Mom was clothed in her obnoxiously pink kimono-looking night attire. Yet, on that particular night, the pink of her nightgown wasn't obnoxiously bright, rather it was uncharacteristically dull. The rhinestones of her throne were barely noticeable as they had all of a sudden lost their sparkle. The red velvet upholstery looked worn and faded and the gold leaf brackets had turned a pale brown. Mom's bright orange hair was strangely shaggy and her skin seemed transparently pale. Her smile that could light up like fireworks was hidden behind a droll scowl and her baby blues turned dimly dark. Quite honestly, I was frightened, so I asked her if she was okay.
A single, solitary tear rolled down her pasty cheek, and at that moment, I knew my life never would be the same.
As won't the lives of the Aggies of New Mexico State as we take them on in Las Cruces, N.M. this Saturday. Opening Western Athletic Conference play for the first and only time, we know that the nation that doubts us is watching, but the only nation that matters, Runner Nation, can be assured that we will be led into the enemy's graces by someone we are all proud to call our own, Eric Soza.