I can't ever sleep peacefully after a game. Naturally, this dilemma worsens due to a loss or poor play. Lord forbid either of those scenarios occur, but my dreams turn into nightmares of ugly scoreboards and blown assignments. Those nights, I tend to toss and turn and wake up to a cold sweat that has accumulated into an arctic "Nate Lake." Winning should be a plausible remedy, but sadly this is not the case. My adrenaline overload kicks in and it seems to take more effort to try and close my eyes than to just keep them open. Also, I am such a perfectionist that I become my own worst critic and will only focus on missed blocks, blown assignments and ill-advised line calls even in the case of a gloriously victorious blowout. However, in the early hours of Sunday morning, around 2:57 a.m., shortly after touching down in God's Country, I stumbled into my room, was out before my head hit the pillow and slept like a baby.
There are certain happenings that inform me I have slept well. First of all, when I become conscious, I am clueless as to where I am or how I got there. This is further complicated by what I like to call having "sleep" in my eyes that must be cleared out before I can start figuring out what the heck is going on. After I comprehend my identity and whereabouts, I usually notice that a good percentage of my cheeks and beard are blanketed in drool and that my fine, wiry hair is standing straight up like something out of an electricity demonstration. Postgame sleep always results with waking up to limbs that are still unaware the brain has woken, swollen hands and fingers and a sensory inventory of battle scars picked up during the competition. Lastly, I try to remember what my dreams entailed, but when I woke up after this game, I realized that my dream occurred before I went to sleep.
The setting was beautiful Las Cruces, N.M. Mountains stretched for miles and they mesmerized me. On the bus ride from the hotel in El Paso to Aggie Memorial Stadium, I never took my eyes off of the majestic masses and they were so expansive that it seemed they didn't move the entire 45-mile trip. Aggie Memorial Stadium was a gem tucked into the already beautiful landscape and it was refreshing to play on such a well-kept natural grass field. For the first time in a long time, I was actually a bit nervous to play. It wasn't due to a lack of preparation or confidence, but rather the magnitude of the situation. New Mexico State was the first established FBS football team we had ever played and it was our Western Athletic Conference opener. I knew what it meant to my team, UTSA and the great city of San Antonio to be victorious and I didn't want to let them down. I always get butterflies before a game and they always disappear after the first popping of pads. This time was no different and, like always, the game turned into 100 yards and a pigskin.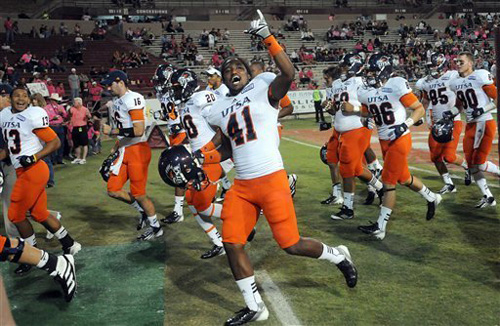 Robin Zielinski, Las Cruces Sun-News
We are 5-0. People may ask if they can believe that we are 5-0, but from someone on the inside, I can firmly say that you darn right I can. Everyone sees the glitz and glam that occurs on Saturdays, but they don't realize the grind it takes to get there. Let me shed some light on the subject.
My alarm is set for 5:25 a.m. and I have mandatory breakfast at six. I then head to Dub Farris Stadium for taping at 6:15 and meetings at 6:55. After meetings come an extensive practice and I usually leave the locker room around 10:15. Classes start at 11 and go until 2:30 p.m. Weight lifting begins at 3, followed by film an hour later. I usually have a night class as well that lasts about two hours. Between, during and after the aforementioned, we must find time to complete eight mandatory hours of study table a week, homework and eat. Players who are on scholarship and meal plan are encouraged to swipe in at the Roadrunner Café at least five times a day. Also, those who are not on scholarship usually must maintain a job in order to pay for tuition, room and board.
Lather, rinse and repeat.
What I mentioned above is why many people don't play Division I football and why I cherish playing every minute of it. It's the grind that makes playing the game so enjoyable for me. I laugh when I refer to football as a game because, in reality, football is life and everyone who needs to know that does. I know one person who understood that more than just about anyone. My mother, Toni Lou.
Dad took mom to the hospital on Jan. 2, 2007. I was still on Christmas Break, so I was left home alone with Easy Mac, microwavable meals and a book report to do on The Alchemist. I couldn't focus on anything. I had to draw and color scenes from the book for imagery in my report and I remember coloring outside the lines on numerous occasions. Trust me, after taking six years of private art lessons, I never colored outside the lines. It seemed like forever until the front door opened, but what I saw won't leave my nightmares alone.
It was just dad at the door and he looked like he never had before. Standing 6-foot-3 and being a former offensive tackle for the TCU Horned Frogs, dad never looked weak until that moment. He looked at me with a blank stare and, for the first time in my life with him, he greeted me with silence. He then proceeded to walk to the master bedroom where I found him sitting on the edge of the bed. I stood in the doorway for what seemed to be an eternity and we just stared at each other until dad broke the silence. "It's bad, Nate. It's just plain bad."
We have a bye week and I know exactly how I'm going to spend my weekend. I'll be making the five-hour trip home to spend as much time as possible with the best person I know. My rock, my inspiration, my hero. The man who was there for my rock bottom and the man I share my dream with every day. Dad, I can't wait to see you this weekend.