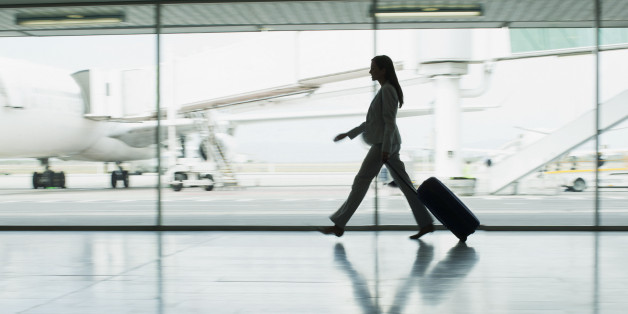 At one time or another, we all fly. Weddings, funerals, or vacations all require a boarding pass and a high level of patience. Flying has come a long way, but unless you've got a little extra cash to go first or business class, coach still leaves much to be desired in terms of comfort and ease. Whether you're a frequent flyer or a once a year traveler, here are some easy tips for planning and executing a stress-free flying experience.
 
1.  If at all possible, take your bag with you.
Lost luggage can be a real deal breaker, not to mention having to tack at least half an hour into your airport experience waiting at the conveyor belt. There are some great options out there for lightweight, roomy bags that will fit a week's worth of outfit options without majorly wrinkling your stuff or risking a shampoo spill. Splurge on one with an aluminum shell for the durability and rest easy knowing you won't have to spend a day shopping for necessities upon arrival. 
 
2.  Once you've found the perfect bag, refine your packing.
Spend the extra organization time thinking about where you're going, how long you're going to be there, and what you will realistically be doing. Be logical and forget the fancy dress or suit you think you might wear at an upscale restaurant and pack practical items you know look good on you. If you need something you didn't pack, it should be a special piece that you can find at your destination. Your favorite jeans, a smart blazer, and comfortable t-shirts and shoes are great basic options that you can build upon. Jewelry (absolutely not anything expensive, especially if you have to check luggage) can always take an outfit to the next level. There's also no reason to pack excessive amounts of undergarments--hand washing in a hotel bathroom sink is perfectly acceptable and smart.
 
3.  Refine your carry-on.
There are so many wallets, bags, passport holders that claim to make traveling easy breezy. Personally, I have never encountered a passport holder that I did not have to constantly zip and unzip or open and reopen to retrieve my boarding pass, money, credit card, or ID. It's tedious and dangerous because the potential for things to fall out unnoticed is greater. Keep it simple: get a shoulder bag that can hold your computer, iPad, a few books, and a water bottle (and any other small item you deem essential). Inside that, keep a pouch that will hold your smartphone, passport, boarding pass, cash, and a credit card. You will always know where the important things are; the rest is tucked safely in your luggage.  
 
4.  Think about your health.
If you're taking a cross country or trans Atlantic flight, it helps to have some products on hand to ease the stress that flying puts on your body. A great moisturizing cream for your face and/or body to combat dryness, a rinse free hand wash to keep germs at bay, and a giant bottle of water will make you look and feel much better during and after the flight. Considering all of the germs that regularly circulate through planes, a highly concentrated dose of vitamin C taken once to sit down can ward off any viruses potentially coming your way.
 
5.  The plane outfit.
Comfort, comfort, comfort. That's the idea of any outfit for the plane, but we all know style must play a role. Key items are slip on shoes, leggings or wrinkle free pants (that don't require a belt), a soft t-shirt, a wrap around scarf, a blazer, and some extra socks for a chilly cabin. After that, it's just extra stuff that will take up space in your seat.  Keep in mind there is always a chance (albeit small) that you could have an upgrade randomly bestowed upon you. Common sense is that the nicer you look, the more chance you have of this happening. Dress smart and you just might get to board the plane and turn left.
 
6.  Choose your seat.
Window? Aisle? Middle? What do you prefer? A window gets bothered less, but if you do have to get up its much more of a pain. This is also where checking out the aircraft can make a difference. Is it rows of 2 or 3? How far front or back are you? Companies like JetBlue now offer extra legroom seats for $15 each way, or you can always opt to sit in the exit row.  
 
7.  In flight entertainment and relaxation.
A great pair of headphones that blocks outside noise and lets you drift off to sleep to the sounds of your own music and nothing else is a great investment for flying. Being able to forget about the screaming baby or signaling to the chatterbox siting next to you that you really don't want to talk are invaluable, especially on a long flight. If you don't have a personal TV and didn't think to download any movies onto your iPad, a book is a great standby. Catch up on some reading and indulge in something unrelated to your work--great literature has the power to rejuvenate. You can also try your best to catch some shuteye, in which case an eye mask and a sachet of lavender could really help. The medicinal route for sleep is always an option, but drooling on the person next to you isn't ideal, so be cautious.
 
8.  Food & Drink.
We all know alcohol is bloating, dehydrating, and generally not what our body needs, especially at 36,000 feet. That being said, a glass of wine is a great way to calm nerves and relax before a long flight. If you must drink, be sure to supplement with plenty of H20--your liver and face will thank you.
As far as plane food is concerned, the heavily salted options just add to the bloat and general unpleasant appearance upon landing. Pack or (buy in the terminal) fresh fruit, a protein bar, or some nuts and seeds. They will give you something to snack on mid flight without making you feel bad.
 
9.  Travel before travel.
Don't be late to check in, and if you can, check in ahead of time. Print your boarding pass and cruise through security with time to spare. Airports are notorious for randomly having long lines and delays, so don't leave it to chance. It's better to wait at the gate than have to deal with getting on another flight. If you're a frequent flyer, things like the Global Entry Program and TSA Pre check allow you to bypass immigration lines (dreadfully long) and go through security without having to remove any items of clothing.  
 
10.  Arrival.
If you're traveling to a different time zone, set your watch to the current time of your destination. Mentally prepare yourself for the change and use the air time to adjust. 
Sit back, relax, and enjoy the flight.