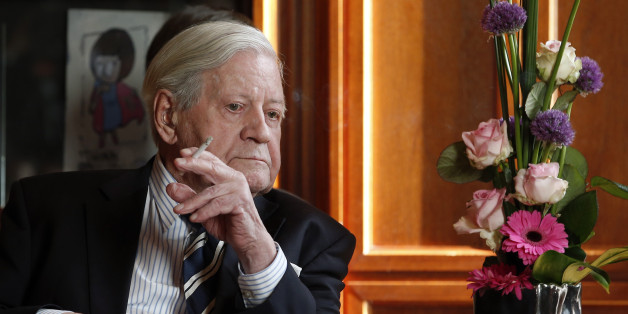 This week, The WorldPost completed its three-part conversation between Chinese scholar Wang Hui and former German chancellor and elder statesman Helmut Schmidt, focusing in this final exchange on why China's civilization has lasted for at least 3,000 years.
In anticipation of the release of his new book, "Economics: The User's Guide," The WorldPost interviews Ha-Joon Chang on why "economics is a political argument." In his contribution this week, Slovenian philosopher Slavoj Zizek turns around the debate and asks whether "Europe is worthy of the deepest aspirations of Ukrainians." In a second installment from his book "The Zero-Marginal Cost Society," Jeremy Rifkin explores the implications of the Internet of things.
In a joint article , The WorldPost publisher Nicolas Berggruen and editor Nathan Gardels respond to the recent U.S. Supreme Court ruling that allows nearly limitless contributions to political campaigns, proposing an alternative schema of "post-party democracy." In a contribution from First Look Media's "Intercept," journalist Glenn Greenwald reveals the scope of cyber-propaganda conducted by Western intelligence agencies in Cuba and elsewhere. Political scientist Benjamin Barber makes a case for cities that work when the nation-state no longer does.
In an illustrated video, World Bank Chief Economist Kaushik Basu explains why lifting up "the bottom 40 percent" of a population is key to general prosperity. In the One-On-One video series, Katherine Keating talks to former Spanish Prime Minister Felipe Gonzalez about how to escape Europe's deep recession.
To mark the 20th anniversary of the Rwandan genocide, Rwandan First Lady Jeannette Kagame, U.N. Secretary General Ban Ki-moon and British Foreign Secretary William Hague all contributed to The WorldPost with a common message: never again.
In conjunction with our partner, the Asia Society, The WorldPost this week airs a discussion between Henry Kissinger and IMF Deputy Director Zhu Min on China's rise and the tension between Japan and China in which, Kissinger warns, "military conflict is not excluded." Former Japanese Defense Minister Yuriko Koike spells out that island nation's concern over territorial conflicts with both Russia and China. The WorldPost correspondent Matt Sheehan reports on how Chinese netizens on Weibo slammed U.S. Defense Secretary Chuck Hagel's visit to Asia, seeing it as a sign of building up alliances against China.
Putting to rest the debate over China's future role in the global economy, the IMF's Steve Barnett shows that even if China's growth slows by half in the coming years, it will maintain its impact on worldwide demand because its economy will be twice as big as before.
In Turkey, WorldPost correspondent Sophia Jones profiles Turkey's youngest mayor, 25-year-old female former political prisoner Rezan Zugurli.
Finally, to mark a major exhibition of his work at the Metropolitan Museum in New York, The WorldPost interviews artist Lucas Samaras , "the father of the selfie."
WHO WE ARE

EDITORS: Nathan Gardels, Senior Advisor to the Berggruen Institute on Governance and the long-time editor of NPQ and the Global Viewpoint Network of the Los Angeles Times Syndicate/Tribune Media, is the Editor-in-Chief of The WorldPost. Farah Mohamed is the Managing Editor of The WorldPost. Alex Gardels is the Associate Editor of The WorldPost. Nicholas Sabloff is the Executive International Editor at the Huffington Post, overseeing The WorldPost and HuffPost's 10 international editions. Eline Gordts and Ryan Craggs are HuffPost's World News Editors.

CORRESPONDENTS: Max Rosenthal in Beirut; Sophia Jones in Istanbul; Matt Sheehan in Beijing.

EDITORIAL BOARD: Nicolas Berggruen, Nathan Gardels, Arianna Huffington, Eric Schmidt (Google Inc.), Pierre Omidyar (First Look Media) Juan Luis Cebrian (El Pais/PRISA), Walter Isaacson (Aspen Institute/TIME-CNN), John Elkann (Corriere della Sera, La Stampa), Wadah Khanfar (Al Jazeera), Dileep Padgaonkar (Times of India) and Yoichi Funabashi (Asahi Shimbun).

CONTRIBUTING EDITORS: Moises Naim (former editor of Foreign Policy) and Nayan Chanda (Yale/Global; Far Eastern Economic Review). Katherine Keating (One-On-One) and Jehangir Pocha (NewsX India) .

The Asia Society and its ChinaFile, edited by Orville Schell, is our primary partner on Asia coverage. Eric X. Li and the Chunqiu Institute/Fudan University in Shanghai and Guancha.cn also provide first person voices from China. We also draw on the content of China Digital Times. Seung-yoon Lee is The WorldPost link in South Korea.

Jared Cohen of Google Ideas provides regular commentary from young thinkers, leaders and activists around the globe. Bruce Mau provides regular columns from MassiveChangeNetwork.com on the "whole mind" way of thinking. Patrick Soon-Shiong is Contributing Editor for Health and Medicine.

ADVISORY COUNCIL: Members of the Berggruen Institute's 21st Century Council and Council for the Future of Europe serve as the Advisory Council -- as well as regular contributors -- to the site. These include, Shaukat Aziz, Gordon Brown, Fernando Henrique Cardoso, Juan Luis Cebrian, Jack Dorsey, Mohamed El-Erian, Francis Fukuyama, Felipe Gonzalez, John Gray, Reid Hoffman, Fred Hu, Mo Ibrahim, Alexei Kudrin, Pascal Lamy, Kishore Mahbubani, Alain Minc, Dambisa Moyo, Laura Tyson, Elon Musk, Pierre Omidyar, Raghuram Rajan, Nouriel Roubini, Nicolas Sarkozy, Eric Schmidt, Gerhard Schroeder, Peter Schwartz, Amartya Sen, Jeff Skoll, Michael Spence, Joe Stiglitz, Larry Summers, Wu Jianmin, George Yeo, Fareed Zakaria, Ernesto Zedillo, Ahmed Zewail, and Zheng Bijian.

From the Europe group, these include: Marek Belka, Tony Blair, Jacques Delors, Niall Ferguson, Anthony Giddens, Otmar Issing, Mario Monti, Robert Mundell, Peter Sutherland and Guy Verhofstadt.
MISSION STATEMENT
The WorldPost is a global media bridge that seeks to connect the world and connect the dots. Gathering together top editors and first person contributors from all corners of the planet, we aspire to be the one publication where the whole world meets.
We not only deliver breaking news from the best sources with original reportage on the ground and user-generated content; we bring the best minds and most authoritative as well as fresh and new voices together to make sense of events from a global perspective looking around, not a national perspective looking out.