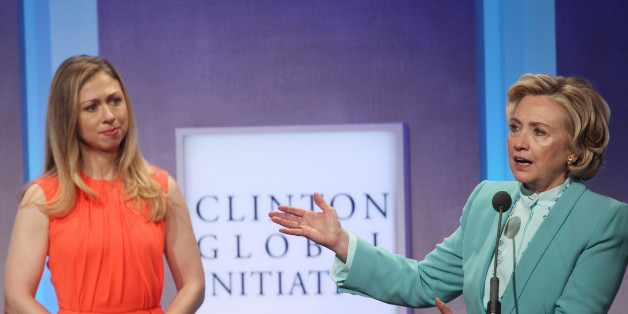 This week, The WorldPost streamed live Chelsea and Hillary Clinton's virtual dialogue, "Girls: A No Ceilings Conversation," about how young people can prepare to meet life's challenges. In our One-On-One series, historian Niall Ferguson discusses the degeneration of America's institutions. In a HuffPost Live interview, economist Thomas Piketty talks about his new book, "Capital in the Twenty-First Century" and growing inequality. Novelist and Nobel Laureate Nadine Gordimer describes her disillusion with post-Mandela South Africa. Actor and activist Robert Redford appeals to President Obama to keep oil drilling out of the Arctic. Sergio Munoz Bata remembers his long-time friend and colleague, Gabriel Garcia Marquez.
Former U.S. Treasury Secretary Larry Summers argues for urgent investment in infrastructure as a further stimulus to the fragile American economic recovery. In a blog post, Israeli political theorist Gidi Grinstein finds "the secret to Jewish adaptability" in the small-scale, flexible and resilient networks that have characterized Jewish history.
Writing from Vladivostok, Artyom Lukin points out that the ultimate beneficiary of the U.S.-Russian conflict over Ukraine is China, which can now play those two powers against each other to secure its own interests. Askold Lozynskyj, former president of the Ukrainian World Congress, warns that Russian President Putin is planning a new assault on eastern Ukraine.
Otmar Issing , former chief economist of the European Central Bank, says that Germany must lead by example and resist bailing out the rest of Europe. The legendary German editor and journalist Theo Sommer, a long-time supporter of Turkey's entry into the European Union, changes his mind as Prime Minister Recep Tayyip Erdogan moves toward autocratic rule. WorldPost correspondent Sophia Jones reports from Istanbul on women activists concerned that Erdogan does not believe in gender equality.
The WorldPost also reports on a statement by Nobel laureates Amartya Sen and Joe Stiglitz decrying the use of their names by France's populist leader, Marine Le Pen, in her campaign against a united Europe when, in fact, they support greater European integration. In a dispatch from India titled "The Price of Sweat," Jehangir Pocha looks at the minimum wage debate in that poverty-stricken nation. Reporting from Beirut, WorldPost correspondent Max Rosenthal describes the frustration of anti-Assad activists who feel their message is not reaching the West.
This month, our regular feature from China Digital Times on "user generated, censor chosen keywords" focuses on the term "taking a walk." This phrase is censored on China's Weibo because it is associated with a high-profile protest against a chemical plant in Guangdong Province. From our partner ChinaFile, we posted a joint interview with Martin Lee and Anson Chang, Hong Kong's veteran democracy activists.
Finally, in a brief reflection, WorldPost editor Nathan Gardels offers a zen perspective on the island conflict between Japan and China. "Looked at differently, the islands very much resemble a dry zen garden where a series of mindfully positioned rocks rest harmoniously amid a meticulously raked gravel sea of nothingness. It is here that one contemplates peace."
WHO WE ARE

EDITORS: Nathan Gardels, Senior Advisor to the Berggruen Institute on Governance and the long-time editor of NPQ and the Global Viewpoint Network of the Los Angeles Times Syndicate/Tribune Media, is the Editor-in-Chief of The WorldPost. Farah Mohamed is the Managing Editor of The WorldPost. Alex Gardels is the Associate Editor of The WorldPost. Nicholas Sabloff is the Executive International Editor at the Huffington Post, overseeing The WorldPost and HuffPost's 10 international editions. Eline Gordts and Ryan Craggs are HuffPost's World News Editors.

CORRESPONDENTS: Max Rosenthal in Beirut; Sophia Jones in Istanbul; Matt Sheehan in Beijing.

EDITORIAL BOARD: Nicolas Berggruen, Nathan Gardels, Arianna Huffington, Eric Schmidt (Google Inc.), Pierre Omidyar (First Look Media) Juan Luis Cebrian (El Pais/PRISA), Walter Isaacson (Aspen Institute/TIME-CNN), John Elkann (Corriere della Sera, La Stampa), Wadah Khanfar (Al Jazeera), Dileep Padgaonkar (Times of India) and Yoichi Funabashi (Asahi Shimbun).

CONTRIBUTING EDITORS: Moises Naim (former editor of Foreign Policy) and Nayan Chanda (Yale/Global; Far Eastern Economic Review). Katherine Keating (One-On-One) and Jehangir Pocha (NewsX India) .

The Asia Society and its ChinaFile, edited by Orville Schell, is our primary partner on Asia coverage. Eric X. Li and the Chunqiu Institute/Fudan University in Shanghai and Guancha.cn also provide first person voices from China. We also draw on the content of China Digital Times. Seung-yoon Lee is The WorldPost link in South Korea.

Jared Cohen of Google Ideas provides regular commentary from young thinkers, leaders and activists around the globe. Bruce Mau provides regular columns from MassiveChangeNetwork.com on the "whole mind" way of thinking. Patrick Soon-Shiong is Contributing Editor for Health and Medicine.

ADVISORY COUNCIL: Members of the Berggruen Institute's 21st Century Council and Council for the Future of Europe serve as the Advisory Council -- as well as regular contributors -- to the site. These include, Jacques Attali, Shaukat Aziz, Gordon Brown, Fernando Henrique Cardoso, Juan Luis Cebrian, Jack Dorsey, Mohamed El-Erian, Francis Fukuyama, Felipe Gonzalez, John Gray, Reid Hoffman, Fred Hu, Mo Ibrahim, Alexei Kudrin, Pascal Lamy, Kishore Mahbubani, Alain Minc, Dambisa Moyo, Laura Tyson, Elon Musk, Pierre Omidyar, Raghuram Rajan, Nouriel Roubini, Nicolas Sarkozy, Eric Schmidt, Gerhard Schroeder, Peter Schwartz, Amartya Sen, Jeff Skoll, Michael Spence, Joe Stiglitz, Larry Summers, Wu Jianmin, George Yeo, Fareed Zakaria, Ernesto Zedillo, Ahmed Zewail, and Zheng Bijian.

From the Europe group, these include: Marek Belka, Tony Blair, Jacques Delors, Niall Ferguson, Anthony Giddens, Otmar Issing, Mario Monti, Robert Mundell, Peter Sutherland and Guy Verhofstadt.
MISSION STATEMENT
The WorldPost is a global media bridge that seeks to connect the world and connect the dots. Gathering together top editors and first person contributors from all corners of the planet, we aspire to be the one publication where the whole world meets.
We not only deliver breaking news from the best sources with original reportage on the ground and user-generated content; we bring the best minds and most authoritative as well as fresh and new voices together to make sense of events from a global perspective looking around, not a national perspective looking out.