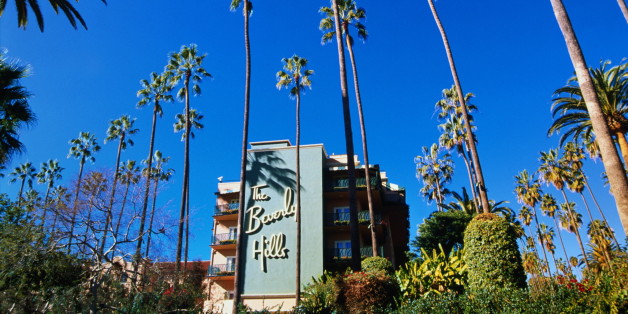 The clash of cultures, never far below the surface, erupted once again this week in different ways in different places around the world. In The WorldPost, pop star Elton John writes that he will join other Hollywood celebrities in boycotting the Beverly Hills Hotel. The hotel is owned by the Sultan of Brunei, a country where anti-gay Sharia law is being implemented. Looking from the other side, we also published an account from India on how Muslim women are using Sharia courts there to promote gender equality. In a sequel to his earlier contribution, former British Prime Minister Gordon Brown calls for the U.S. and U.K. to send satellite and surveillance aid to Nigeria to help find and free the girls kidnapped by Boko Haram. On the flip side, Jumoke Balogun, Co-Founder of CompareAfrique.com, argues that American intervention in Nigeria -- militarily or in the form of the supportive #BringBackOurGirls hashtag -- will "ultimately hurt the people of Nigeria."
This was also a big week for the Internet. In The WorldPost, World Wide Web inventor Tim Berners-Lee calls for a "Magna Carta" to guarantee rights of privacy and net neutrality on the Internet. Pedro Abramovay, Brazil's secretary for justice from 2010 to 2011, celebrates the passage of Brazil's "Internet Constitution" -- the world's first.
Yale scholar David Cameron writes that Western sanctions "will not deter Russia" from its ultimate aim: a highly decentralized, federal Ukraine where pro-Russian minorities can achieve a measure of self-determination within the old borders. Ukrainian parliamentarian Olga Bielkova writes that it is in Europe's interest to de-escalate the crisis with Russia. Danish political scientist Fabrizio Tassinari looks beyond the euro crisis to identify the basic divide between Northern and Southern Europe: bureaucracies that are meritocratic versus those that have been captured by "clientelism" or special interests.
As Indian elections approach next week, publisher and historian Conrad Black looks forward to Narendra Modi's election, which he hopes will "Thatcherize India." WorldPost contributing editor Jehangir Pocha writes from New Delhi on how corruption and money is subverting elections in the world's largest democracy.
Climate change has arrived already, a White House report issued this week proclaimed. Former Vice President Al Gore writes there is not time to waste in countering carbon emissions as temperatures climb across the planet. Actor Robert Redford talks about "the art of storytelling" in getting across a complex issue like climate change to the general public.
Finally, former Deng Xiaoping interpreter Zhang Weiwei writes from Shanghai about how China's pragmatic take on both the market and democracy is key to its success. WorldPost correspondent Matt Sheehan briefs readers on Alibaba, the massive Chinese online marketplace that will be going public soon.
WHO WE ARE

EDITORS: Nathan Gardels, Senior Advisor to the Berggruen Institute on Governance and the long-time editor of NPQ and the Global Viewpoint Network of the Los Angeles Times Syndicate/Tribune Media, is the Editor-in-Chief of The WorldPost. Farah Mohamed is the Managing Editor of The WorldPost. Kathleen Miles is the Senior Editor of the WorldPost. Alex Gardels is the Associate Editor of The WorldPost. Nicholas Sabloff is the Executive International Editor at the Huffington Post, overseeing The WorldPost and HuffPost's 10 international editions. Cosima Ungaro is Deputy International Editor at the Huffington Post and Eline Gordts is HuffPost's World Editor.

CORRESPONDENTS: Max Rosenthal in Beirut; Sophia Jones in Cairo; Matt Sheehan in Beijing.

EDITORIAL BOARD: Nicolas Berggruen, Nathan Gardels, Arianna Huffington, Eric Schmidt (Google Inc.), Pierre Omidyar (First Look Media) Juan Luis Cebrian (El Pais/PRISA), Walter Isaacson (Aspen Institute/TIME-CNN), John Elkann (Corriere della Sera, La Stampa), Wadah Khanfar (Al Jazeera), Dileep Padgaonkar (Times of India) and Yoichi Funabashi (Asahi Shimbun).

CONTRIBUTING EDITORS: Moises Naim (former editor of Foreign Policy) and Nayan Chanda (Yale/Global; Far Eastern Economic Review). Katherine Keating (One-On-One) and Jehangir Pocha (NewsX India) .

The Asia Society and its ChinaFile, edited by Orville Schell, is our primary partner on Asia coverage. Eric X. Li and the Chunqiu Institute/Fudan University in Shanghai and Guancha.cn also provide first person voices from China. We also draw on the content of China Digital Times. Seung-yoon Lee is The WorldPost link in South Korea.

Jared Cohen of Google Ideas provides regular commentary from young thinkers, leaders and activists around the globe. Bruce Mau provides regular columns from MassiveChangeNetwork.com on the "whole mind" way of thinking. Patrick Soon-Shiong is Contributing Editor for Health and Medicine.

ADVISORY COUNCIL: Members of the Berggruen Institute's 21st Century Council and Council for the Future of Europe serve as the Advisory Council -- as well as regular contributors -- to the site. These include, Jacques Attali, Shaukat Aziz, Gordon Brown, Fernando Henrique Cardoso, Juan Luis Cebrian, Jack Dorsey, Mohamed El-Erian, Francis Fukuyama, Felipe Gonzalez, John Gray, Reid Hoffman, Fred Hu, Mo Ibrahim, Alexei Kudrin, Pascal Lamy, Kishore Mahbubani, Alain Minc, Dambisa Moyo, Laura Tyson, Elon Musk, Pierre Omidyar, Raghuram Rajan, Nouriel Roubini, Nicolas Sarkozy, Eric Schmidt, Gerhard Schroeder, Peter Schwartz, Amartya Sen, Jeff Skoll, Michael Spence, Joe Stiglitz, Larry Summers, Wu Jianmin, George Yeo, Fareed Zakaria, Ernesto Zedillo, Ahmed Zewail, and Zheng Bijian.

From the Europe group, these include: Marek Belka, Tony Blair, Jacques Delors, Niall Ferguson, Anthony Giddens, Otmar Issing, Mario Monti, Robert Mundell, Peter Sutherland and Guy Verhofstadt.
MISSION STATEMENT
The WorldPost is a global media bridge that seeks to connect the world and connect the dots. Gathering together top editors and first person contributors from all corners of the planet, we aspire to be the one publication where the whole world meets.
We not only deliver breaking news from the best sources with original reportage on the ground and user-generated content; we bring the best minds and most authoritative as well as fresh and new voices together to make sense of events from a global perspective looking around, not a national perspective looking out.