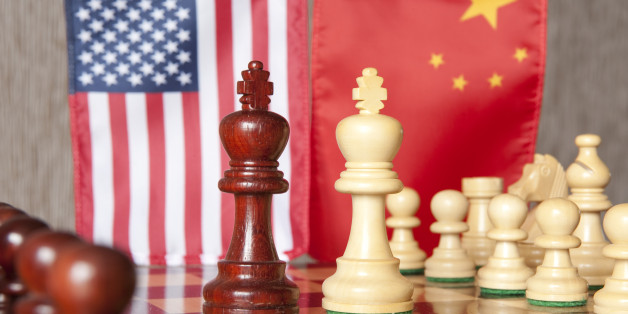 It has been another rocky week in East Asia. After China anchored a huge oil rig in what Vietnam considers its territorial waters, Vietnamese protesters rioted against foreign factories and what they thought were Chinese interests in their country. China warned the U.S. to remain "objective" in the conflict. And the U.S. warned back that China should watch its step. In The WorldPost, we published an interview with leading Chinese strategist Yan Xuetong who worries openly that U.S.-China relations could turn into a "true rivalry between false friends." China's top expert on the U.S., Wang Jisi, points out that China benefits from the stability the U.S. military keeps in the East Asian region while the U.S. benefits from the stability the Communist Party maintains within China. Die Zeit editor Josef Joffe laments America's withdrawal from the world, but expects it will bounce back.
Another leading Chinese scholar, Hu Angang, argues that, in many ways, China is more democratic that the U.S. because its institutions do a better job of promoting the common good. Following this governance theme, Mario Monti, who was prime minister of Italy during the height of the euro crisis, spells out the central conundrum of electoral democracy: reforms for the long term and common good are always unpopular and take time to mature, but voters want results now. Looking at the results of governance, Harvard professor Michael Porter places the U.S. way down the list -- #16 -- on his Social Progress Index.
Also this week, the European high court ruled that Google must respect "the right to forget" and consider erasing search histories based on individual privacy claims. First Amendment advocate Peter Scheer argues such a ruling amounts to censorship. Taking the opposite view, Carlo de Benedetti, the Italian publisher of Gruppo Espresso, explains why, as a European, "I fear Google."
As the Boko Haram kidnapping drama continues into another week, Zambian author and economist Dambisa Moyo writes that the U.S. has a moral obligation to help free the kidnapped girls. UN Special Envoy for Education and former British Prime Minister Gordon Brown warns that Nigeria should not be a precedent. Schools must be protected and not used as "weapons of war," he says. Anver Emon links the Boko Haram kidnappings and the Brunei imposition of anti-gay laws in the name of Sharia and says these claims should be challenged as wrong interpretations of the Quran.
This week, WorldPost correspondent Max Rosenthal reports from Irbid, Jordan, where resistance fighters near the Syrian border say they have learned to expect little help from the West. Sophia Jones reports from Cairo on a new law protecting women from sexual harassment. Activists are saying the move won't be enough to combat the country's sexual assault problem. Finally, Brasil Post editor Diego Iraheta chronicles the large protests planned as the World Cup approaches the one month mark.
WHO WE ARE

EDITORS: Nathan Gardels, Senior Advisor to the Berggruen Institute on Governance and the long-time editor of NPQ and the Global Viewpoint Network of the Los Angeles Times Syndicate/Tribune Media, is the Editor-in-Chief of The WorldPost. Farah Mohamed is the Managing Editor of The WorldPost. Kathleen Miles is the Senior Editor of the WorldPost. Alex Gardels is the Associate Editor of The WorldPost. Nicholas Sabloff is the Executive International Editor at the Huffington Post, overseeing The WorldPost and HuffPost's 10 international editions. Cosima Ungaro is Deputy International Editor at the Huffington Post and Eline Gordts is HuffPost's World Editor.

CORRESPONDENTS: Max Rosenthal in Beirut; Sophia Jones in Cairo; Matt Sheehan in Beijing.

EDITORIAL BOARD: Nicolas Berggruen, Nathan Gardels, Arianna Huffington, Eric Schmidt (Google Inc.), Pierre Omidyar (First Look Media) Juan Luis Cebrian (El Pais/PRISA), Walter Isaacson (Aspen Institute/TIME-CNN), John Elkann (Corriere della Sera, La Stampa), Wadah Khanfar (Al Jazeera), Dileep Padgaonkar (Times of India) and Yoichi Funabashi (Asahi Shimbun).

CONTRIBUTING EDITORS: Moises Naim (former editor of Foreign Policy) and Nayan Chanda (Yale/Global; Far Eastern Economic Review). Katherine Keating (One-On-One) and Jehangir Pocha (NewsX India) .

The Asia Society and its ChinaFile, edited by Orville Schell, is our primary partner on Asia coverage. Eric X. Li and the Chunqiu Institute/Fudan University in Shanghai and Guancha.cn also provide first person voices from China. We also draw on the content of China Digital Times. Seung-yoon Lee is The WorldPost link in South Korea.

Jared Cohen of Google Ideas provides regular commentary from young thinkers, leaders and activists around the globe. Bruce Mau provides regular columns from MassiveChangeNetwork.com on the "whole mind" way of thinking. Patrick Soon-Shiong is Contributing Editor for Health and Medicine.

ADVISORY COUNCIL: Members of the Berggruen Institute's 21st Century Council and Council for the Future of Europe serve as the Advisory Council -- as well as regular contributors -- to the site. These include, Jacques Attali, Shaukat Aziz, Gordon Brown, Fernando Henrique Cardoso, Juan Luis Cebrian, Jack Dorsey, Mohamed El-Erian, Francis Fukuyama, Felipe Gonzalez, John Gray, Reid Hoffman, Fred Hu, Mo Ibrahim, Alexei Kudrin, Pascal Lamy, Kishore Mahbubani, Alain Minc, Dambisa Moyo, Laura Tyson, Elon Musk, Pierre Omidyar, Raghuram Rajan, Nouriel Roubini, Nicolas Sarkozy, Eric Schmidt, Gerhard Schroeder, Peter Schwartz, Amartya Sen, Jeff Skoll, Michael Spence, Joe Stiglitz, Larry Summers, Wu Jianmin, George Yeo, Fareed Zakaria, Ernesto Zedillo, Ahmed Zewail, and Zheng Bijian.

From the Europe group, these include: Marek Belka, Tony Blair, Jacques Delors, Niall Ferguson, Anthony Giddens, Otmar Issing, Mario Monti, Robert Mundell, Peter Sutherland and Guy Verhofstadt.
MISSION STATEMENT
The WorldPost is a global media bridge that seeks to connect the world and connect the dots. Gathering together top editors and first person contributors from all corners of the planet, we aspire to be the one publication where the whole world meets.
We not only deliver breaking news from the best sources with original reportage on the ground and user-generated content; we bring the best minds and most authoritative as well as fresh and new voices together to make sense of events from a global perspective looking around, not a national perspective looking out.