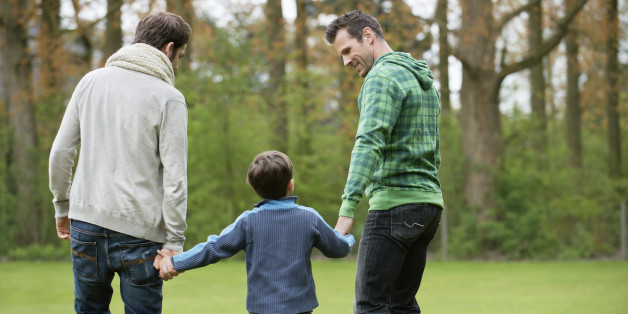 I'm sure you remember the rhyme: "First comes love, then comes marriage, and then comes...." That's right, "baby in a baby carriage" (or an ergonomic, allergy-sensitive, 100-percent cotton, designer baby carrier with a retractable SPF 50 hood).
The question "what's next?" came up a lot this summer following the Supreme Court's ruling on DOMA, and the question is one that we've been asked consistently since the passage of same-sex marriage in New York in 2011.
For many of us in the LGBT community, the answer is a no-brainer. We've been working on a number of important issues before, during and after marriage. At the Pride Agenda, our top priorities have been the passage of GENDA, a bill that would protect all transgender New Yorkers from housing and employment discrimination; the anti-bullying measure Dignity for All Students Act; the continued fight for funding for our most vulnerable, runaway and homeless youth; and securing resources for LGBT health care, to name a few. On the national scale, there's ENDA, immigration reform, a national ruling that allows people to marry in all 50 states, the lifting of the blood donation ban, and the continued implementation of the recent marriage ruling.
The laundry list of inequalities that the LGBT community continues to face is long, and our work is nowhere near finished.
One issue in particular that we're turning our focus toward feels like a natural transition following the recognition of marriage equality: making it easier to create and protect families. As it stands, the state of New York has a draconian law on the books that currently makes it extremely challenging for couples to have full legal protection over their children, whether they're adopting, using a gestational carrier or have no biological ties to the child they're raising.
The current law, enacted 20 years ago (note: before a lot of the reproductive technologies that we have today were in practice), does not take into consideration the increasingly diverse family dynamics that exist in our state. This doesn't just extend to LGBT parents. The existing law does not provide adequate protections for families who conceive using donor sperm without a doctor's supervision, single people, unmarried couples, and sperm donation with in vitro fertilization. New York is also one of the few states that outlaw commercial surrogacy. This forces couples to look outside the state to create their family, financially and legally burdening the family planning process.
In addition, second-parent adoption is a cumbersome and invasive process, and one that many New Yorkers simply cannot afford from a financial and logistical standpoint. This leaves families legally vulnerable, especially in the face of a major life event like illness, death or divorce.
Based on previous cases upheld under this outdated law, it's possible for a sperm donor with no intended relationship with the child to gain legal custody, and for the non-biological parent who raised the child to be considered a legal stranger. The same holds true for embryo and egg donations; New York law provides no clear legal protection for donors and recipients.
As it stands, a gestational carrier having a baby for a couple has more legal rights over the child when it's born than the parents, even if she has no genetic relationship. It's only after birth in New York that a couple is legally allowed to file to have their names added to the birth certificate and the health insurance.
A proposed law, the Child Parent Security Act, would put an end to these barriers and promote the legal safety of families. We've partnered up with Lambda Legal and New York Attorneys for Adoption and Family Formation to pass this bill and afford long-overdue pathways for creating and protecting our families in our state.
Families are the bedrock of our society. That is something on which folks on both sides of the aisle can agree. We know that the Cleaver family is no longer the go-to model, with increasingly new, loving and diverse family dynamics that function beautifully. It's time we extend recognition of love of our families by providing protections so that we can focus on important things like hugs and homework time.
Learn more about the Pride Agenda's work to protect families, and follow me on Twitter @NathanMSchaefer to stay on top of the latest news.