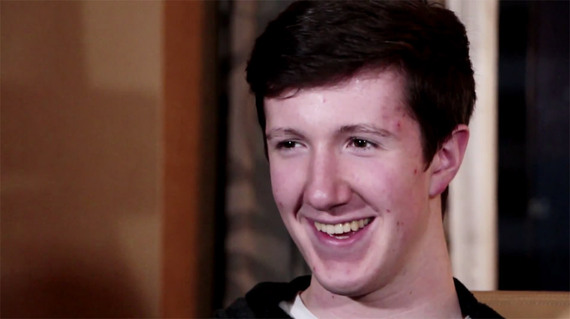 I'm From Driftwood is a 501(c)(3) nonprofit archive of lesbian, gay, bisexual, transgender, and queer stories. New stories are posted on the site every Wednesday.
As a sophomore in high school, Eric Snyder was about to come out. But then he realized the Boy Scouts of America had a discriminatory policy against gay and bisexual scouts, forcing him to remain in the closet. Even though Eric couldn't be openly gay, he decided that his Eagle Scout project would be. Eric explains:
As I grew older and I advanced through the ranks, I got to the point where I had to complete my Eagle Scout project, which is sort of like the capstone of what you do there. But I decided, "OK, I'm gonna do something really, really gay. If they're not gonna allow me to do anything that's queer at all, I'm gonna make it really loud in my project."
After consulting with an openly gay teacher at his school, Eric had his Eagle Scout project all figured out:
He referred me to the Pride Center in Albany near where I lived ... and they were like, "Hey, we have this basement where we have this youth group in it." I'm like, "OK, show men." And it was the dingiest little basement. It was so disturbing to walk down in there. It just had this one dingy little light in the center. I'm like, "OK, we can't be here." This is where all the youth meet, and this is where anonymous groups meet; literally every group in the center meets down here. I'm like, "This is not right. They deserve better than this, because they're coming out here; they're working; they're trying to make the world better." So I said, "OK, that's gonna be my project."
While no one in his troop showed up to help, Eric and a couple of friends renovated the Pride Center with new floors, freshly painted walls, a new ceiling, and new lighting. Eric turned discrimination from the Boy Scouts into motivation to help the gay community. Ironically, the Boy Scouts should be proud of his ingenuity and resourcefulness.
WATCH:
For more stories, visit I'm From Driftwood, the LGBTQ Story Archive.