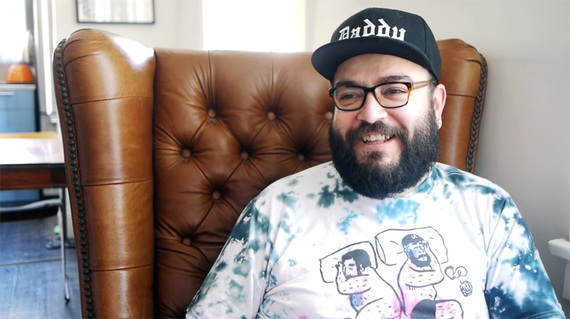 I'm From Driftwood is a 501(c)(3) nonprofit archive for lesbian, gay, bisexual, transgender, and queer stories. New stories are posted on the site every Wednesday.
Rudy Garcia of East L.A. says that when he was young, he never quite felt like the "normal" kid. Although his migrant parents pressured the youngest of their eight children to be the embodiment of the American dream, Rudy was more interested in punk-rock music, feminism, and 'zine culture. He explains how this impacted his relationship with his family:
Everything that I was into was also very not received well by my family, you know? They just thought I was crazy: "What are you doing?" or, "How are you dressing? Oh, my God! You're embarrassing the family!" I would get angry at my mom, but it was this misdirected anger.
Rudy's hobbies soon became passions, and he created his own 'zine, Scutter, which served as an outlet for creative self-expression as well as musical and cultural exploration. Rudy identifies this crucial time in his life as the point where he began to feel alive again:
It became more about expressing myself and really talking to musicians about homophobia, and feminism, and trying to change things, and then also just being really honest about my life, and my experiences, and hating my body slash trying to love my body.
Even though Rudy's hard work was gaining recognition from some of his punk-rock idols, home life was still what Rudy called a constant battle:
My family didn't understand what I was doing, especially my parents. They just thought that I was going out all night and partying. ... It was a constant battle -- a constant, constant battle. It just got to the point one day where I literally had to just grab bags and just throw as much as I could in them and say, "I'm leaving. I don't know when I'm coming back." I just felt like if I didn't leave, our relationship would have gone to a place where maybe we couldn't have been repaired.
These days Rudy continues to throw himself into his passions, and he still works with 'zines and the punk lifestyle:
All of that is rooted in that whole punk way of living of if I don't see something that represents me, then why not create it?
To find out how Rudy embodies the punk attitude that saved his life today, watch his story below:
For more stories, visit I'm From Driftwood, the LGBTQ Story Archive.