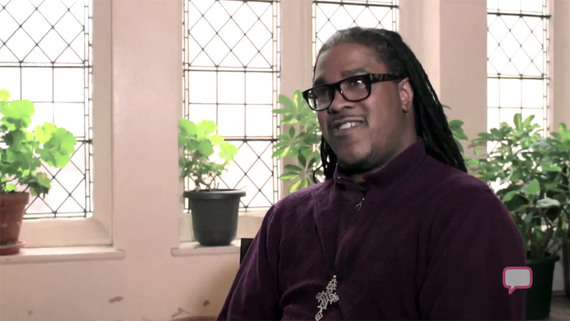 I'm From Driftwood is a 501(c)(3) nonprofit archive of lesbian, gay, bisexual, transgender, and queer stories. New stories are posted on the site every Wednesday.
Eric Thomas and his friend Felix were both young gay men living in the Bronx. The difference that set their lives on different paths came from their homes and churches. Eric explains:
[My mom] kind of came around, and we were able to kind of, sort of start from there with this new understanding of Mom and her out gay son. Felix's mom asked him, "Who's this guy Eric, and why is he always calling here? No son of mine is gonna be a faggot. Get out of my house." It began a series of Felix kind of, sort of hanging out all night long; he would ride the trains.
While Eric had a church that was accepting of the LGBTQ members of its congregation, Felix did not:
When I visited Felix in his church, there was a lot of this "faggots are going to hell" stuff. There were people that I could reach out to. Felix didn't have anyone.
The two paths Eric and Felix were set on had predictable destinations. Eric has gone on to get his Ph.D. in biblical studies and live a life of happiness and health. Felix, with no one to turn to, became involved with drugs and contracted HIV/AIDS, which ultimately killed him. Felix concludes:
As I do my work, I always think about Felix. I think that he's looking down on me now, and I hope he's proud. The more that we tell our friends' stories, the more that they're with us. Hopefully we will live in a world where no parent would say, "No son of mine is gonna be a faggot; get out," where that would be a message of, "You are mine, and I love you, and we're all in this together."
WATCH:
For more stories, visit I'm From Driftwood, the LGBTQ Story Archive.