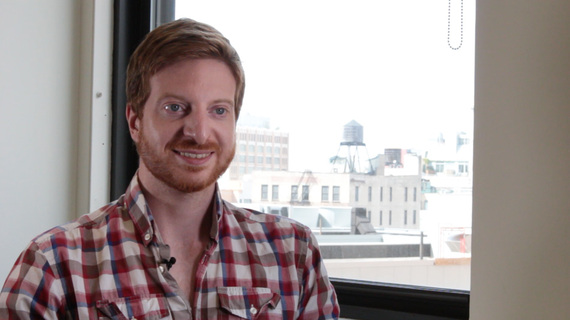 I'm From Driftwood is a 501(c)(3) nonprofit archive for lesbian, gay, bisexual, transgender, and queer stories. New stories are posted on the site every Wednesday.
In 2010 Tyler Clementi took his own life after being publicly outed on the Internet by his college roommate. His oldest brother James, who is also gay, is now an activist hoping to shape a world that's more accepting and inclusive of LGBTQ people. James recounts how his own journey began when he was a child:
Actually, I remember in Sunday school, at one point, they were talking about the story of Sodom and Gomorrah, and basically they said that God destroyed an entire city filled with people because of homosexual acts that were happening in the city. ... And I just remember thinking, "Wow, God would wipe out an entire city because of gay people. It's not OK to be gay. I could never tell these people that I might be gay, because they would never accept me." And that was a really hard and lonely place to be in, and that sent me into a spiritual crisis where I didn't know if I had to choose between my sexuality or my religion, and I didn't think that they could fit together.
After going away to college and experiencing life in a liberal and supportive environment, James began to feel comfortable with who he is. James cites finding out that his brother Tyler was gay as one of the biggest turning points in his life:
I wanted to be a role model for him, and I wanted to set an example for him and show him that it was totally OK for him to be out and to be himself, and that he deserved to be loved and respected by other people because of it. So I ended up telling Tyler that I was gay, and he was very relieved. It just seemed like a huge burden had been lifted off his shoulders when I told him. And he smiled, and he told me that he was also gay, and it was just this really great moment where we were able to be ourselves with each other for the first time ever in our lives.
Recalling this moment is bittersweet for James, because just a few weeks later his brother passed away. Tyler's death was life-changing for the entire Clementi family:
Tyler's passing created a lot of change in my life, where I was able to come out to my mom and dad. And they have changed so dramatically and in so many amazing ways, and they really, really embraced the LGBTQ community, and they really speak out now. Actually, my parents have become two of the biggest activists that I know. I have also joined them in that journey of becoming an activist, and I'm so glad to have them in my life in the way that they are now.
James wants LGBTQ youth to surround themselves with people who accept them and let go of the people who don't:
I think it's really important to know that it's OK to let go of those people, and you don't need to care what they think, and you don't need to carry the weight of their negative energy in your life, and that there are other people that will grow with you, and that their love for you is so strong and so much that they will change their views, and they will accept you and support you. And I think it's important to know that you can't maybe change everyone's mind, but the people that you can change, they're worth having in your life. And it's worth sharing your full self with them.
WATCH:
For more stories, visit I'm From Driftwood, the LGBTQ Story Archive.
For more information and resources about LGBTQ inclusiveness, visit The Tyler Clementi Foundation.
Need help? In the U.S., visit The Trevor Project or call them at 1-866-488-7386. You can also call 1-800-273-8255 for the National Suicide Prevention Lifeline.