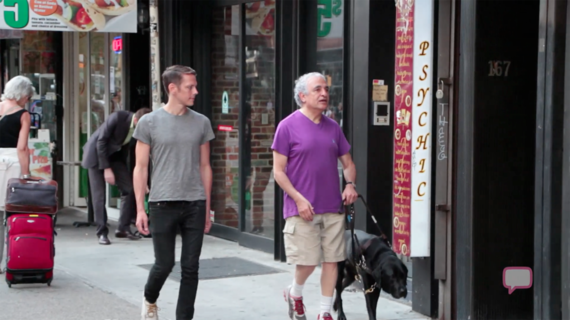 I'm From Driftwood is a 501(c)(3) nonprofit archive for lesbian, gay, bisexual, transgender, and queer stories. New stories are posted on the site every Wednesday.
George Ashiotis started going blind when he was 5 years old. When he was a teenager, he worked at Lighthouse as an assistant counselor, helping younger visually impaired teens. After helping his sister dye her hair black, he ended up going to work with black fingernails, leading to his first experience of homophobia. George recalls:
[O]ne day I came in with my nails colored by the dye, and the counselor said to me, "What are you, gay?" And I had never heard the word before, but I knew what it meant. I said, "No, I was just helping my sister dye her hair." And he said, "Well, you better clean your hand, because it looks like you're gay."
What could have been a negative experience turned out to be a positive one for George. He explains how it helped him realize that there were other people like him out there:
I thought, "Oh, my god, if there's a name for it, then there must be other people that are maybe experiencing the same thing that I am experiencing, and I just need to find them." It really opened up a door for me and made me feel a lot more comfortable about myself.
George went on to learn what "cruising" is and what he finds attractive in other men. Ultimately he learned that his needs as a blind gay man aren't much different from anyone else's:
We really have the same needs as everyone else: the need to hold and be held, love and be loved. And, you know, we have our good days; we have our bad days. We may not accomplish a task in the same way that somebody with eyes does, but we get the job done.
WATCH:
For more stories, visit I'm From Driftwood, the LGBTQ Story Archive.
For information on the LGBTQ blind community, visit Blind LGBT Pride International.