Standing at the rail of the Glacier Queen, we were riveted to the face of the 300-foot-high wall of ice towering before us. Though it was a quarter-mile away, we could hear every crack and crumble as the active tidewater glacier heaved and sloughed ice into the frigid waters of Prince William Sound.
Miniature icebergs called "growlers" bobbed around our boat, popping like Rice Krispies, but we were intent on a greater spectacle: waiting for a huge shard of ice to calve from the glacier's face and crash into the sea, the gray water exploding in fury of sound and spray.
Those of us on the Glacier Queen that day in the early 1980s had no idea that we were witnessing a phenomenon that travelers to follow would not see. For Alaska's monumental Columbia Glacier was beginning a rapid retreat. Over the next few years, the glacier began receding at a rate so breathtaking that boats could no longer come anywhere near it, so choked was the bay by the mass of ice spawned from the glacier's collapsing face.
While scientists tracking climate change had predicted such a fate, it's taken much of the populace some three decades since to understand how a warming atmosphere is hastening the loss of the planet's glaciers and icefields. The recent documentary Chasing Ice, which charts the work of photographer James Balog's Extreme Ice Survey monitoring ice loss through time-lapse imagery, provides an astounding visual account of what's happened to Columbia Glacier in recent years.
Since the 1980s, the glacier has retreated more than 12 miles and lost about half its total volume. Not every receding glacier is diminishing at the pace Columbia is, but the planet's ice is melting quickly enough that travelers who want to see it should make "glacier tourism" a top priority. Glaciers in the Alps are disappearing very rapidly, and some glaciologists predict they will be gone entirely in the next 20 to 30 years. Likewise, Montana's Glacier National Park may soon need a new name.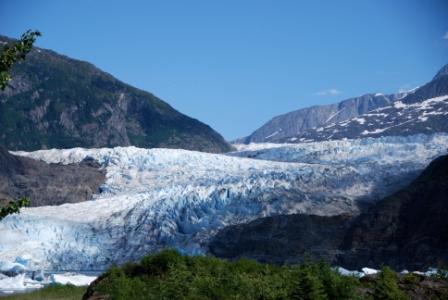 So, it may be time to bump up some of the planet's glaciers to the top of your travel bucket list. If you have kids, take them, too, as there will unquestionably be a lot less ice to view by the time they are grown up and able to afford their own travels. Here are five places to start, for spectacular glacier gazing.
Holgate Glacier, Kenai Fjords, Alaska - Alaska's abundant glaciers are a top traveler draw. While Glacier Bay is perhaps best known, Kenai Fjords National Park offers a more intimate vantage point from a small boat, away from large cruise ships. Come face to face with massive Holgate and Aialik tidewater glaciers, as well as the abundant marine life of Resurrection Bay, on a day boat cruise from Seward or as part of a larger Alaska wildlife adventure.
Upsala Glacier, Argentina - Patagonia, at the bottom of South America where the spine of the Andes divides Chile from Argentina, is home to some of the world's most impressive glaciers. Among them is Upsala Glacier, a large valley glacier with an imposing blue face nearly six miles across, accessible on a day boat cruise. Retreating rapidly, Upsala has spawned a jagged puzzle of ice floes into Lago Argentina, backdropped by the granite spires of Patagonia's famous peaks.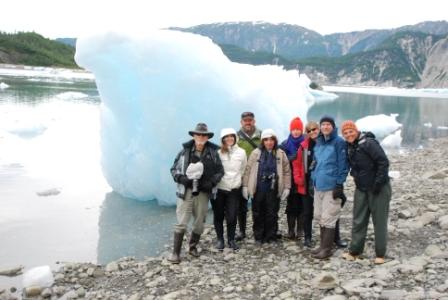 Furtwangler Glacier, Mt. Kilimanjaro, Tanzania - The glaciers icing the summit of 19,330-foot Mt. Kilimanjaro, Africa's highest peak, have become an icon of climate change as they rapidly shrink. If current conditions persist, Furtwangler Glacier, Kilimanjaro's largest ice mass, could be gone by 2020, after capping the mountain for nearly 12,000 years. Though tropical glaciers have been receding for at least a century, that pace has accelerated in recent decades. If you want to experience the snows immortalized by Hemingway, the time to climb Kili is now.
Athabasca Glacier, Alberta, Canada - A road trip along the Icefields Parkway from Banff to Jasper reveals the legendary mountain grandeur that the Canadian Rockies are famous for. En route, a highlight is a guided walk or snow coach ride on the Athabasca Glacier, the accessible tongue of ice that squeezes down into a valley from the Columbia Icefield above. As melting ice exposes raw bedrock, witness the progression of pioneering plant life as it takes hold on the barren surface.
Vatnajokull Glacier, Iceland - Iceland's Vatnajokull National Park encompasses Europe's largest glacier -- the park's namesake -- rising more than 6,500 feet and covering 3,100 square miles. The scenery surrounding the mass of crenellated ice is varied and stunning, a wild land of towering volcanoes, highland plateaus, canyons, meltwater rivers and waterfalls. On the south side of Vatnajokull, 40 outlet glaciers pour from high ridges. While all but one are receding, the ice on display certainly makes the name "Iceland" still apt.
Wendy Worrall Redal is the Editorial Director for Natural Habitat Adventures, a wildlife and nature tour operator based in Boulder, CO