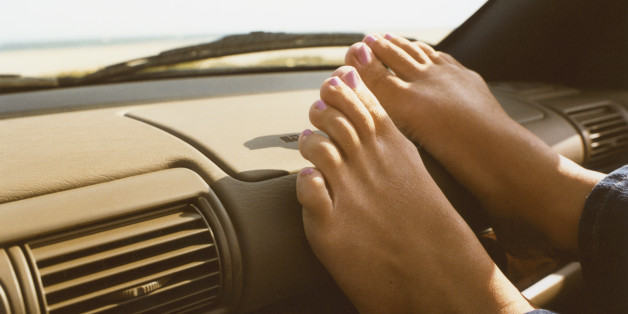 Feel the need to tweet your feet or bare your sole? Meet #footselfie...
It seems some have taken the selfie to a new "lower" level -- and that is down to the street to expose their feet. The foot is no longer considered a part of the body that should be hidden, and the footselfie may be evidence of that. In my NYC foot surgery practice there has been a larger interest in having one's feet look "good" -- both in person and now in pictures.
There are a variety of reasons that people turn to Twitter to show off their feet. Some focus on their perfect feet, whereas others highlight a foot problem (such as a bunion). Sometimes people just prop their foot up along a background to share their experience. Celebrities are no strangers to a self-induced foot photo either.
blue toes @RedCarpetMan pic.twitter.com/TBgSTWzhZi

— Heidi Klum (@heidiklum) August 4, 2013
Below are a several reasons people #footselfie:
1. BeachFeet
2. Rocking a Pedicure
3. Foot Tattoo
4. Prosthetic Feet
5. Yoga Feet
7. Pretty Feet
8. The #highheel picture
10. The #selfie taken with the foot
It seems that the selfie (and variations of it) are here to stay. What is more apparent, as a foot surgeon, is that some people want their feet to look good for themselves but also for their social media followers.
Have you ever done a #footselfie? If not, then this may be one experience where you put a toe in the water first.
Dr. Neal Blitz
Reconstructive Foot Surgery
New York City
To learn more about Dr. Blitz, and bunion surgery NYC, please visit www.bunionsurgeryny.com
Circle +NealBlitz on Google +