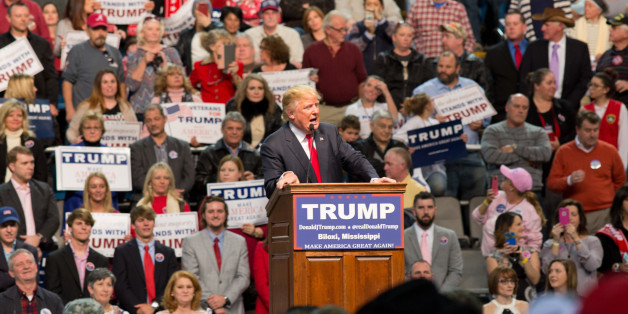 Donald Trump surrogate, Arkansas Attorney General Leslie Rutledge told MSNBC that Mr. Trump would prefer to talk about creating jobs than insulting former Miss Universe Alicia Machado.
The segment followed a line of tweets, Mr. Trump posted on September 30, 2016, starting at 5:14 a.m., accusing Hillary Clinton of getting fooled into believing Ms. Machado, and calling on his followers to view an alleged "sex tape" of Ms. Machado.
Did Crooked Hillary help disgusting (check out sex tape and past) Alicia M become a U.S. citizen so she could use her in the debate?

— Donald J. Trump (@realDonaldTrump) September 30, 2016
Wow, Crooked Hillary was duped and used by my worst Miss U. Hillary floated her as an "angel" without checking her past, which is terrible!

— Donald J. Trump (@realDonaldTrump) September 30, 2016
Using Alicia M in the debate as a paragon of virtue just shows that Crooked Hillary suffers from BAD JUDGEMENT! Hillary was set up by a con.

— Donald J. Trump (@realDonaldTrump) September 30, 2016
How does Donald Trump expect to create jobs for Americans with all the animosity he has cast toward women with whom he has worked.
Ms. Machado claims that she was called fat, ugly, and "Ms. Piggy" by Mr. Trump because she was overweight. She also asserts that Mr. Trump called her "Miss Housekeeping" because she spoke English with a Venezuelan accent.
Mr. Trump also invited a crowd of reporters to scrutinize Ms. Machado while she exercised to lose weight.
Ms. Machado added in a interview that she was also not paid for appearing in commercials and other work she performed for the Trump organization. She was contracted to receive 10 percent commissions on earnings.
Will Mr. Trump solely create jobs for women where it is public policy to ridicule and insult them with racist remarks?
Several reports have also found how Mr. Trump solely wants women who, to Mr. Trump's standards, look attractive to work for him.
The New York Times published an article where numerous women recount encounters with Mr. Trump that made them feel uncomfortable. Barbara A. Res, Mr. Trump's head of construction in the 1980's states that Mr. Trump made an offensive remark when she gained weight.
" 'You like your candy,' " Ms. Res said Mr. Trump told her. "It was him reminding me that I was overweight."
Ms. Res also gave the Times a example of how Mr. Trump wanted to always stage the appearance that only beautiful women worked for him.
"We had a big meeting once. I grabbed one of the women in the office and sent her in to get lunch orders. Donald said, 'Not her.' She didn't look great," Ms. Res said. "He got another woman to take the lunch orders. That was purely about looks."
Mr. Trump also wanted to fire women who worked at his golf course, who he thought were not attractive. In a sworn declaration, the director of the Trump National Golf Club in Rancho Palos Verdes in 2008, Hayley Strozier, stated that she witnessed Donald Trump tell club managers to fire women he thought were "not pretty enough" to work at his club. She went on to state that Mr. Trump told the managers to have such women replaced with "more attractive women."
"Initially, I heard Mr. Trump say this almost every time he visit the club (which was perhaps four or five times a year)," the declaration reads. "Later, he made these comments less frequently because the club's managers knew about this 'attitude' or tendency of his and capitulated to it by changing the schedules of our employees so that the most attractive women were scheduled to work when Mr. Trump was scheduled to be at the club."
Further, the restaurant manager of the Trump National Golf Club, Sue Kwiatkoski, told the Los Angeles Times that Mr. Trump ordered her to get good looking hostesses.
"Donald Trump always wanted good looking women working at the club," Ms. Kwiatkowski stated in a sworn declaration. "I know this because one time he took me aside and said, 'I want you to get some good looking hostesses here. People like to see good looking people when they come in.' "
Mr. Trump says he will create 25 million new jobs; so women that he thinks are not pretty enough are excluded in this plan?
Aside from the fact that the Congressional Budget Office forecasts that the amount of people who are employed (152 million) will only grow by seven million by 2026, how does Mr. Trump figure that he is going to create 25 million jobs? The C.B.O. gets its forecast from population numbers. How is Mr. Trump going to get 18 million people to appear in the workforce, especially if he's shown such disrespect towards women - the biggest part of the U.S. population.
Former crew members, editors, and contestants of Mr. Trump's reality show, "The Apprentice," stated how he was repeatedly disrespectful towards women. He asked male contestants whether they would have sex with female contestants in the same room.
Apprentice contestant, Gene Folkes, told the Associated Press that Mr. Trump wanted the female contestants to wear shorter dresses that showed more cleavage.
The 2005 Celebrity Apprentice winner, Randal Pinkett, said that Mr. Trump would talk to him about the female contestants with whom he wanted to have sex.
Katerine Walker, former producer of the show, said that Mr. Trump was always talking about how a female contestant would potentially perform during a sexual encounter.
Ms. Walker even said that Mr. Trump asked her which contestant he should fire. Ms. Walker told him about one contestant who failed a business task. And Mr. Trump cupped his hands over his chest to ask whether Ms. Walker meant the contestant with the large breasts. The contestant he meant, Kristi Frank, a industrial engineer student and former restaurant owner, was fired at the end of the episode.
Ms. Walker added that Mr. Trump even told her fiancé that he would have married Ms. Frank.
The show's camera woman, Rebecca Arndt said that Mr. Trump would make public comments about her buttocks. Other camera personnel confirmed her account. According to Ms. Arndt, Mr. Trump would compare her looks to his daughter Ivanka.
According to a former crew member who spoke on condition of anonymity because of a non-disclosure agreement, Mr. Trump would also compliment female contestants with remarks like, "you're looking kind of hot today, I love that dress on you." Then he would ask the male contestants whether they would have sex with her. The former crew member added that sometimes there would be about a dozen cameras capturing footage of him making those remarks.
Ms. Folkes, who appeared on the show in 2010, said Mr. Trump asked a female contestant whether her breasts were natural and what was her breast size.
Just this month, another former Apprentice contestant accused the Republican presidential nominee of groping and forcibly kissing her.
Summer Zervos stated that in 2007 Mr. Trump kissed her with a open mouth and pulled her towards him without permission.
This comes after the Washington Post released audio recordings of Donald Trump bragging about how he was able to sexually assault women without consent.
Since then, 11 women have come forward accusing Donald Trump of nonconsensual sexual attacks, essentially confirming what he said on the audio recording.
There are so many accounts of how Donald Trump has assaulted and treated women with utter disrespect. How will that change if he is to become president? How will he create 25 million new jobs having demonstrated so much disregard for the safety, welfare, and dignity of such a major part of the U.S. workforce?
According to the 2010 United States Census there are 157 million women in the United States (50.8 percent of the total United States population).
I collaborated with Animations World to put together a short animation that summarized my report.
Do we want to live in a country where workplace discrimination based on a woman's physical appearance is acceptable? Do we want to live in a country where it is acceptable to sexually assault women? Love to read your take in the comments section.