It's been a week of refugee records in Jordan, and that's bad. More than 2,200 Syrian refugees crossed the border last Thursday night alone, which reflects worsening violence in Syria. The United Nations refugee agency (UNHCR) says most of those now crossing are coming from the southern city of Dera'a, considered the birthplace of Syria's revolution, where there's been a recent increase in fighting.
There was similar worrying news from Turkey earlier this week, when the Washington Post's Liz Sly reported that some 7,000 refugees had been held up at the border, "stranded in olive groves." Turkey has been warning that has already taken in all the refugees it can. But by midweek, Turkey had reopened its borders, and said it would open four new camps, bringing Turkey's capacity to 120,000 refugees. But Turkey continues to push for a buffer zone inside Syria where it says refugees could find safe haven.
It's no different in Lebanon, where humanitarian agencies say there has been a huge spike in arrivals in the past week, with total numbers now approaching 100,000 refugees.
And even in Iraq, where daily bombings and killings should be a deterrent to a refugee influx, more than 15,000 have arrived since fighting began in Syria 17 months ago.
Over this past weekend, the UNHCR took note of a grim milestone, observing that there are now at least 200,000 Syrians who've fled their country. And newly-arrived refugees are not finding conditions in their new, temporary homes even remotely welcoming. In Jordan, for example, fleeing Syrians used to move into apartments, but now all new arrivals are being sent directly to the newly opened Za'atri camp. It's a wretched place -- a tent city in the middle of the windblown northern Jordanian desert. While conditions are improving daily, refugees have variously described it as "Hell on earth," and claim their lives there are worse than at home in Syria.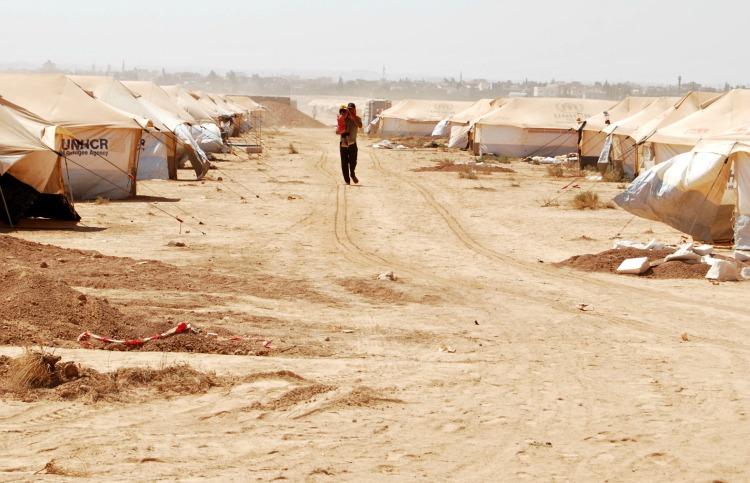 A Syrian man carries his young daughter through the windblown Za'atri refugee camp in Jordan (Ned Colt/IRC)
And Syria's neighbors are hard-pressed to continue to provide unlimited support; the influx is providing extreme problems for them. A Turkish official quoted by Reuters this week could have been speaking for all of Syria's neighbors. "Our capabilities as a host country are being strained," he said. "We are now struggling to cope." In Lebanon, there has been a worrying spillover of clashes between supporters and opponents of Syrian president Assad. In Jordan, the government worries about Assad supporters infiltrating the refugee community. The kingdom is also concerned about the impact the more than 100,000 refugees are having on limited water supplies, housing stock, and schools and hospitals.
But by all accounts, conditions are direr inside Syria, where the U.N. says more than a million people are homeless and more than twice that number require aid. Refugees tell the IRC of being forced from their homes at gunpoint, and then being unable to find food and shelter. It's no wonder the refugee numbers are rising so quickly.
Now, with no sign of resolution in what the Red Cross terms a civil war, and increasing accounts of atrocities -- one of the few, stark certainties is that both refugee numbers and their needs will only multiply in the days ahead. It is time for the international community to respond, and it can do so in a way that does not risk escalating the conflict.
In late June the United Nations appealed for $193 million to support an estimated 185,000 Syrian refugees through the end of the year. But as of last week, that appeal remained less than 40 percent funded. Now, with refugee numbers surpassing 200,000, the U.N. will have to make another appeal, for substantially more funding. That money must be provided, promptly. If not, Syrian refugees (of whom three in four are women and children) risk finding more borders closed to them in the weeks and months ahead.