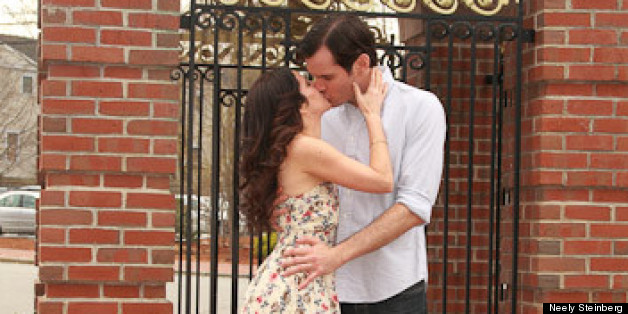 I had a good chuckle over Dan McCarthy's Esquire piece "One-Night Stands in Wartime: The Problem with One-Night Stands in Locked-Down Boston" about a one-night stand gone awry. Unable to quietly slip out of the home of his hook-up the next morning (as is commonly done in these delicate situations) due to the manhunt of the Boston marathon terrorist bomber, McCarthy was forced to endure an entire day with his tryst. I have a different personal story to share about that day, but one that relates more to matters of the heart than matters of the loins.
I got engaged during the lockdown.
I woke up on Friday morning to the news that the city of Boston and surrounding areas were, essentially, being shut down, residents ordered to stay in their homes. Authorities were on the hunt for Dzhokhar Tsarnaev, who, though surmised to be lurking in Watertown, Mass., was on the loose and armed and dangerous. Unfortunately for my boyfriend, who had planned to propose that evening and then whisk me off to Newburyport, Mass. for a celebratory weekend, the directive from Governor Patrick to stay indoors (creating an eerie ghost-town effect), threatened to thwart his plans.
At around 6:00pm, the Governor announced that the lockdown had been lifted and we could leave our homes and resume our lives. As soon as that happened, Dave suggested that I take a shower so we could go grab some food from one of the few places that actually was open. I had been sitting on the couch all day, drool dribbling down my chin, glued to the television watching the drama -- like a page torn from a Hollywood script -- unfold. On edge the whole day, like most residents of the Metro Boston area, I finally felt some relief given that the Governor's announcement probably meant they were closing in on the suspect.
Post- shower, I walked into our home office room to ask Dave a question. There was music in the background that I only later realized was our song -- the one we often slow danced to when we first started dating. He was wearing a polo shirt I had given him months ago, despite not being all that fond of it. I joked that he was finally wearing the shirt on a day when nobody would be able to see it, since the streets were still relatively deserted. It was then that he pulled me close and started slow dancing with me. I remarked how it brought me back to two years ago when we would hold each other in our arms and sway silently to 50s music in his apartment. And then something clicked in my head. I could feel his hands shake a little, and I knew that the moment that I had wondered about for so many years was now finally upon me.
And like that, a man got down on one knee, a passing siren blaring in the background, and proposed to an overjoyed, teary-eyed woman. And amidst the chaos unfolding in the outside world, inside, in a small apartment in Boston, a man and woman pledged their love and lifelong commitment for each other. Indeed, the most romantic moment of my life was juxtaposed with one of the most terrifying days in the state's history, a day full of sirens and tanks and men with guns and Watertown families fleeing from their homes, children at their bosoms. My mom later remarked that it would be an incredible story to tell our grandchildren someday.
The car ride to Newburyport proved equally ironic. I've long pondered what the experience would be like when I'd make that first round of phone calls to family and friends -- calls of which I had been on the receiving end for so long. Now that moment was here. But instead of pouring forth with our joyous news, the phone calls went something like this:
Ring, ring...
"Hi Neel, oh my God, can you believe this? It's so surreal. They've surrounded him, he's hiding underneath a boat. Are you okay?" And after a few minutes of "oh my God's" and "This is crazy's" and "What is the world coming to's", I'd wait for a small window of silence, at which point I'd be able to segue into our engagement news: "Well, I'm actually calling with some good news." I never imagined that the announcement of my engagement would be intertwined with terrorism drama. And so, as Dave and I drove to our celebratory destination, we, at once, learned of the news of the bomber's capture and shared our own exciting update.
The next day we woke up in each other's arms, excited about our future, ready to face life's chaos together.
Life goes on. And so does love.