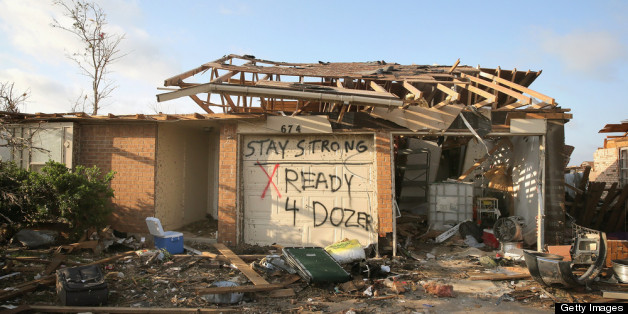 Following the devastating tornadoes that struck this week, I have been humbled and honored to help students serve Oklahoma for the third time in 18 years.
Working at Oklahoma Christian University, I am continually inspired by how students plan on making a difference. After the 1995 Murrah Federal Building bombing, the 1999 Moore tornado, and even this week's storms, our students never doubted they could make a difference.
Guided by their faith, they know they can and will.
This week, while taking a group of students to serve in Moore, it was hard for me to put into words the destruction I saw. But Oklahomans have a determined mindset in the face of tremendous obstacles. Everyone has said, "We'll recover again. Let's buckle down and do it."
There is no discussion of "if," just of how long it will take. Folks in Oklahoma don't wait for others to clean up. We simply get after it.
Three OC alumni have inspired the nation by demonstrating Oklahoma's survivor spirit. Jennifer Simonds, a teacher at Plaza Towers Elementary, went to the emergency room after her arm was crushed as she laid over students to protect them. Kevin Hixson, a teacher at Briarwood Elementary, helped protect students and was at the ER late that night. Cindy Lowe, another teacher at Briarwood, sheltered students and lost everything in her classroom. These three individuals did not hesitate to sacrifice themselves to help others.
That spirit of sacrifice reflects how so many Oklahomans are guided by their faith -- a faith that has been strengthened by this storm. Just as OC students have been an inspiration, the faith community has been a great example to our students. People of faith and church groups have acted quickly. Other Christian universities have let me know they are thinking about us and sending help our way. So many others across our state and nation have done the same.
At Oklahoma Christian, we encourage our students to be good neighbors. We want our students to understand that their actions and experiences are interconnected. OC students learn they are part of something bigger than themselves. We feel God has called us to be part of a community, and it fuels the way our students, faculty and staff have responded to the tornado in Moore.
OC student Kendall Mayes is one of our students cleaning up. He was amazed so many victims weren't waiting for help, but appreciated the helping hand. As we hauled debris to the road and cleaned mud off of a house in Moore, Kendall commented on how so many Oklahomans from other parts of the state were already here. People were missing work (and pay) to help complete strangers.
In many ways, that spirit of unity was established by people like Dr. Brad Robison. Brad is OC's former library director and president of 419 Outreach, which was founded by family members, survivors and responders to the 1995 Oklahoma City bombing. Like many of us, Brad was saddened by the devastating event, but he saw the need to unite and strengthen our community as we quickly rebuilt our city.
When 9/11 occurred, Brad reached out to New York City leaders and offered his support. For the last eight years, Oklahoma Christian has hosted Brad and guests from New York to commemorate the bombing. That ceremony is held on campus, where we planted survivor trees from both the Murrah Building and the World Trade Center.
Brad's service inspired me to rally the troops at OC every spring to run in the Oklahoma City Memorial Marathon. For the last four years, Oklahoma Christian has had been among the top three organizations with the most runners. Like so many in our state, going the extra mile in the face of adversity is just what we do.
And we'll keep doing it ... because that's the Spirit of Oklahoma.