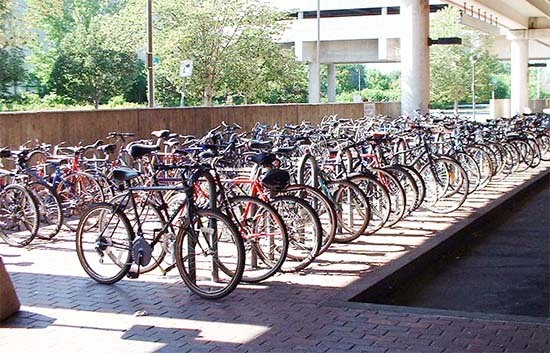 A few weeks ago, I was asked by a reporter, "What's the future of transportation?" He was wondering if I foresaw any far-out types of cars powered by some strange sustainable fuel like water, helium or carbon dioxide. I wasn't taking the bait. I don't think cars are the future of transportation. Bikes are -- or at least, a big part of it.
We've all heard about the huge efforts of places like New York and Seattle -- throwing millions of dollars at making cycling as viable a transit option as taxis, rail and walking. But other, lesser known, places like Columbia, SC, Raleigh, NC and Rochester, NY have jumped into the mix as well. Over the last decade, hundreds, if not thousands, of small, medium and large cities have gone through the process to master-plan bike networks for their citizens. It's a trend that's not slowing down. Literally every week, it seems a new RFQ comes out asking for proposals to envision a citywide bike plan for another town or community.
It speaks to a great change happening under the noise and dysfunction of our more mainstream conversation about climate change, cities and the future. If every master plan is enacted, it could mean, over the next decade, millions of cars being left in the garage for the more healthy peddling experience of cycling to work, recreation and commerce. This could lead to parking lots being replaced by fields of bike racks, and bike-share programs replacing the need for intercity public transit. Of course, obstacles are standing in the way. The funding is missing to build the new infrastructure to support safety for this new bicycling culture. But the money issue is really about our bad habits for designing and planning places.
We institutionally believe that for infrastructure to be good and thereby serve the community, it needs to be expensive and "comprehensive". Many of the bike master plans, though new and innovative, have fallen into this old pattern of city and transit planning. Community involvement is limited to a mandatory protocol, and ideas are always counterbalanced by the status quo. Most of the bike network plans are huge hundred page documents with costly improvements and implementation goals that will take decades to enact.
Unfortunately, another big issue surrounding successful programs is that a small group of companies are designing the majority of bike networks and bike shares. They are also, by default, the companies that cities, counties and transit departments turn to for standards and requirements as well as assistance in writing the many RFPs coming out. I don't want this to sound too sinister, because as any design professional knows, having the "experts" assist in writing RFPs is standard operation for all types of design from architecture, landscape and engineering as well as transportation. The real problem that comes from this is that we have a small group of people defining the performance standards for millions of people -- with little need or necessity to think creatively or from a different perspective.
We need to learn from our mistakes. Car culture was not brought to us by a community driven effort for better transit design. It was brought about because a small group of companies banded together to imprint their vision of highways, strip malls and the privatization of travel. If anything, how a city or suburb redefines itself as a bike mecca shouldn't be a cookie cutter approach, but should be a highly individualized process that reaches deep into the existing communities and neighborhoods for input and implementation.
The beauty of the problems we face with bicycle networks is that counter approaches exist and are accessible. A new line of design is emerging that is redefining infrastructure overall. This being, instead of expensive top-down city planning, neighborhoods and communities can have extremely inexpensive options tested and installed for -- hold onto your hats -- pennies. One of the most inspiring methods out there is called Tactical Urbanism -- but it is only one of several new tools available to people.
In a recent interview for OCD:Designcast, my co-host and I had the opportunity to talk to Mike Lydon, the founder of Tactical Urbanism and discuss many of the big and small issues for reimagining cities, suburbs and transportation using a people-scaled and community-driven approach.
This is really just the beginning of the conversation, and not the conclusion. The real question is, what should an individualized transit planning process look like? Are the existing standards helping us get to a bike-centric future or slowing us down? And where do we go next for engaging people in this new and rich world of peddling about to the places we shop, work and live?