"In the Army, I heard an electric guitar that wasn't playing spiritual. It was T-Bone Walker doing 'Stormy Monday' and that was the prettiest sound I ever heard in my life. That's what really started me playing the blues." -- B.B. King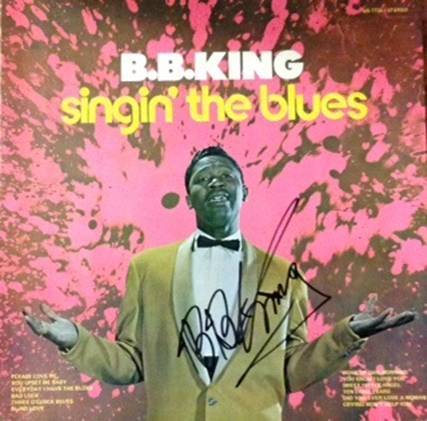 Singin' The Blues (1956) signed by B.B. King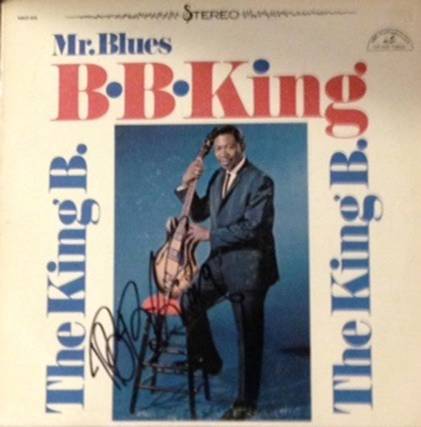 Mr. Blues The King B. (1963) signed by B.B. King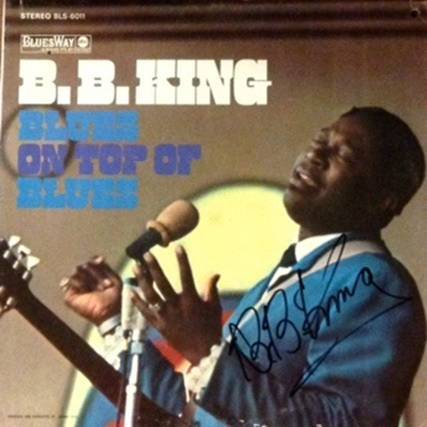 Blues On Top Of Blues (1968) signed by B.B. King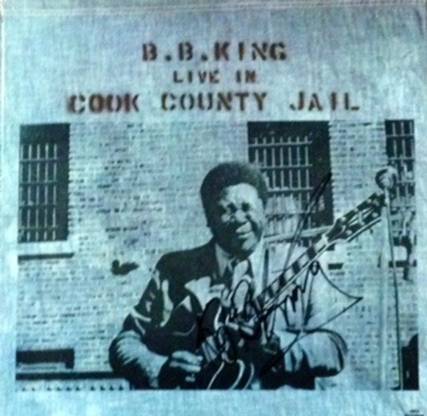 Live In Cook County Jail (1971) signed by B.B. King
"When I sing I play in my mind, the minute I stop singing... I start to sing by playing Lucille." - B.B. King

Born in 1925 on a cotton plantation outside Indianola, Mississippi, young Riley B. King started playing a guitar and became "Beale Street Blues Boy" who became "Blues Boy" and finally, B.B. King. An oft-told tale, B.B. King saved his guitar from a burning night club. Later, he found out that the two men who knocked over a kerosene barrel which ignited the fire were fighting over a woman named Lucille. B.B. decided to name his guitar (and every subsequent guitar he played) "Lucille" as a reminder never to do anything as foolish as run into a fire to save a guitar.
B.B. King has had an incredible career. He is "The King Of The Blues" or "The King B.", and he has influenced Jimi Hendrix, Eric Clapton, Jeff Beck, Buddy Guy, and virtually every electric guitarist since. An indefatigable road warrior, it is estimated that B.B. King has played more than 15,000 concerts in his 60-plus year career, playing 200-250 shows well into his seventies. And I saw a bunch of them.
In '93, The Blue Note in New York City advertised "A Rare Club Date With B.B. King." I bought tickets, and Erin and I and some friends showed up early for the first come, first served general admission. We ended up front-row center, directly in front of his eminence. B.B. had his entire 12-piece band with him and it was quite a sight in this small, intimate and fabled New York jazz club. In those days, the Blue Note had mostly jazz quartets and quintets, and they were not equipped to service B.B.'s large band requirements and retinue. In fact, B.B.'s three-piece horn section was relegated to off stage because they could not fit. They played off stage mostly, but when they did a solo, they scurried on, blew a few beautiful notes, and returned to the shadows. The life of a sideman. Not 20 feet from greatness, more like eight...
B.B. and his band played an incredible set of music. He opened with "Let The Good Times Roll" and we were transported to another world. "Lucille" never sounded better as B.B. coaxed and bent beautiful, crystalline blues. As he went through "Sweet Sixteen", "When It All Comes Down", "Rock Me Baby" and "The Thrill Is Gone", the blues were never so joyous and life affirming. The crowd erupted into a standing ovation as he finished his set. A bunch of folks started reaching out to B.B. for a handshake or a memento. B.B. saw Erin directly in front of him, smiled and handed his guitar pick to her. B.B. always had an eye for the ladies, and he has reputedly sired 15 children with 15 different woman. Apparently, as hard as he worked on stage, he was as equally tireless off.
B.B. King was very kind and gracious when I met with him backstage. He loved seeing some of the old albums. "Look how skinny I am. And young!" He was especially interested in Singin' The Blues, his debut album released in 1956, and he paused as he looked at the song titles with care. He couldn't have been nicer as he stuck out a big paw to shake hands.
Several years later, he published an autobiography, Blues All Around Me (1996), which was an honest and open look at his career and influences. Perhaps a little too open and honest. I found it interesting that he loved Frank Sinatra: "I'm a Frank Sinatra nut. No one sings a ballad with more tenderness... and when Sinatra wants to swing, no one swings harder. No one phrases any hipper." And for guitar inspiration, he listened to Les Paul, inventor of the solid body electric guitar and many other recording advances like overdubbing. Less interesting was a chapter entitled "Someone Asked Me About Oral Sex." Really B? I can think of a lot of other questions. This must be the most improbable chapter in the history of music autobiography! Prurient, salacious, and completely unnecessary, it is hard to believe that a publisher or editor fought for this chapter's inclusion. I couldn't believe what I was reading so I read it over and over and over and over again... just to make sure I wasn't missing anything.

B.B. King, blues icon, legend, ladies man. Never have the blues felt so satisfying. The thrill is never gone.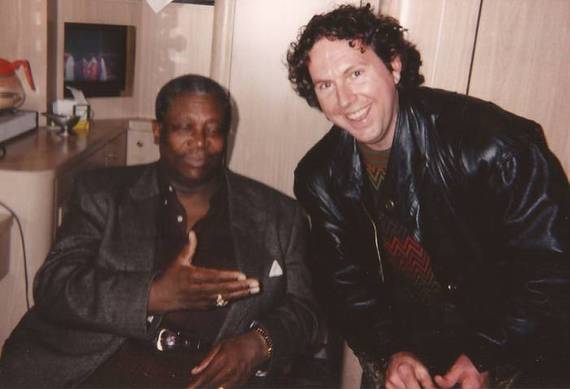 B.B. overcome with excitement, backstage, Blue Note 1993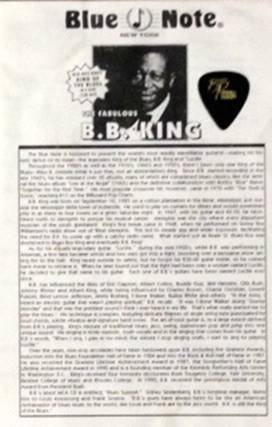 B.B. King Guitar Pick/Blue Note Program 1993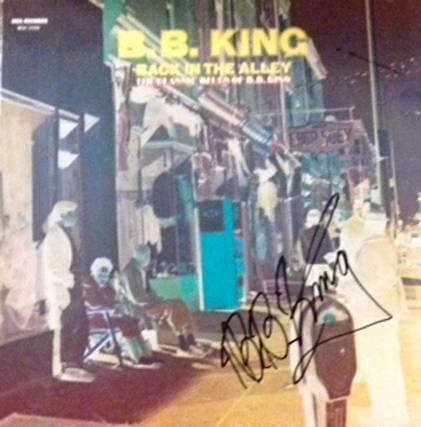 Back In The Alley (1980) signed by B.B. King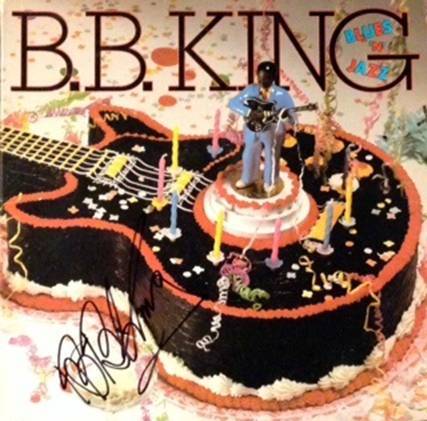 Blues 'n' Jazz (1983) signed by B.B. King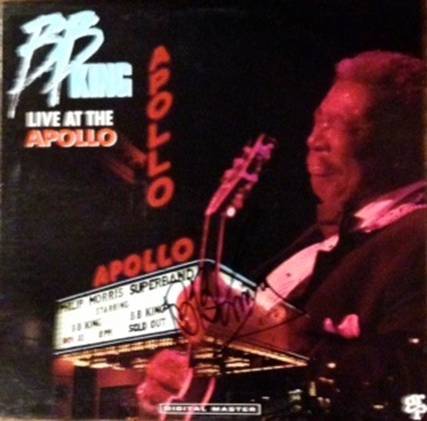 Live At The Apollo (1990) signed by B.B. King
All signed albums from my collection, copyright 2015, all rights reserved.