Most people know The Recording Academy® for the GRAMMY Awards, but in 1989 our organization established two charitable affiliates whose combined work takes care of the past, present and future generations of the music community -- the GRAMMY Foundation® and MusiCares®.
It's an exciting time in the music industry. Digital and social platforms have made it possible for emerging artists to reach new audiences all over the world. But before they become the next superstar sensation, they need a strong foundation, and for many of tomorrow's stars that starts in the classroom.
That's where the GRAMMY Foundation's GRAMMY in the Schools® programs come in. Across the country and throughout the year, we offer incredible experiences -- from day-long GRAMMY Camp® -- Basic Training events that bring top music industry professionals together with high school students to make them aware of careers in music and present a behind-the-scenes look into the industry, to our residential summer GRAMMY Camp that offers high school students an interactive music experience focusing on all aspects of commercial music. Just as the GRAMMY Award recognizes excellence in recording, our GRAMMY Signature Schools program recognizes top public high schools across the country for outstanding commitment to their music education programs with custom awards and monetary grants to benefit their music programs.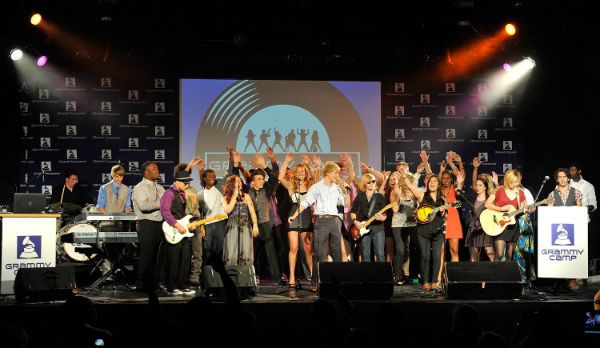 GRAMMY Camp® students perform onstage during the GRAMMY Foundation®'s annual GRAMMY Camp LA Showcase Concert at the El Rey Theatre on July 22, 2012 in Los Angeles, California. Photo courtesy of The Recording Academy®/WireImage.com, photo by Jesse Grant © 2012.
While we're taking care of music's next generation, our preservation programs help safeguard our past. The GRAMMY Foundation's Living Histories initiative preserves on visual media the life stories of key recording industry professionals and visionaries who helped create the history of recorded sound. Our Grant Program awards grants annually to organizations and individuals in two categories: scientific research and archiving and preservation.
As for our commitment to members of today's music community, MusiCares is there to help the industry get and stay healthy. We offer programs and services including emergency financial assistance for basic living expenses such as rent, utilities and car payments; medical expenses including doctor, dentist and hospital bills; psychotherapy; and treatment for HIV/AIDS, Parkinson's disease, Alzheimer's disease, hepatitis C, and other critical illnesses. We created the Healthy Essentials program that partners with medical and dental clinics all over the country to provide preventive care services such as dental checkups and cleanings, mammograms and hearing screenings.
The MusiCares MAP Fund® allows access to addiction recovery treatment and sober living resources for members of the music community. Staffed by qualified chemical dependency and intervention specialists, MusiCares Safe Harbor Rooms, supported by the Bohemian Foundation, offer a support network to those in recovery while they are participating in the production of televised music shows and other major music events. In addition, MusiCares holds weekly addiction support groups for people to discuss how to best cope with the issues surrounding the recovery process. The MusiCares Sober Touring Network is a database of individuals across the United States who can take music people to recovery support meetings while on the road.
The strength of the music industry is rooted in the well-being of all of its constituents, from those who shaped our cultural legacy to those who will inspire us in the years ahead, and The Academy, the GRAMMY Foundation and MusiCares have long supported the individuals, organizations and programs that make up our creative community. In the words of our 2013 MusiCares Person of the Year, Bruce Springsteen, "we take care of our own."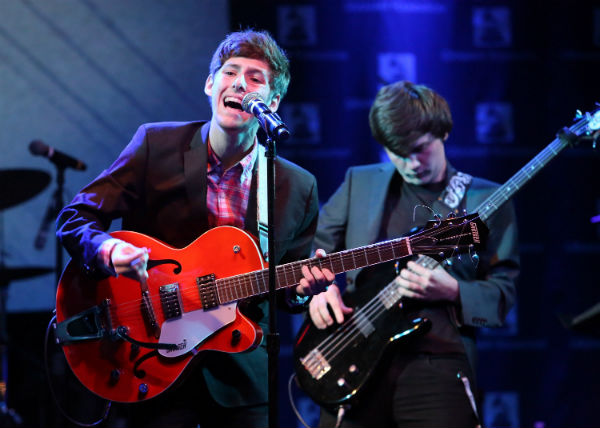 GRAMMY Camp® students perform the closing song at the GRAMMY Foundation®'s GRAMMY Camp Nashville Launch Party at Rocketown on June 23, 2012 in Nashville, Tennessee. Photo courtesy of The Recording Academy®/WireImage.com, photo by Frederick Breedon IV © 2012.
On this Giving Tuesday, I hope you will think about music's undeniable and ever-present force in your own life.
This blog is part of our #GivingTuesday series, produced by The Huffington Post and the teams at InterAction, 92nd Street Y, United Nations Foundation, and others. Following Black Friday and Cyber Monday, #GivingTuesday -- which takes place for the first time on Tuesday, November 27 -- is a movement intended to open the holiday season on a philanthropic note. Go to www.givingtuesday.org to learn more and get involved.
For breaking news and exclusive content, please like "GRAMMY in the Schools" and "MusiCares" on Facebook and follow @GRAMMYFdn and @MusiCares on Twitter.