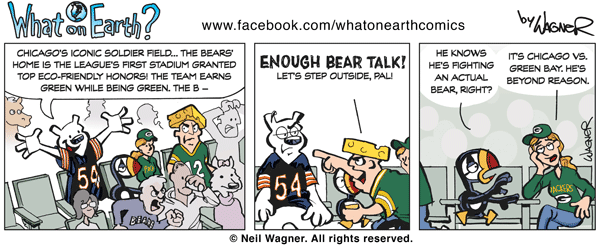 Ask any fan of the National Football League to provide a word that describes the Chicago Bears and "tough" would be a likely answer. The team plays in a tough Midwestern city on the shore of the country's biggest lake in a stadium dedicated to the military that resembles an ancient coliseum. Even names from the team's storied history are tough: Nagurski, Ditka, Butkus, Urlacher.
Yes, the Monsters of the Midway is a team that is supposed to rock your world, not protect it. But the Chicago Park District's Soldier Field, home of the Bears, has just received LEED Certification from the U.S. Green Building Council -- the first NFL stadium so honored, which means the team of black and blue has gone green.
NFL Commissioner Roger Goodell and Chicago Mayor Rahm Emanuel recently met with Bears management to commemorate the stadiums new status. As the team's site describes:
Since Soldier Field reopened in 2003, the Bears have implemented several environmentally focused initiatives including green cleaning products, electric vehicle charging stations, automated lighting controls, reusing old sod to top dress existing landscaping and numerous recycling efforts.
In case you think Soldier Field is an environmental island in the NFL, take a look at the Philadelphia Eagles. They are as green as their team colors would lead you to believe, as we discussed in the very first What on Earth.
Here are a few eco Eagles highlights from the
team's Go Green website
:
100% powered by wind and sun
Team's recycling has diverted 3 million pounds of trash from landfills
Energy saved each year is enough to power 7,150 homes annually
Employees reimbursed for shifting to wind energy
Food collected after game is composted
Stadium's cooking grease is converted to biodiesel
But
What on Earth's
Bebbo and Kito aren't just football fans. They've also had
first-hand experience
with
NASCAR's environmental efforts
. Here are a few highlights from NASCAR's climate-saving work:
Largest recycling & environmental sustainability programs of all U.S. sports
World's largest solar-powered sports facility
Tree planting program to capture all on-track emissions
New fuel blend that emits 20% less greenhouse gases
So football players and stock car drivers have become treehuggers? What's next -- a hard-driving Midwestern baseball team owned by a brewery? Yessir -- the St. Louis Cardinals' Busch Stadium is going through a greening, as the Natural Resources Defense Council's
Rebecca Stanfield describes
. The team invested several hundred thousand dollars to green the stadium and now saves that much each year:
Steam heating system captures useful waste heat and eliminates the need for 5 million gallons of cooling water
Smart ventilation that eliminates of nearly 100 tons of large air conditioners
Solar panels that produce enough power to grill 4 million wieners
Energy efficient bulbs that cut lighting energy use targeted areas by 90%
The Cardinals enlisted the help of NRDC's team of Greening Advisors to make smart, efficient moves to become more sustainable, cut energy costs and protect our environment. In fact, the NRDC has worked with every major branch of top-level sports in the United States: NFL, MLB, NBA, NHL and more.
So the next time you see a Chicago Bear driving an opponent into the turf, just remember -- they're not vicious, hard-nosed gladiators ... they're just aerating the soil so it can do it's job capturing carbon emissions.
Like "What on Earth?" on Facebook.
Become a Fan here at The Huffington Post.