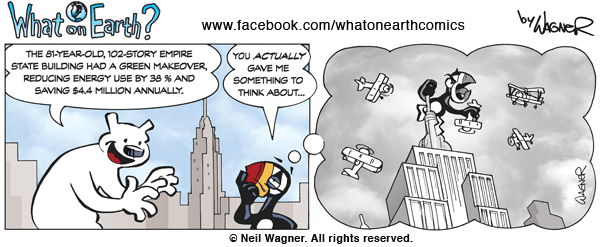 If asked to imagine a green building, what would you see with your mind's eye? A fragile-looking glass and steal box? Maybe a garden and solar panels covering the roof? A sign out front that reads something like, "Sustainably Grown Organic Tofu Cooperative?"
Perhaps you'd chuckle as you picture the naive idealists at SGOTC paying through the nose to stock up on unproven energy-efficient technology in the delusional hope that it would some day save energy and money.
Prepare to re-imagine and get your mind blown in the process. The 2.7 million-square foot Empire State Building -- brawny, angular icon of early twentieth century grit and ambition (and still New York City's second-tallest building) -- is green. And it's saving energy and money -- lots of it.
Owner Tony Malkin worked with experts from organizations ranging from Johnson Controls to Rocky Mountain Institute (RMI) to develop a retrofit that would save 38 percent of the building's energy and $4.4 million each year. Oh -- and add about 250 jobs as well.
The building's retrofit was a grand experiment, really. RMI describes Malkin as saying, "We knew that by retrofitting the Empire State Building, we would catch the world's attention. Through this project, we set out to prove or disprove energy efficiency retrofits' economic viability. The program is designed to be open source, free, and widely available -- so please rip us off."
First-year savings alone added up to $4,393,796. As RMI buildings practice analyst Eric Harrington says, "Until now, the energy savings were all theoretical and all based on careful energy modeling. Now that we have a year of utility data, the Empire State Building deep energy retrofit story is proven to work."
There are other old, rough-and-tumble structures that have become leaner, greener and more energy-efficient. As "What on Earth" has previously discussed, Chicago has seen two icons from its history -- A former meat-packing plant, and venerable stadium Soldier Field -- make big green improvements. You could also look at Pittsburgh's 1953 Regional Enterprise Tower, the Willis (formerly Sears) Tower (still the Western Hemisphere's tallest), and Taiwan's Taipei 101 (the planet's tallest LEED Platinum building,) have all gone eco in a big way.
While the U.S. Green Building Council's LEED certification is the de facto gold standard of green construction, it still faces concerns about its comprehensiveness. LEED certification has become increasingly focused on the building's energy efficiency... but what about the sustainable nature of the material's used in building (or retrofitting) the structure? How about stated energy use vs. actual energy use? How close are LEED standards to those set out by the Energy Independence and Security Act?
Benchmarks and regulations can be tricky and prone to change, due to advances in science and technology. But while we're figuring out all the nuances... let's keep making old skyscrapers energy-conserving money-saving dynamos. Sound good?
Like "What on Earth?" on Facebook.
Become a Fan here at The Huffington Post.