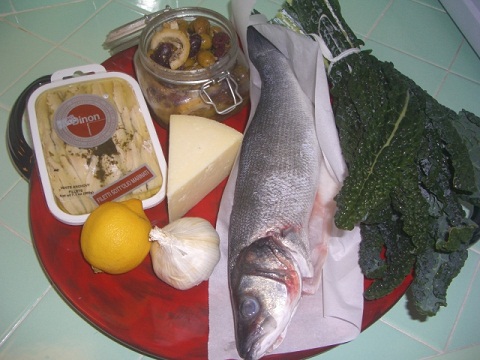 I remember quite clearly my first moment of awareness of this traditional Italian repast: a December cover article in Gourmet magazine, more years ago than I care to acknowledge, promising recipes for seemingly endless courses of piscatorial delight. But I never quite got around to making it a reality. Then years later, while dating a delightful young lady whose family hailed from Naples, I finally attended one such event and was irrevocably smitten (with both the girl and the feast).
The origins of the tradition are shrouded in the mists of Southern Italian time, though all versions have one theme in common: no meat. As required on Good Friday (and indeed on all Fridays when I was child in an Irish Catholic household), on Christmas Eve as well one would abstain from consuming meat to purify oneself.
The exact contours of the meal vary from region to region and household to household. Even the number of courses may vary, from three to seven to 12 or 13; three is postulated to represent the Holy Trinity, 12 or 13 to represent the Apostles, plus Jesus. The most widely followed number though is seven, and there are any number of possible significances for that "perfect" number: the seven days of creation, the seven sacraments, the seven deadly sins (my personal favorite), or the seven days it took Mary and Joseph to travel to Bethlehem; and seven is the most repeated number in the Bible.
Thus there is plenty of latitude allowed in creating your own version of this appealing tradition. Still, I found that many of the classic components involved ingredients that might not appeal to modern guests; salt cod is no longer the universal staple that it once was, and my long-ago girlfriend's mother informed me that her brother wouldn't eat the eel dishes unless he had first seen those slippery delights swimming in the kitchen sink! And often the cooking methods were less than healthy. So I set out to design a seven-course menu that hopefully would gratify the palate and fortify the system. Fried foods have given way to roast or seared, vegetables have moved front and center with the fish, and olive oil predominates over butter, but the essence of the feast remains the same.
And away we go!
Antipasti
White anchovies, assorted olives, chunks of Locatelli pecorino romano and crispy flatbreads
If you've never had white anchovies, you're in for a treat. Possessed of a firm, creamy white flesh and delicate taste, they bear no resemblance of any kind to those salty brown things in a tin. You'll find them at your nearest Italian deli or specialty store.
Soup
White bean, shrimp and fresh basil in vegetable broth
This delicate soup will adapt to any sort of fish you care to toss into it; shrimp is lovely, but so is halibut or monkfish or even a few fresh oysters. (See recipe below).
Pasta
Whole wheat capellini with olive oil, Dungeness crab, fresh snipped chives and truffled cheese
Just cook the angel hair pasta according to directions, toss with a few tablespoons of olive oil and a generous helping of crabmeat and the chives, then shred a snowfall of a firm Italian truffled cheese on top. And a grind or two of fresh black pepper couldn't hurt... Molto gusto!
Salad
Bay scallops, hearts of escarole, shredded Tuscan kale and wild arugula with lemon-balsamic vinaigrette
Toss the greens with a light balsamic and lemon vinaigrette (see recipe below), sear the scallops quickly in an olive-oil-moistened pan and scatter over the greens. For the more adventuresome, try calamari instead.
Entree
Roast white sea bass with mint pesto and sautéed rapini with olive oil, garlic and lemon zest
Any firm-fleshed white fish will be splendid here -- I love our local white sea bass, but consider red snapper, halibut, or cod as well. (See recipes below).
Cheese and fruit plate
I'd go with hard winter fruits, such as apple and pear; adding chunks of pomegranate plus a scattering of the seeds makes a stunning presentation. Select two or three firmer cheeses -- my favorites for this are an aged Manchego, an herbed Cotswold cheddar and the rest of that Italian truffled cheese from the salad!
Biscotti and Chocolate-dipped dried fruits and Espresso with Cointreau
Splurge on some really authentic biscotti at the Italian deli. And though you can buy your chocolate-dipped fruit already prepared, it's so easy, and much nicer, to make your own. Start with some dried apricots, maybe some pineapple and figs as well; melt bittersweet chocolate, dip each piece of fruit into it to cover half, then chill on a wax-paper-covered platter.
The Final Word
It's all about togetherness and sharing and loved ones -- and what could be more perfect for the holidays? Platter everything "family-style," pass it around with love, and wash it all down with a generous cascade of Italian wine. It's a joyous opportunity to celebrate all that makes Christmas "the most wonderful time of the year."
White Bean, Shrimp and Basil Soup
1 tablespoon olive oil
1 tablespoon minced shallot
1/2 teaspoon minced garlic
1 quart organic vegetable broth
1 cup cooked white beans
1 cup chopped raw shrimp
1/4 cup shredded fresh basil
In a large, heavy-bottomed saucepan over medium heat, cook shallots and garlic in oil until softened, about two minutes. Add vegetable broth and bring to a boil. Add white beans, reduce heat, and simmer for 15 minutes. Add shrimp and continue to simmer until shrimp are barely opaque, about two minutes. Add salt and pepper to taste. Ladle into bowls, garnish with basil and serve.
Serves four.
Lemon Balsamic Vinaigrette
1/4 cup aged balsamic vinegar
2 tablespoons fresh lemon juice
1 tablespoon red wine vinegar
2 teaspoons water
1 teaspoon minced shallot
2 teaspoons Dijon mustard
1/3 cup extra virgin olive oil
Combine first six ingredients in a jar and shake vigorously to combine. Add the olive oil and shake again. Taste, and adjust as you like with a little more balsamic or oil.
Roast White Sea Bass with Mint Pesto
3/4 pound white sea bass, cut into 4 pieces
3 tablespoons olive oil, divided
1/2 cup fresh mint leaves
1/2 cup Italian flat-leaf parsley leaves
2 tablespoons toasted pine nuts
1 tablespoon fresh lemon juice
1/4 teaspoon kosher salt
Grind of black pepper
Preheat oven to 425.
Make pesto: in a food processor, combine two tablespoons of olive oil, mint, parsley, pine nuts, lemon juice and salt and pepper; purée until smooth but with a slightly coarse texture. Set aside.
Moisten sea bass with remaining tablespoon of olive oil, place on foil-covered baking sheet. Roast in preheated oven until opaque and just cooked through, about 10-14 minutes (depending on thickness of fish). Transfer to plates, top each piece of fish with a dollop of pesto, lay some rapini alongside (see below), and serve immediately.
Serves four.
Seared Rapini
1 large bunch rapini, woody stems removed and leafy part coarsely chopped
2 tablespoons olive oil
1/4 teaspoon minced garlic
1/4 teaspoon red pepper flakes (optional)
1/2 teaspoon microplaned lemon zest
In a large heavy-bottomed saucepan, heat oil over medium heat. Add garlic (and red pepper flakes, if you like it hot!) and cook for one minute, stirring constantly. Add rapini and cook, stirring often, for three minutes; add two tablespoons water, cover and cook until tender, about five minutes. Sprinkle with lemon zest and serve.
[A version of this post appears in the December issue of Better Nutrition Magazine.]