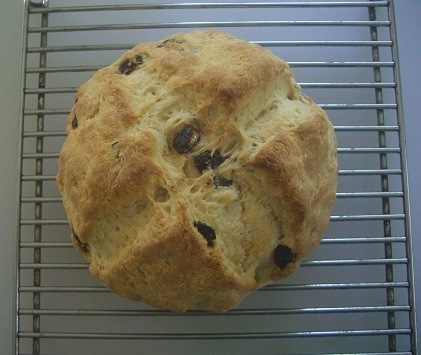 Once upon a time, if you needed to stay gluten-free, your choice in flours for baking treats was limited to say the least. But times have changed, and definitely for the better in this regard -- a generous array of gluten-free flours is now widely available. All it takes is a little knowledge and a little ingenuity to take advantage of them.
Grains such as rice, millet, sorghum and teff are milled into flour; seeds such as buckwheat and quinoa make high-protein flours, as do nuts like almonds, hazelnuts, and peanuts. Even beans like garbanzo and fava make an appearance as flour.
But substituting these flours for wheat flours can be tricky, because of that whole gluten thing; it's gluten that causes that cake to rise and that pizza dough to stretch. So what's an eager but gluten-free baker to do? Herewith a few tips:
Start with a commercial gluten-free all-purpose flour mix. These are designed to substitute for wheat flours; they will usually contain a balanced mix of several flours, and may contain such additions as xanthan gum and arrowroot to help mimic the effects of gluten. My personal favorite is Bob's Red Mill -- it works well for everything from muffins to pancakes to cookies.
Pay attention to protein. Not only the protein in your flour - always a good thing -- but it helps to substitute some egg whites for an equal portion of the liquid in your recipes, especially in delicate items like cake. Since gluten is a protein, you can "trick" your cake batter a bit this way!
Add small amounts of other flours to your basic mix. Try buckwheat to give your muffins a whole-grain feel, or corn flour to give your pancakes a new texture. Almond flour will add a sweet nutty flavor and lovely mouth feel to a batch of chocolate chip cookies, and coconut flour is sublimely appropriate in macaroons.
Think fruit and yoghurt. Select recipes that already involve a little extra moisture -- banana bread, carrot cupcakes, pumpkin pancakes. Pureed fruits and vegetables such as applesauce, bananas and even avocado (see recipe below) make for moist deliciousness. And recipes calling for yoghurt or sour cream are similarly blessed.
You need some sugar. Sadly, most sugar substitutes just don't do the job in the gluten-free arena, they result in baked goods that lack structure. I like to go with organic brown sugar, either light or dark. And substituting honey in some recipes will work wonders, just be sure to reduce the amount of liquid in the recipe accordingly.
Experiment. Try different flours in different amounts, throw in some dried cherries or chopped nuts, fiddle with various sweeteners like honey and maple syrup. And if at first you don't succeed -- try, try again.
So now -- go forth, be fruitful, and bake!
Marvelously Moist Gluten-free Chocolate Muffins
The surprising ingredient -- avocado! -- elevates these intriguing muffins to sublime...
1 cup hazelnut flour
1 cup Bob's Red Mill all-purpose gluten-free flour
1/2 cup organic fair-trade raw cacao powder
3 teaspoons baking powder
1 teaspoon Chinese Five-Spice
¼ teaspoon salt
1 1/2 cups almond milk
1/2 cup muscovado sugar
1/3 cup macadamia nut oil
1/2 cup mashed very ripe avocado
1/4 cup Grade B maple syrup
1 1/2 teaspoons vanilla extract
1 tablespoon chopped hazelnuts & 1 tablespoon chopped macadamias, combined
Preheat oven to 350. Grease or line a 12-muffin tin.
In a large bowl, whisk together dry ingredients. In a food processor, combine milk, sugar, oil, avocado, syrup & vanilla, and pulse until smooth. Pour wet ingredients over dry ingredients and stir until just combined -- do not over mix.
Pour batter into muffin tin, filling each about 2/3 of the way. Sprinkle tops with hazelnut & macadamia mixture. Bake for 25-30 minutes, until a toothpick inserted in the center comes out clean. Cool for a few minutes, then remove from tin.
Makes 12 muffins.
My Mom's Irish Soda Bread (Slightly Modified)
This is in honor of my Irish Mom, who served this traditional dense bread on cold days lightly toasted with a slathering of soft butter and a generous dollop of strawberry jam -- just the way you should!
1 1/2 cups Bob's Red Mill all-purpose gluten-free flour
1/2 cup buckwheat flour
3/4 teaspoon baking soda
1/2 teaspoon salt
1 tablespoon sugar
1/2 cup dried tart cherries (or golden raisins)
7/8 cup buttermilk
1 tablespoon unsalted butter, melted
Preheat oven to 375. Place a piece of parchment paper on a baking sheet.
In a large bowl, whisk together both flours, baking soda, salt and sugar; stir in cherries or raisins. Add buttermilk and stir with fork until dry ingredients are moistened and clumps form. Gather into a ball and place on lightly-floured surface; knead gently just until dough holds together, about 8-10 kneads. Shape the dough into a round domed loaf about 6 inches across. Place on parchment-lined sheet and using a sharp knife, cut a big "X" into the top of the loaf, about one inch deep. Brush top with melted butter.
Bake until the loaf is golden brown and sounds hollow when tapped on the bottom, about 35 minutes. Transfer to rack and cool.
[A version of this post appears in my "Eat Smart" column in Better Nutrition Magazine.]