Let me say right up front -- I am the last person to espouse a Grinch-like attitude toward the holidays. Christmas was always a huge deal in our household when I was growing up, and the delights of the table were front and center. Family and friends gathering together to celebrate with good food and festive spirits was, and is, essential to the season for me.
But I'm afraid the days of a youthful ability to consume any and all foods with no discernable effect are, for most of us, shrouded in the mists of Christmas Past! So I have discovered that if you adhere to a few common-sense guidelines as you totter through the seasonal minefield of office parties, neighborhood potlucks and family get-togethers, you can feast and frolic without incurring an excessive shroud of post-holiday guilt.
Beware The Buffet
If you are to avoid being seduced and abandoned by the office party buffet, you must approach it with a definite strategy and a firm resolve.
1. Never let your eyes be bigger than your stomach (as my Granny used to say). Don't pile it on -- you can always come back for more.
2. Start with the protein. Give yourself a decent serving of the chicken or fish or whatever before piling on the carbs. And have a drizzle of sauce, not a deluge.
3. Vegetables and salads are not a penance, they're a pleasure -- put them on your plate next. Really, they taste just as good as the potatoes au gratin. Okay, almost as good...
4. Limit your carbs and fat. If you go for the mac and cheese (and how can you not), eschew the mashed potatoes with gravy and the creamed corn.
The dessert buffet is far and away the bigger challenge. All I can say is, pick out one or two must-have favorites, and try to stop up your ears (and mouth) to the siren song of all those other tempting treats. Under no circumstances should you attempt to "sample 'em all" -- that way lies madness and an ever-expanding waistline.
Tame The Demon Rum
We won't concern ourselves with the social fallout from an over-indulgence in spirits -- sad tales of lampshades worn as hats and intimate sessions hugging cold porcelain are legendary. The deleterious effects of excessive alcohol consumption extend to our dietary calculations as well -- all those useless carbs can pile up, right on your thighs. So...
1. Water it down and make it tall. That vodka will last longer, and do less harm, when combined with a generous pour of cranberry juice and tonic.
2. Alternate. That cranberry and tonic will look and taste much the same without the vodka.
3. Keep your water glass busy. That wine with dinner is delightful, but don't let it be your only beverage.
And remember -- you don't need alcohol to have a good time. Seriously.
Say When
This is the cardinal rule governing food and drink during the holidays. I know, I know -- it's tough. But so are you, you can do it; here are a few tricks that will help.
1. Eat slowly. Give your stomach time to register that it's full. You may not need that second trip to the buffet after all.
2. More food does not equal more love. Your mom is telling you "Eat! Eat! You're nothing but skin and bones." You know better. "Thanks, it was great! But I'm full."
3. You do not have to finish every last morsel on your plate. Contrary to what we were told as kids, it will have no direct effect on "starving children in Europe."
4. Discipline your mouth. Sure, another slice of that pot roast would taste awfully good, and a second wedge of chocolate cake sounds mighty fine, but is the oral gratification worth the bloated discomfort that will surely follow? (The correct answer to that question would be "no.")
"Moderation" is not a four-letter word, it's a desirable and achievable goal that will enhance your enjoyment of this festive time of year.

So go ahead, sally forth and spread the generous spirit of the holidays to your family and friends. And if you follow these few suggestions, you may be able to eliminate that "need to diet" resolution from your New Year's list!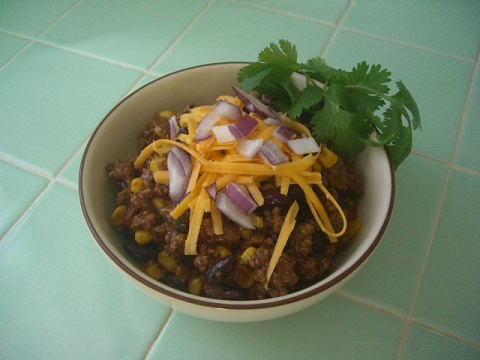 Easy Bison Chili
A lean and tasty dish that is perfect for your contribution to a holiday pot-luck supper
Ingredients
4 lbs. ground bison (you can substitute ground dark-meat turkey)
3 tbsp. olive oil
2 medium brown onions, chopped
6 cloves garlic, minced
4 tbsp. chili powder
3 10-oz. cans Ro-tel chopped tomatoes with green chiles
2 bottles dark beer (I use Guinness)
2 15-oz. cans organic red beans
2 cups frozen corn kernels
Salt and pepper to taste
Garnish
Shredded sharp cheddar
Chopped red onions
Directions
In a large heavy pot, sauté onions in olive oil over medium heat for three minutes, then add garlic and cook for one minute more. Increase heat and add bison and chili powder, cook until browned, stirring and breaking it up often, about five minutes. Add Ro-tel tomatoes with juice, beer and red beans, and bring to a boil. Reduce heat and simmer, stirring often, for one hour. Add corn, salt and pepper, cook for 15 minutes more. Ladle into bowls and serve with the cheddar and onions on the side.
Can be made in advance and re-heated -- in fact, it's better that way!
Festive Fruit Punch
This fizzy treat has minimal alcohol and maximum flavor!
Ingredients
1 can frozen lemonade
1 can frozen limeade
1 can frozen orange juice
1 cup pomegranate juice
2 750 ml bottles sparkling water
1 750 ml bottle sparkling lemonade
1 750 ml bottle champagne
Directions
Combine frozen juices and pomegranate juice in a large punch bowl, stir to combine. Add sparkling water and lemonade, stir gently until blended. Add LOTS of ice, then champagne, and serve.
(To make this really festive, freeze raspberries and mint leaves into a ring of ice in a 10-inch circular mold and float it in the punch bowl. And to make a nonalcoholic version, just double the sparkling lemonade and leave out the champagne.)
A version of this post appears in my "Eat Smart" column in the December issue of Better Nutrition magazine.