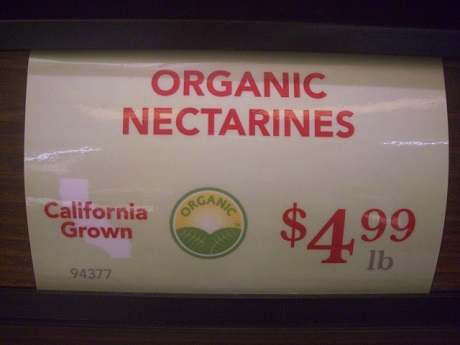 Question: Are organic foods higher in nutritive values than conventionally-grown foods?
Answer: According to a widely-publicized recent study at Stanford University, probably not to any significant degree. Though several polls show that the majority of folks who regularly buy organic believe they are getting more nutrition from their fruits and veggies, there is scant scientific support for it.
I would like to propose that this is the wrong question to be asking -- or, rather, it is to some degree an irrelevant question, because the primary benefits of buying organic whenever possible lie elsewhere than in simply hoping for more vitamins and minerals in our peaches and broccoli. There are distinct advantages, on both personal and societal levels, to choosing organic products over conventional ones, advantages that make a persuasive case for happily paying the slightly higher prices that organic products command.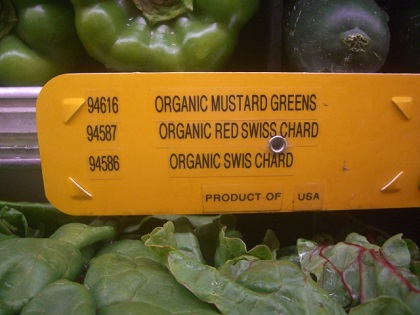 Take pesticides. You want to ingest as little as possible? The study found that 38 percent of tested conventionally-grown produce had pesticide residue, as opposed to only 7 percent of the organic produce (and even that small amount is conjectured to be the result of wind-blown contamination from conventional farms). And yes, it all falls within the "safe" guidelines of the EPA, but wouldn't you rather have better control over how much you and your children are exposed to?
Then there's the matter of antibiotic-resistant bacteria in food animals; the study noted significantly lower levels in organically-raised livestock. If you are at all concerned about the specter of those organisms jumping to human genes, as well as the possible hazards of accumulated antibiotics, you will clearly wish to seek out animals raised under organic guidelines. And those animals customarily have the advantage of more humane conditions during their lifetimes, since that type of husbandry is much more prevalent in non-factory farming scenarios. If you care passionately, as I do, about decent and kindly treatment of the animals that give their lives so that we may thrive, it is vital to be aware of the conditions of their husbandry.
Finally, looking at the larger picture, consider the difference between massive conventional super-farms and smaller organic operations in terms of their effects on the environment. The USDA defines organic farming thusly: "A production system that is managed ... to respond to site-specific conditions by integrating cultural, biological, and mechanical practices that foster cycling of resources, promote ecological balance, and conserve biodiversity." Now isn't that where you want your food to come from, rather than an indifferent conglomerate that seeks only to wrest every penny from the land it occupies? I know what my choice is.
So if you're asking your organic foodstuffs to give you super-human nutrition, then you're likely to be disappointed. But if you're looking to reduce your family's exposure to harmful pesticides and unknown antibiotics, if you're concerned with replenishing and protecting the earth and diminishing harm to its creatures, then I think we can safely say that buying organic will take you down the right road.
And don't forget -- organic means No GMOs Allowed. And though I know the bio-tech industry would have us believe that GMOs are perfectly safe and no different from non-GMO crops, in the absence of any long-term studies and further facts, I think I'd rather avoid them. And you?
So go grab yourself some organic veggies and try out these tasty ideas...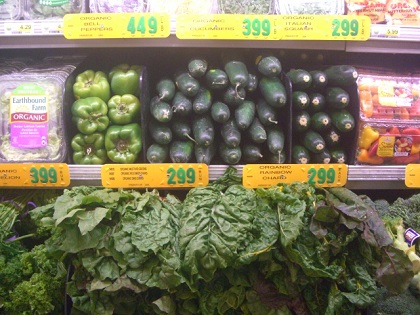 When the winds of autumn start to stir, this simple but satisfying soup will warm you from the inside out...
4 cups coarsely chopped organic broccoli
2 large organic leeks, white part only, sliced and rinsed
2 tablespoons blood orange olive oil
1/2 teaspoon ground cumin
1 cup fresh-squeezed organic orange juice
1 quart organic chicken broth (I prefer Swanson's)
1 tablespoon microplaned organic orange zest
1 teaspoon kosher salt
1/8 teaspoon ground white pepper
1 cup grated sharp cheddar
In a large pot over medium heat, cook leeks and cumin in olive oil until softened, about 5 minutes. Add organic orange juice, broth and zest and bring to a boil. Add broccoli and salt and pepper, return to a slight boil and cook until broccoli is just cooked through but not mushy, about 6 minutes.
Puree in batches in a blender and return to pot. Stir in cheddar cheese until melted. Keep barely warm and serve soon.
Grilled Eggplant w/ Roasted Heirloom Tomatoes
Use those last few precious tomatoes from the farmers market for this homey Italian-inspired offering...
2 large organic eggplants, cut into 3/4 inch slices
1/2 cup organic olive oil, divided
1/4 cup grated parmesan
4 large organic heirloom tomatoes, each cut into 8 wedges
1 large organic shallot, peeled and coarsely chopped
Salt & pepper to taste
4 large organic basil leaves, finely shredded
Preheat oven to 375 degrees.
Preheat the grill to medium-high. Drizzle eggplant slices with 1/4 cup of the olive oil; grill until nicely marked but not soggy, about 3-4 minutes on each side. Remove from grill, sprinkle with grated parmesan, then cover and keep warm.
Meanwhile, place tomato wedges and shallots on a foil-lined baking sheet, drizzle with remaining 1/4 cup olive oil plus salt and pepper. Roast in preheated oven until cooked through but still holding shape, about 15 minutes. Transfer to a large saucepan and keep warm.
Arrange eggplant slices overlapping on a long platter; spoon roasted tomatoes on top down the center, then shower the shredded basil over the tomatoes. Serve immediately.
Serves 6 as a side dish, 4 as a main course.
A version of this post appears in my "Eat Smart" column in the September issue of Better Nutrition magazine.