Business women across America need to take a moment of exuberant and respectful appreciation for the life of Congresswoman Lindy Boggs. She passed away at 97 on Saturday according to The New York Times, her daughter Cokie Roberts, an ABC News commentator, made the announcement. Lindy Boggs helped pass the Equal Credit Opportunity Act in 1974 which prohibits sex discrimination in lending. In 1974, women owned 5 percent of all U.S. businesses. Fast forward to 2013, and over 30 percent of all U.S. businesses are owned by women. She is responsible for millions of women opening businesses, trillions in revenue and exciting innovations. Lindy Boggs, by including the two words "sex or marital status"in a piece of legislation allowed us to leap into our business lives to raise the roof on the economy.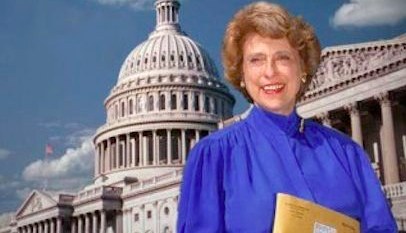 I met Lindy Boggs when I was in 9th grade. Her other daughter, Barbara Boggs Sigmund, was a favorite teacher at Stuart Country Day School of the Sacred Heart. For our history class, Barbara had arranged for us to tour the U.S. Capital and meet our local Congressman. Lindy's husband and Barbara's father was a Congressional Leader from Louisiana. We had an incredible fancy dinner at Lindy and Hale Bogg's house that night, there was enough room for round tables for my entire 9th grade class. It was my first fancy DC political dinner and Lindy worked the room like 25 ninth grade girls were important.
Thank you Lindy. We all owe you so much.