After agreeing that we want both the youngest-ever female CEO of a Fortune 500 company to succeed in turning Yahoo! around, Christine Romans and I had a fascinating conversation this past Saturday before, during and after our segment on her CNN show "Your Bottom Line." We focused on the hubbub Yahoo CEO Marissa Mayer has generated with a leaked memo about eliminating "working from home" starting June 1st.
I get it. Turnarounds and start-ups need intense urgency, energy and atmosphere. It requires all hands on deck, taking advantage of any and all opportunities and getting rid of any barriers that may get in the way of success. Having worked at a few start-ups myself and having an extensive background in working on political campaigns, I know there is too much happening, too fast, to not all be in the same location, if not the same room, everyday. With Christine's experience in a live newsroom, we both agree that being physically present at work, in some situations, is the best way to win.
But the question remains for the day-to-day workplace: What happens to all the mothers and fathers who are not CEOs or senior leaders when the work from home option is deemed less than optimally productive? How do we shorten the six-month waiting lists for child care slots at places like Yahoo and CNN and solve the affordability gap for entry- and mid-level employees everywhere who can't "lean in" to new opportunities because they don't have the child care to show up everyday?
The situation surrounding Marissa's decision is forcing us to think about success in a highly competitive environment and the scrutiny that comes with being the youngest female to take the helm of a troubled but venerated brand with a baby in tow. These issues never would have come up on the business pages and across social media unless a Fortune 500 CEO had a baby and had to consider all the choices and challenges that come with being a working woman of a public company and a public mother.
The current state of female CEO child care options, including Mayer's custom-built, personally paid for office nursery and Sheryl Sandberg's fabulous husband at home, naturally leads to a celebratory conversation about the options women in charge finally have when it comes to child care and work-life balance. For those not at that level, flex time and working from home have allowed them to cobble together their own solutions to child care, elder care, our ambitions and career trade-offs.
Millions of women business owners have chosen to become CEO's of their own companies and do some version of what Marissa and Sheryl are doing. Many of the women we work with at Count Me In started their own businesses because as a CEO, you can choose to have your children close by at work and adjust your hours to spend quality time at home or on the road with your family and still find professional success.
Women like Dawn Gluskin. She started SolTec Electronics, which offers an array of services to the electronic manufacturing and aerospace sectors, in 2008, just seven months after her first daughter was born. Why? The company she worked for in the industry would allow her to work more flexible hours to spend time with her child, so she took her savings and retirement accounts and started her own firm out of her living room. She has since grown it into an award winning, multi-million dollar company know and respected around the world for its focus on customer service. She's since had a second child and continues to work from home as needed.
And Kimberly Martinez, a single mother of three, who after being downsized from a Fortune 500 financial services firm, joined forces with her sister-in-law, a pediatric nurse, to develop a Bonitas International, an home-based business that designs and distributes fun alternatives to boring shoelace-style ID lanyards worn by many workers. That simple idea has also blossomed into a multi-million dollar business. And Kimberly still works from home. She was also just named Ms. Mompenuer 2013, so something must be working right.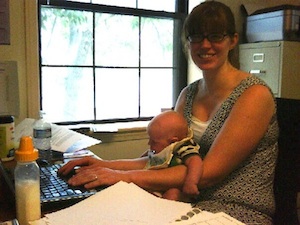 And then there's Meredith Pizzi, a mother of three and owner of Roman Music Therapy Services in Melrose, MA. She's pictured here working in her office with her then 3-week-old son. She not only brings her kids to work, but puts them to work. It's a version of Take Our Daughters and Sons to Work Day everyday. "In my business, there are clearly times when everyone needs to be in the office, like when our center door needs to be open," she told me recently. "But then there are other times when working from home provides flexibility, increased satisfaction with your job and increased productivity. Sometimes I can still think best at my dining room table or in the bedroom, and don't we want all of our employees to be productive and creative?"
These are just a few of the women I've heard from on this topic. Check out more stories of Count Me In CEO Mom's working at home and in the office with their kids.
But what if we all did have to come back to the office? Better yet, what if we went back to the drawing board? Could we use the latest and developing technology and big data to end all the waiting for quality affordable child care wherever and however we choose to work? What could Yahoo, Walmart, CNN and other major employers do together to solve problems for young parents and people who are responsible for the care of other human beings?
If there was a sector or industry ripe for technological innovation, it is child care. You have a few big players delivering services like Children's Creative Learning Centers, Head Start and Bright Horizons, as well as thousands of different tiny providers across America. I challenge Yahoo to catch or create the next wave of products in search, sales and digital community. Why not consider putting that brilliance into a better system of evaluation of quality, affordable child care?
New parents are some of the most highly sought-after customers, according to Charles Duhigg's The Power of Habit. The arrival of a baby is when brand loyalties change, new habits are formed and new brands can be introduced to parents. Why not make a web resource, app and service that connects the disparate child care sector with the hodgepodge network of au pairs, nannies and babysitter to the parents? With all the unemployed teachers that "sequestration" will create, there must be some way to integrate them into the child care sector and expand it to meet the fluctuating needs of all parents.
Having made the decision to change the way parents and caregivers in her organization will be able to work, there is also an opportunity for Marissa Mayer to champion the needs of this important segment of our national workforce. Yahoo could mobilize people to support President Obama's proposal for universal Pre-K for 4 year olds, solve child care search and connection challenges, and satisfy a highly loyal customer base of new parents.
Or is the message Marissa is sending to ambitious young women more like this: Make your serious money before you have the baby or have your mother move in if you want to keep up. You will have to pay serious money to get the quality child care, nursery and nanny your child needs to keep up with your busy schedule at the helm of a Fortune 500 company, country or lead in any other large-scale way.
Maybe, just maybe, Marissa's fortune lies in being biased toward women and parents and helping them solve one of their biggest challenges.
If we've learned to shop in groups for bargains and find lasting love online, surely, we can move the United States from the bottom of the developed world's child care availability list to the top. Leaning into feminine bias just might be the key to Marissa's fortune and Yahoo's return to the top without necessarily acting like one of the boys.