This is a story about the potential ordinary Americans have to make a difference when it comes to job creation, and we have Starbucks to thank for it.

In case you haven't heard, Starbucks has teamed up with Opportunity Finance Network (OFN), the national network of Community Development Financial Institutions (CDFIs), to spearhead a new initiative in which Starbucks customers can have a direct impact on US job creation. No, not the government, or policy makers, but customers. Down home, regular citizens. Folks like you and me.

Starting November 1--tomorrow--Starbucks will be collecting $5 dollar donations (or more) from customers to help job growth in the U.S. Called the "Create Jobs for USA" program, (createjobsforusa.org), the plan is to give power to the people so we can help each other and ourselves, rather than waiting for someone to do it for us.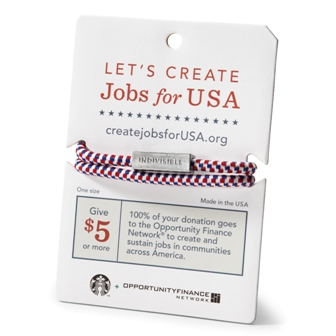 It's a much-needed idea. Think about it: If every Starbucks customer kicks in $5 dollars--and there are millions who visit the 7,000 company-owned stores daily across the US--how many micro loans can be made to businesses ready to hire? By customers, corporations, NGO's and foundations? By working together, we can create jobs when we need them most.
This initiative not only offers a practical solution to the employment crisis, it also empowers US to give hope and inspiration to every citizen in this country. It hands the reins over to US citizens and gives a unique, purpose-driven opportunity to make a difference in by creating jobs in their communities.

For your $5 donation, you receive a red, white and blue wristband with one word inscribed on them: "Indivisible." Those bracelets are signs of solidarity and unity, visible representations of neighbors helping neighbors. Of Americans helping Americans.

I haven't heard a more exciting message in years!

To show my support for the "Create Job for USA" program, tomorrow I will be among the first in line at Starbucks stores around the nation to proudly purchase my new wristband. I'll be there to give my $5 dollars worth of hope and confidence to any person who has a sense that they have a business idea living inside them that's ready to come out.

Join me! On your next Starbucks run, make sure you mix in an extra $5 to support job creation in your community. Collectively, we can lead the way out of unemployment.